How to Transfer Music from iPhone to Google Pixel Phone Quickly
Switching phone from Android to iOS or vice versa is often quite a cumbersome affair, mostly because it involves migrating data that's stored on your old phone to the new one. Out of this data, your favorite music and playlists are probably one of the most important data you want to take with your new smartphone. Today, music transferring from iPhone to Google Pixel/ Nexus and vice versa is our main focus in this article.
Move Music from Google Pixel/ Nexus to iPhone (iPhone 7/ Plus, 6s/ Plus, 6, etc.)
Transferring music to iPhone from Google Pixel/ Nexus Android phone works similarly to transferring photos and video. You export the music files to computer and then add them to your iPhone via iTunes.
Check: Five Top iTunes Replacements to Manage Media Files between iPhone, iPad, iPod and Computer
Connect your Google Pixel/ Nexus device (Pixel XL, Nexus 6P/ 6/ 5X, whatever) to your computer. It will appear as a USB flash drive.
Open the Music folder, and export the tunes to a folder on your computer
Launch iTunes and select the Music section. Then drag the songs you want to transfer to iPhone from the folder to the Music view in iTunes.
Plug the iPhone into the computer and select it in iTunes. Check the Sync Music box, and then select either the Entire music library option or pick Selected playlists, artists, and genres if you're just syncing a playlist you made for iPhone.
Hit Sync. Now all of your tracks from Google Nexus/ Pixel will be moved to your iPhone.
Import All Songs from iPhone Music Library to Google Android Phone
Unfortunately, there is no official option when it comes to getting iPhone music onto an Google Android handset. To crack down on piracy and as a courtesy to the record labels who work with iTunes, Apple prevents you from accessing music library and copying music from iPhone to a Mac or PC's.
The good news is that there are several third party applications available out there which can help you to do what you want.
Phone Transfer—Easy, Quick to Share Music between Phones
Phone Transfer for Windows is a desktop tool designed to help users seamlessly transfer data including contacts, music, videos, photos, calendars, messages between devices with one-click, whether the operating system is Android, iOS, or Windows. You can also backup your music and other files from your handset to computer with this tool.
If you're on a Mac and want to transfer music from Google Pixel & Nexus to iPhone, or an iPhone to a Google Pixel & Nexus, please refer to its Mac version—Phone Transfer for Mac.
This tool makes the process of moving tunes from your old iPhone to a new Google Nexus/ Pixel and vice versa far simpler. Let's see how it works.
Related: how can you transfer contacts from LG Phone to iPhone
Step 1: Fire up the tool and connect your iPhone and Google phone to the computer
Start the program and connect the iPhone and Google Pixel/Nexus that you want to share music with.
Its main interface comes up, as image shown below. You can either select a direct Phone to Phone Transfer option on the left side or use the Back Up Your Phone option to create a backup of your iPhone data before you go transferring music to your new Google Pixel/ Nexus. The backup can be restored at a later date if required.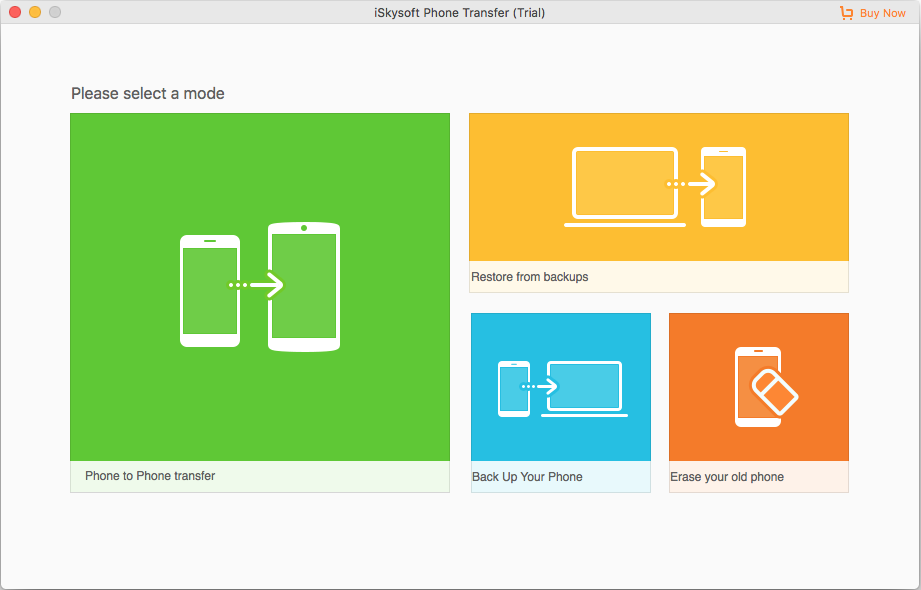 Now, your both iPhone (iPhone 7/ 6s/ 6/ 5s/ 5) and Google smartphone will appear on the screen as source device and target device. A Flip button available on the top center for you to switch the position between them if incorrect, as image demonstrated below.
Note: you must activate the USB debugging mode on your Google handset to let the tool have access to the data, or follow the "Cannot recognize the device" link on the bottom of the screen to accomplish this.
Step 2: Scan the data and select Music
Once your both handsets connected successfully, the tool will start scanning the source iPhone and return a list of selectable data files including: Contacts, Text Messages, Photos, Music, Videos, Calendar, Call logs.
Next, check the box beside the Music item, and other items if needed.
Note: Apps item is only available for choosing when you are making a move between Android phones.
Step 3: Export music from iPhone to copy onto Google Nexus/ Pixel
Hit Start Copy button (it's labeled as Start Transfer on Windows version) to begin transferring music from your iPhone to Google Pixel & Nexus Android phone.
Now you can just sit back until the tool has completed its job.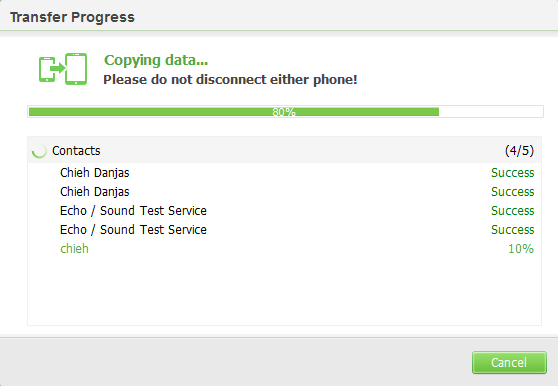 That's it!
How to move music between iPhone and Google Pixel/ Nexus with iTransfer
Want to get a full control over the entire music transfer process? Need to move selected playlists to your smartphone or computer? Or even delete duplicates of songs before transferring? You can try another more advanced tool called iTransfer instead.
iTransfer is a powerful and efficient iTunes replacement that gives you ability to transfer content among iPhone, iPad, iPod, Android phones, tablets, Mac, PC effortlessly (back and forth). You can rebuild your iTunes library, or just restore file from your iTunes/ iCloud backup.
As for Music transferring focused on this article, the tool allows you to migrate all of your music or just individual tracks or selected playlists from your iPhone to Google Pixel/ Nexus smartphone or Google to iPhone, along with music info, like ratings, skips, play counts and more. It even automatically fixes music info. if they're missing, as well as detects duplicates and delete them.
Let's take a look at how it works on transferring music between Google Pixel/Nexus and iPhone.
Step 1: Run the program
Open up the program, and plug your both iPhone and Google Android handset to the computer.
Select your [iPhone name] that you want to transfer music (or any other file) to Google Pixel & Nexus phone from the upper left side of the screen as source device; if you want to get music off your Google phone and copy to your iPhone, pick [Google phone name] from there instead.
Step 2: Select Music files from Music tab
Click the Music tab on the top menu, this will bring up its main screen and display all the music files, along with its relevant information: name, duration, size, artist, album, date added.
Next, click the Music category from the list on the left pane, then check the box next to the name of the song on the right pane to select individual songs you want to transfer; or check the box on the top left corner to select all of the tunes.
Alternatively, go to Playlists category on the left pane, and click the sub-category to select an entire playlist or individual tracks from the playlist.
Step 3: Start transferring music to your Google phone
Now, simply click the Export button under Music tab, from its drop-down menu select your [Google phone name], the process of music copying from iPhone to Google Android device begins.
That's it!
Very easy, right? Try it!
Conclusion
With Phone Transfer and iTransfer, there are no worries when you switch from iOS to Android. When it feels stale for iOS devices which is under tight control in terms of software an hardware, it is a good idea to get an Android handset for its diversified design and features as well as its open-source system. Just use the two programs to make a easy transition.
Google Pixel: Pixel XL (Oct. 2016) — Android 7.1 Nougat, Pixel XL 2 — 8.1 OREO
iPhone: iPhone 4, iPhone 4S, iPhone 5, iPhone 5c/5s, iPhone 6/Plus, iPhone 6s/Plus, iPhone SE, iPhone 7/Plus, iPhone 8/Plus, iPhone X.
How to Move All Your Data from iPhone to Your New Samsung S8/ S8 Plus Android Phone
How to Transfer Huawei Contacts to iPhone
How Do I Move all the Messages in an Android Phone to an iPhone