How to Transfer Contacts from Sony Xperia Phone to iPhone
Let's say you've make the decision to switch from Sony Xperia smartphone (XZ, X, E5, whatever) to an Apple iPhone. You're deeply attracted by its laudable iOS system, simple, sleek and modern design, as well as robust App Store. Then what? How do you transfer contacts from your old Sony Xperia phone to the new iPhone? How can you copy your thousand of photos, favorites music & movies, calendar, messages on the old handset before you put it aside or throw it away?
In the past, migrating data from one smartphone to another can be time consuming and a wearisome task, especially when you're going from Android to iPhone and vice versa. You need get a tool or program to copy your contacts from Sony Xperia phone to iPhone or iPhone to Sony Xperia handset, and another tool to download your photos, videos, music and then upload to new iPhone, also another app to transfer your call logs, text messages.
Today, we will take a look at the easiest way of transferring contacts and other stuff between Sony Xperia phone and iPhone. The steps involved in migrating data between iPhone and other Android manufacturers like Samsung, LG, HTC, Huawei, ZTE, Google, Moto would probably not change.
Phone Transfer—one-stop solution for data transfer, backup, erase, restore
Unlike many of applications—either requires you to export the contacts from Sony Xperia smartphone to save as VCF file on your computer, and then import it into your iPhone and open it in Contacts app; or ask you to install an app on both devices, sign in to backup your Sony Xperia contacts on the cloud, and then sync it to your iPhone with the same account—Phone Transfer provides an one-click experience. Moving music, photos, videos, messages, calendar, contacts between iPhone and Sony Xperia smartphone is as easy as connecting two both devices, selecting types of data you want to transfer, and starting moving. No internet required, no iTunes involved.
Some other features included in this neat tool such as backing up content of your Sony Xperia handset onto the computer, or restore file from your iTunes/iCloud backups (if you make a switch from iOS to Android, for example), and even erase the data permanently, if needed.
In the following part, we'll present the complete, easy-to-follow instructions on how to get contacts from Sony Xperia smartphone and transfer to iPhone. It works the same for the reverse trip.
Find Out How to Go About Transferring iPhone Songs to a Mac.
Step 1: Connect your both Sony Xperia handset and iPhone to the computer
To get started, simply connect your current working Sony Xperia phone and the new iPhone to your Mac or PC machine, and open the program.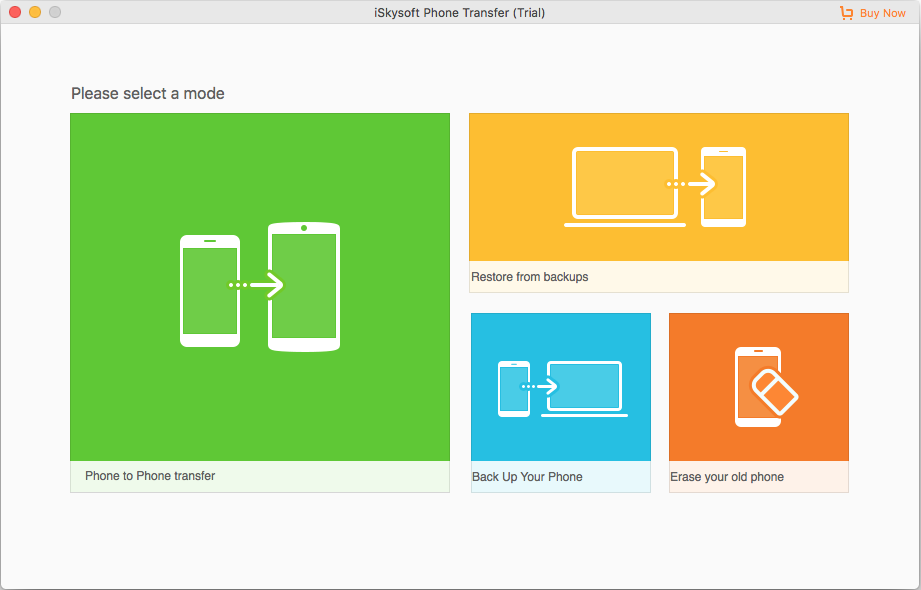 Next, click the green Phone to Phone Transfer module on the left side of the main interface to get into next screen.
Just one note – you should enable USB debugging mode on your Sony Xperia device, otherwise your handset can't be access to read the data. You can click on the "Cannot recognize the device" link on the bottom of the screen to see how to set it, or manually go to Settings > About phone > Build Number (tap it 7 times in rapid succession) > Developer options > USB debugging.
Once your both phones are detected, the two phones will appear in the window, acting as source phone and destination phone. If your Sony Android phone appears on the right side of the window (destination phone), you can click the Flip button on the top middle to exchange the position.
Related Article: How Can You Copy Text Message between Samsung and Huawei Phone
Step 2: Select contacts from Sony Xperia phone
The program will automatically scan the data containing in the source Sony Xperia phone. A moment later, You're prompted with a list of things to transfer on the center pane of the screen once the scan is complete.
As you can see in the image below, the list includes all important items such as Contacts, Photos, Videos, Music, Text messages, Calendar, Call logs and Apps
In this article, we want to copy contacts on Sony Xperia phone to iPhone (or you move iPhone contacts to Sony Xperia phone). So check the box next to Contacts item, as well as check other item in the list if you want to transfer.

Note: In Android to iOS journey, apps and call logs are unavailable for moving for incompatible issue however, if you want to transfer from iOS to Android, call logs is on the transferring list.
Step 3: Start copying your Sony Xperia contacts to iPhone
When the item(s) is selected, hit the Start Copy button, the tool will begin transferring the contacts from Sony Xperia device to your iPhone. A small window comes up indicating the ongoing progress of the transfer operation.
Wait for a while. The time it takes to complete the transferring process depends upon how many of contacts, and the volume of other selected items.
When the process is complete, to verify that you have successfully moved all of your contacts and other content into your iPhone, go to your iPhone and check the data via corresponding apps.
You're good to go!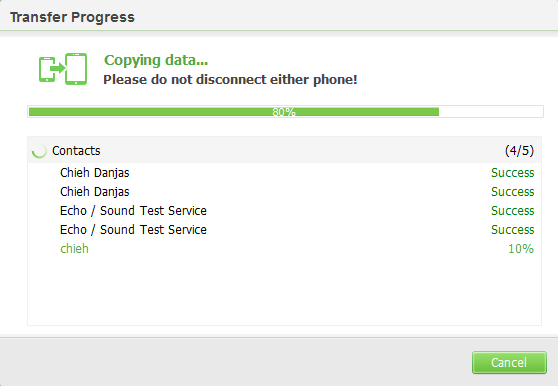 Conclusion
There are numerous 3rd party phone data transferring utilities available out there. If you're looking for a way that's as easy as scanning-selecting-copying, Phone Transfer is definitely the way worth a try.
iPhone Models: iPhone X (2017), iPhone 8/ Plus, iPhone 7/ Plus (2016), iPhone SE, iPhone 6s/ Plus (2015), etc.
Sony Models: Xperia™ XZ Premium, XZs, XA1, XZ, Xperia™ X Compact, Xperia™ E5, Xperia™ XA Ultra, Xperia™ X Performance, Xperia™ XA, Xperia™ X, Xperia™ Z5 Premium, Z5 Premium Dual, Z5 Dual, Z5, Z5 Compact, M5 Dual, M5, C5 Ultra, C5 Ultra Dual, Z3+ Dual, Z3+, Xperia™ C4 Dual, C4, M4 Aqua Dual, M4 Aqua, E4g Dual, Xperia™ E4g, E4, Xperia™ E3, Xperia™ Z3 Compact, E3, Xperia™ M2 Aqua, Xperia™ C3, M2, Xperia™ T2 Ultra Dual, Xperia™ M, Xperia™ C, Xperia™ Z Ultra, Xperia™ SP, Xperia™ ZL, Xperia™ Z, etc.
How Can I Copy Contacts from a Android Phone to Another Android Phone
How to Transfer Music from iPhone to the Galaxy Note 8