How to Migrate Call History between Samsung and HTC
Getting a reliable data transferring tool is important to migrate your call history to newly-bought Samsung Android phone when your old HTC handset starts to malfunction or crash, since you want to keep accurate record of call history of who has called and when. Currently, most transferring program online is not doing very well due to various kinds of restrictions like compatibility issues between software and operating systems as well as some formats of data, say, call history. But don't get disappointed. Just read on and you will definitely locate what you want.
If you are in the market for a user-friendly and comprehensive tool to migrate your call history from HTC to Samsung Android phone (Galaxy S8, S7 edge, Galaxy S7, etc.) then Phone Transfer stands out among the multitudinous transferring tools in the market. Here let's brief you about some details of it.
Phone Transfer is aimed at bringing you a good transferring experience, in an attempt to make the migrating process of call history between Samsung and HTC phone as easy and straightforward as possible. As a comprehensive tool, it can make almost all the data can be copied from one Android device to another, such as contacts, text messages, photos, music, videos, calendar inside your device. It's full compatible with iOS, Android, WinPhone, and even BlackBerry and Symbian.
What's coming next in this article is the tutorial on how to migrate all your call history from your old HTC phone to your new Samsung smartphone, you can also use it do the reverse job.
Step 1: Connect your both Samsung and HTC Android phone
Download the program and install it on your computer. Either Windows or Mac is OK.
Once you open up the program, you should see a interface like this. For the purpose of this article, select the Phone to Phone Transfer modules to transfer your call logs between Samsung and HTC.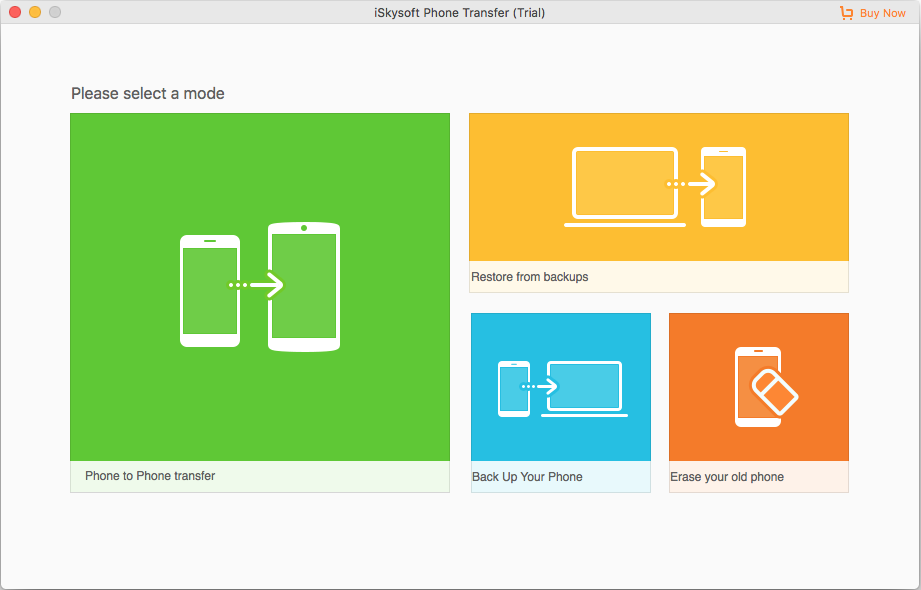 Connect both your Android devices to the compute, and don't forget to enable debugging mode on them to let the computer access the internal data.
Step 2: Select call logs from the scanned data
Once the connection is made, Phone transfer automatically recognizes the two devices and display Samsung Android phone as source device on the left side and HTC Android phone as target device on the right side. A click of Flip button allows you to flip their positions if the two devices are placed in a reverse order.
In the middle column, you can see call logs and other stuff and the quantities of them. To transfer call history from your HTC to your Samsung (and vice versa), you only have to mark call logs by ticking in the box beside it.
If you need to wipe out your previous content in your Samsung Android device before transferring, locate and tick clear data before copy under the HTC device icon.
Step 3: Press Start Copy button
Now, hit the Start Copy button to initiate HTC call history to Samsung migrating process. How much time is needed for the transfer process depends on the size of call history. It can take anywhere from seconds to minutes. The progress bar offer a clear indication of how much call history inside your HTC Android phone has been copied to the Samsung device.
Once the progress bar is 100 percent full, click ok and unplug both your smartphones from the computer.
That's it!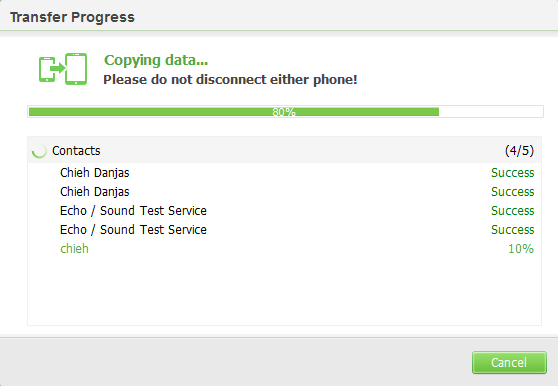 See also: How to recover lost call history from Samsung Galaxy phone
How to Back up your call logs on your computer?
Yon don't want to lose your call history and other data, do you? So we introduce another great feature of Phone Transfer, that is, backup and restoration. Phone Transfer can back up call logs and other stuff such as contacts, photos, music, sms, videos to the computer or your external hard drive. Whenever you want the data back, you can retrieve the data from the computer and input them into any of your devices.
So what are you waiting for? Just try this magic program and get a surprise.
Samsung models: Galaxy S8, S8+, S7 edge, Galaxy S7, Galaxy S6, Galaxy S6 edge+, Galaxy S7 active, Galaxy S5 Mini, Galaxy S III, Galaxy S5, Galaxy S4 mini, Galaxy Note 5, Galaxy Note Edge, Galaxy Note 4, Galaxy J7, Galaxy Amp 2, Galaxy E5, Galaxy Core Prime, Galaxy Stardust, Galaxy J1, Galaxy Prevail LTE, Galaxy Legend, Galaxy Mega, Galaxy Express, Galaxy Light, etc.
How to Move Contacts from Your Old iPhone to a New Samsung S8 Android Phone
How Do I Transfer Messages from an iPhone to an Motorola Android
How Can I Transfer All the Messages in ZTE Phone to an iPhone