How to Convert a Blu-ray to MP3 Audio File on Mac & PC
If you're anything like me, you probably have a large collection of Blu-ray discs laying around in the corners of room. While it's nice to watch your Blu-ray on your home BD player, some of you might be fretted over the problem of extracting the soundtrack from Blu-ray to MP3 audio to get it onto an portable device for listening to or just save in media library on computer. It goes without saying that MP3 is one of the most popular audio formats to date because of its convenience, portability and high compatibility. And audio files end with .mp3 extension with high compression rate don't take up too much storage space.
As a matter of fact, just like ripping a DVD to mp3 audio file format, there are many ways to deal with it, in this article we're going to introduce a very handy application—Blu-ray Ripper.
Fitted with all the necessary features, Blu-ray Ripper tries to make everything possible, whether you make a digital copy of the Blu-ray disc or just rip the Blu-ray discs to any of you devices.
Support a wide range of audio formats, including Blu-ray to MP3, AAC, FLAC, M4A, OGG, etc.
Output in common digital videos, like Blu-ray to MP4, AVI, MKV, MOV, H.264, WMV, etc.
Offer a range of sensible presets: iPhone, iPad, Android, Game Console, etc.
Customize the output setting: codec, bit rate, sample rate, frame rate, channel, etc.
Has basic video editing capabilities: trim, crop, merge, split, watermark, effects
To make things easier, please follow us through the following guide on how to rip the audio tracks from Blu-ray to save in .mp3 on a Mac or PC machine.
[See Also: How to Extract Sound Track from Blu-ray to Save in FLAC File]
Step 1: Import Blu-ray files
Start the program and insert a Blu-ray disc into the computer Blu-ray drive.
Import the blu-ray titles you want rip from Blu-ray to MP3 format through a click of Add Blu-ray/DVD on the top left corner of the program's interface.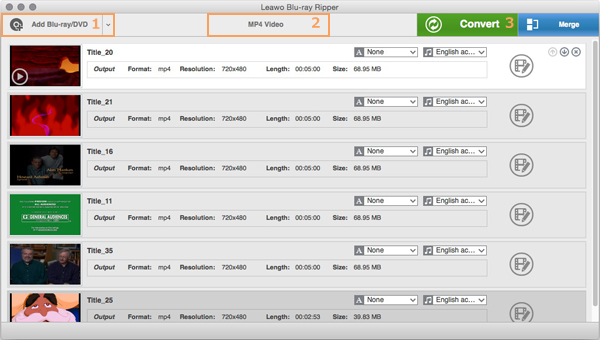 Step 2: Set MP3 as output format
Here comes the format selecting section. Click the MP4 video option on the top middle and then hit the Change button from the drop-down menu.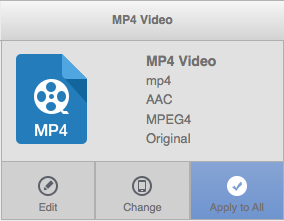 In the next window that opens, choose the Format tab and you get four sub tabs: Common Video, Common Audio, HD video, 4K Video. This makes it easy to locate what you are looking for: Common Audio > MP3 Audio.
Tip: If it happens that you're planning to play your Blu-ray movies on portable devices, simply choose a preset under Device tab instead. This will help you optimize the conversion settings automatically to be suitable for the device of your choice.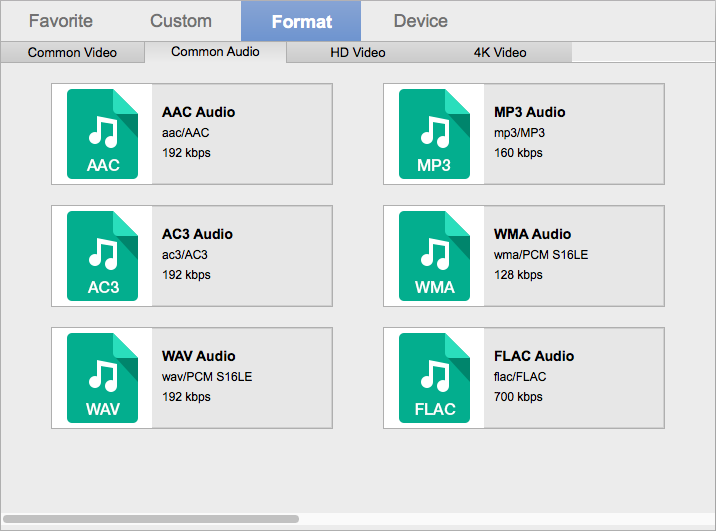 You can then tweak the audio quality under the Pen icon on the upper right side of the format. On the new opening Profile Settings panel, you can fine-tune the conversion settings such as bit rates, sample rates, channels.
It's worth mentioning that the default settings are often good enough.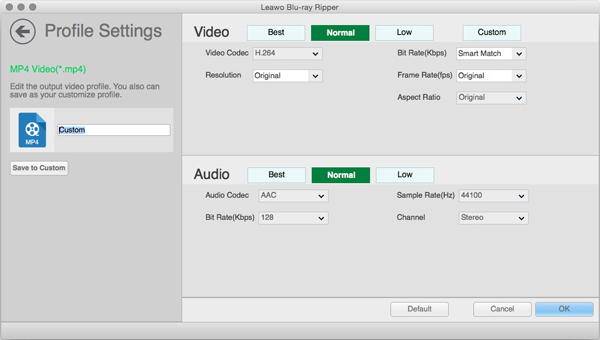 Step 3: Convert the Blu-ray to save audio in MP3 file
Once you are finished with choosing the MP3 format and tweaking its setting, back to the main interface and press Convert button on the upper right side. This will come up a dialog asking you to select a location for your audio files you're about to create.
After that, click the Convert button to start the process of converting Blu-ray to MP3 sound track. Once it begins, you'll see a progress bar along each title you selected that will let you know how much time you have left in the conversion. Higher quality rips will take longer, so you'll let your computer run for a while and you grab a snack.

Overall, Blu-ray Ripper has made this process as easy as possible. Done!