How to Restore iPhone Contacts from iCloud Backup Quickly
Apple's powerful and popular iPhone does have a native Contacts storing app built in, which helps to turn a disorderly mess of contacts into a cleanly stored address book for better and easier contacts management, keeping the name, phone number, e-mail, profile photo and other related contacts details all in one stop. If you're an iPhone user who is a fan of the native contacts function, it's very wise to save phone numbers in the contact list to stay in touch with close friends, family or coworker.
However, those contacts are not always secured in an iPhone and getting lost is a rather common occurrence. It can happen for several reasons or no reasons at all. Upgrading to the latest iOS version as well as having iPhone jailbroken may sometimes result in losing of data, including contacts, notes, messages and so on. Other possible factors includes iPhone factory reset, crashed, badly broken, mistakenly erased and some inadvertently actions.
Therefore, having valuable contacts backed up is normally a way to ensure to be always safe on an iPhone before getting stuck in these situations. Once your contacts are missing, it is not awful as long as you backup your iPhone to iCloud, but typically, the files in iCloud is not viewable thus you're not allowed to selectively restore the contacts. Another frustrated thing is that iCloud will erase the contacts currently on iPhone. To avoid the further data loss from iPhone, here, we're going to introduce a more safer approach to restore the lost iPhone contacts from iCloud entirely or selectively.
In this point, we'll resort to a professional data recovery tool - iOS Data Recovery (available for both Mac and PC users). Proceed to read and dig into the article to master the steps of getting the lost contacts of iPhone extracted off iCloud backup.
The Excellent Features of iPhone Contacts Recovery Tool
Being a versatile recovering software, it is devoted to helping users in bringing back the loss from menacing data loss situations.
It enables to recover data from any iOS device, be it iPhone X, iPhone 8 (Plus), iPhone 7 (Plus), iPhone 6 & 6s (Plus), iPad Air 2, iPad Mini 4, iPod touch, etc. Plus, it can take immediate action for data recovery from iTunes and iCloud backups.
It's great in that users don't have to restore everything on an iOS device. Instead, it empowers users to pick and choose the specific items for recovering.
It supports recovering a list of different types of data including text messages, notes, call history, photos, Safari bookmark & history, app video & audio, voice menos, etc.
Guide on Retrieving Lost iPhone Contacts from iCloud Backup

Note: This method is applied in when you have already backup your iPhone with iCloud. If not, you can also resort to this post as well - recovering contacts from iPhone directly with this iPhone contacts recovering utility.
Step 1: Gain access to iCloud account
Get iOS Data Recovery installed and run it on your computer. The configuration of the software is easy to understand, since it comes with clear descriptions under each recovery mode.
When you once click on the mode labeled "Recover from iCloud Backup" on the left side of the window, this program asks you for the permission to the iCloud account. Simply enter in your respective login credentials.
Step 2: Download contacts from a backup
After succeed in signing in, all the backups for iOS devices attached in this account will be automatically imported to the program - no manual upload necessary.
From the list, select the backup that is most relevant to the deleted iPhone contacts and click the Download button.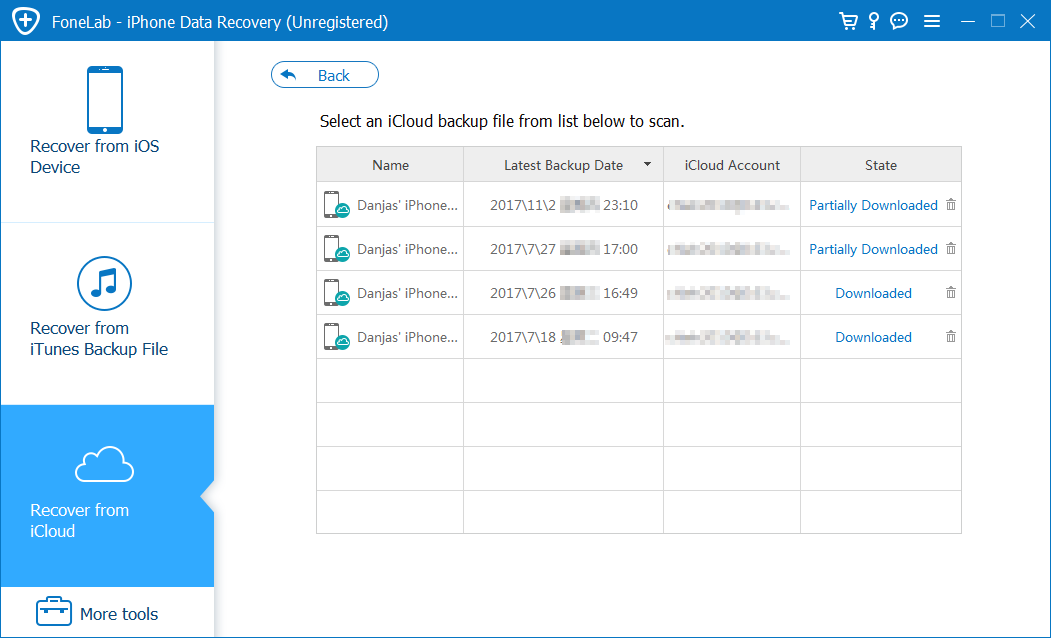 At this moment, a dialog box will get displayed, promoting you to make the selection of what kind of data you want to restore.
To bring back the iPhone contacts, simply tick "Contacts" option and click the Next button. The program will focus solely on the contacts download.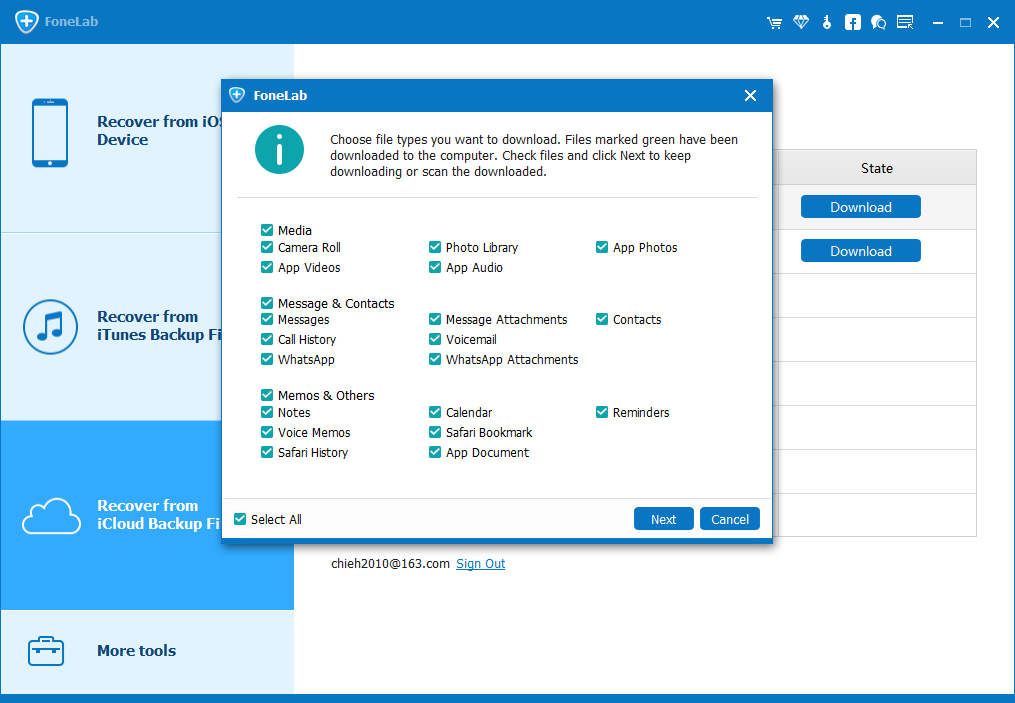 Step 3: Preview
Now, you can see the categorization of scanned results on the left pane of the interface, like the screenshot below. You then can have a preview of the contact information.
Here, for instance, press on the "Contacts" option under "Message & Contacts" section on the left pane will display you a list of contacts on the middle pane. Click on any item, the program will give you a more intuitive profile on the rightmost pane.

Tip: Find the switch labeled "Only display the deleted item(s)" on the top of the middle pane and enable it, the program will focus on displaying the lost files.
[Further Reading: How to Transfer Contacts from Android to iPhone X]
Step 4: Initialize the contacts restoration process
At that point, you can select all contacts or only ones you specify by checking the box next to the each contacts you want to recover,
Once you've identified the items you want to regain, click the Recover button at the bottom-right corner and a dialog box as below will be presented to you. All you need to do is select an output folder to keep the recovered contacts of iPhone on your computer.
Finally, hit the Recover button again to begin retrieving contacts from iPhone backup in iCloud and save in your specified folder on your computer with CSV, HTML or VCF format.

Tip: There are occasions that some users want to move the recovered contacts of iPhone back to their phone for portable use. A fairly painless way to do it is through the use of a third-party software - iTransfer, which is a comprehensive data management tool that keeps the contacts migration a simple task. Other stuff like songs, playlists, videos, TV shows, photos, messages, etc can be transferred smoothly among iOS devices, Android devices and computer.
Conclusion
As you can see, iOS Data Recovery is such a nifty iPhone stuff recovery program for recovering the deleted content from iOS devices. In fact, the steps for retrieving your data from iTunes backup or directly from iOS device are exactly the same, except that you select from a list of backups on your PC's hard drive rather than connect the device to your USB port. Please feel free to give it a try!