How to Restore iPhone Contacts from iCloud Backup Quickly
I lost some of my important contacts and not anything else overnight. I didn't remember doing anything that might lead to this. I have rebooted my iPhone, but it didn't work. I am not sure whether I make a iCloud backup. How can I restore this address book? Any info would be greatly appreciated guys!
It is very common for us to include contact numbers on our iPhone's address book to keep in touch with our close friends and family. However, those contacts are not always secured in our iPhone and it will get lost sometimes for several reasons or no reasons at all. Upgrading the iPhone iOS version make it possible to lose your contacts. Having your iPhone jailbroken can also result in some data loss, including contacts, notes, messages and so on. Other possible factors consist of iPhone reset, iPhone crash and some unknown reasons. Once your contacts are lost, it is not awful as long as you created backups of your iPhone in iCloud.
There is no doubt that you can retrieve lost contacts from iPhone backup with iCloud. But this will wipe out all your contacts that you've added to the iPhone after the date of that backup. Worse still, this is an all or nothing batch operation, you cannot restore just a few contacts you want.
Thanks to iOS Data Recovery, all things get easier than ever before. It's a cross-platform data recovery tool specifically designed for users to recover lost data files on their iOS devices, whether it be personal information such as contacts, messages, call logs, notes, reminders, or media files like app videos, audios, voice memos, or even attachments. It offers users three most common ways to get files back: from original iOS device, from iTunes backup and from iCloud backup.
Another nice thing about it is that it lets you preview the lost files and select what you want to recover, making the entire recovery process more quickly and efficiently.
How to Retrieve Lost iPhone Contacts from iCloud Backup
Note: This method applies only to situation when you have already backed up your iPhone with iCloud. If not, you should resort to another instructions on recovering contacts on iPhone without backup with this utility.
Step 1: Sign up to iCloud
When this app starts, you'll get a simple interface which should get you started without any trouble.
From the left side of the window, click on the mode labeled "Recover from iCloud Backup", you then will be prompted to enter your Apple ID and password to sign up to the iCloud account. Simply enter in your respective login credentials.
Step 2: Download contacts from an iCloud backup
After logged in, all the backup files attached in this account will be automatically loaded and displayed on the right pane of the program's window. As you can see in the screenshot below, we have two backup files available in the list, meaning we can choose either of both to get our contacts back if we lost contacts on iPhone.
From the list, select the most relevant backup and click the Download button.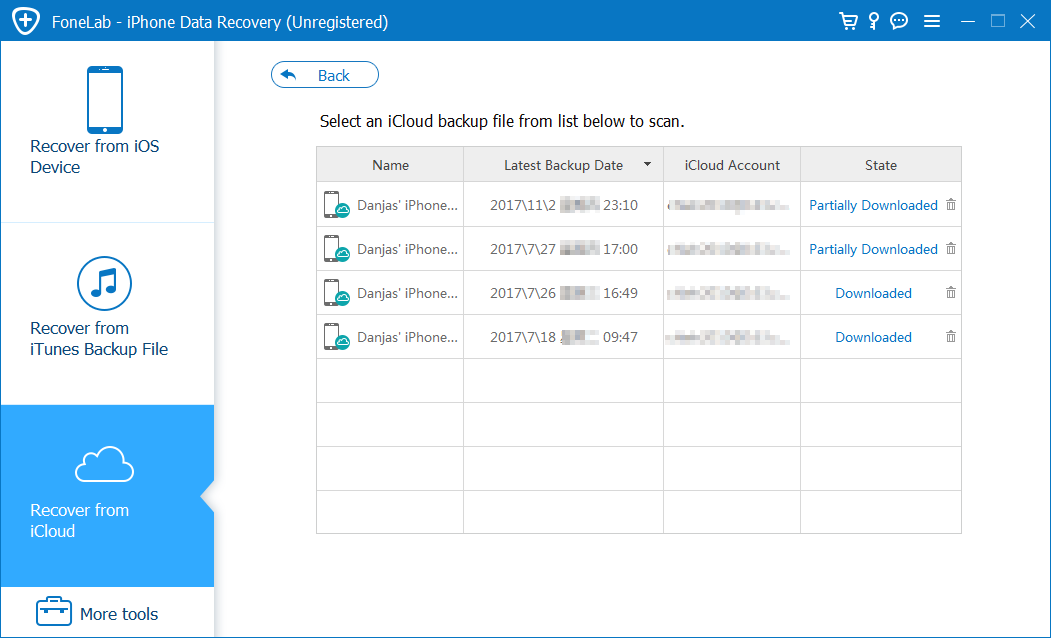 At this moment, a dialog box will open up, prompting you to make selections of what kind of data you want to download.
To bring back the iPhone contacts, simply tick "Contacts" option and click the Next button. In this way, the program will focus solely on the contacts download, you can also check other files to be downloaded on the box if needed.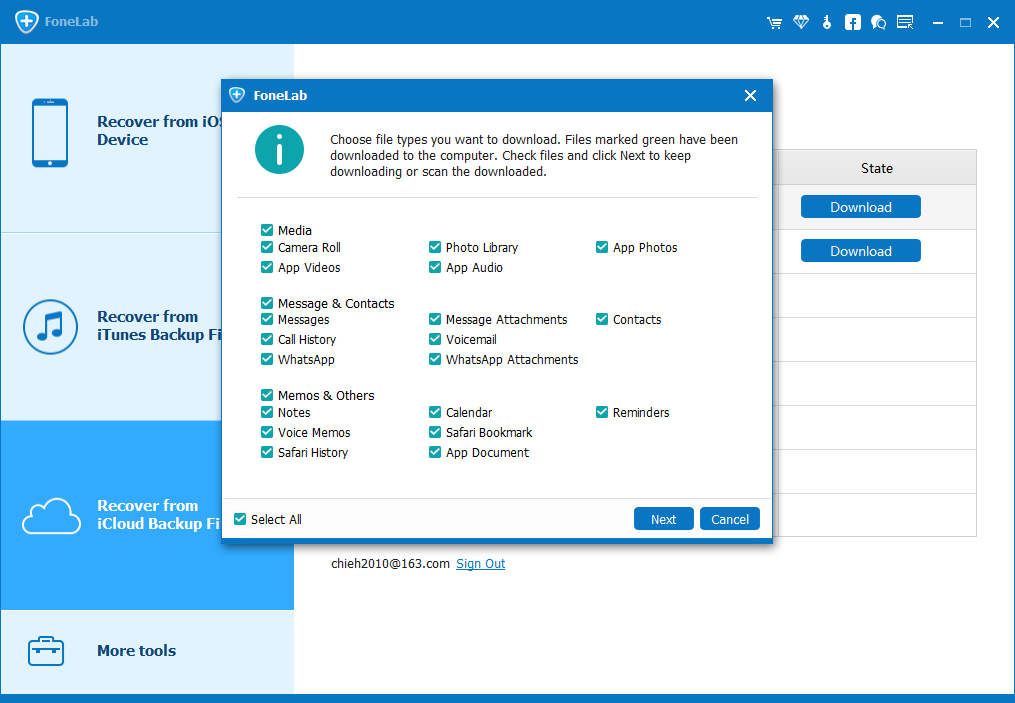 Step 3: Preview contacts
Now, you can see the categorization of scanned results on the left pane of the interface, like the screenshot below. You can then have a preview of the contact information.
Here, for instance, press on the "Contacts" category under "Message & Contacts" section will display you a list of contacts on the middle pane. Click on any item, the program will give you a more intuitive profile on the rightmost pane.

Tip: Find the switch labeled "Only display the deleted item(s)" on the top of the middle pane and enable it, the program will focus on displaying the lost files.
[Further Reading: How to Transfer Contacts from Android to iPhone X]
Step 4: Initialize the contacts restoration process
At that point, you can select all contacts or only ones you specify by checking the box next to the each contacts you want to recover.
Once you've selected the files, simply click the Recover button at the bottom-right corner.
A dialog box will pop up, requesting a location to to save the newly recovered iPhone contacts.

Finally, hit the Recover button again to begin retrieving contacts from iPhone backup in iCloud and save in your specified folder on your computer with CSV, HTML or VCF format.
Tip: There are occasions that some users want to move the recovered contacts of iPhone back to their phone for portable use. A fairly painless way to do it is through the use of a third-party application - iTransfer, which is a comprehensive data management and transfer tool that keeps the contacts migration a simple task. Other stuff like songs, playlists, videos, TV shows, photos can also be transferred smoothly among iOS & Android devices and computer.