How to Recover iMessages from iPhone Safely and Instantly
It used to be a big pain when it comes to getting back the lost iMessages from iPhone (X, 8, 7, 6s, etc.), but it's now easier than ever to restore all of your iMessages including important info and attachments like inserted images and links which are lost or deleted from any iOS devices. To round things off, we'll provide a few tricks in this post to help you get used to the program we resort to and point out how best to take advantage of it so as to quickly undelete the iPhone iMessages.
About iMessages
iMessages is part of Apple's instant messaging app that can be used on iPhone. Unlike the typical text messages for which you will be charged by the cellular data service provider, iMessages enable users to send unlimited messages to your friends if the device is connected to Wi-Fi network (iMessages will use cellular data if iOS devices are not connect to Wi-Fi). For those who text a lot and want to cut down on SMS messages, iMessages can be a good application to keep in touch with your friends without worrying about the charges that are from mobile phone carrier. To use iMessages, you just need an Apple ID, so iMessages can also run on non-cellular iOS devices like WiFi iPad, iPod touch and even Mac computer, in addition to iPhone.
iMessages is subject to loss due to accidental deletion or iPhone failure. Don't fret, thankfully, the deleted iMessages, no matter the chat history or the iserted iamges and attachments, haven't gone forever and they are usually possible that they could be able to be recovered with the help of a third party software for iPhone iMessages recovery - iOS Data Recovery.
Highlights about iOS Data Recovery
iOS Data Recovery is a safe application that can scan any iOS device, iCloud backup and iTunes backup deeply to find deleted but not-yet-overwritten data.
It's capable of recovering nearly all kinds of iPhone data, including contacts, call logs, photos, messages (SMS and iMessages), notes, reminders, etc and then export that data back to your device if desired, or export it to a file on computer by default.
It allows you to preview the details from iMessages prior to recovery process rather than going through a full restore so that you can sift the items you want to get back among the scanning result.
It saves the retrieved data in corresponding file format onto the local machine, like the iMessages are saved as HTML or CSV files, which you can easily sync to your iPhone after recovered.
Depending on whether you're recovering iMessages from your iPhone itself or from backup files you have regular made, the process will be slightly different. Click on the corresponding link below for detailed instructions.
Option 1: Recover Lost iMessages from iPhone Itself
Step 1: Hook up iPhone to computer
In order to restore iMessages from iPhone, first fire up the software on your machine and choose the "Recover from iOS Device" mode on the main interface.
Then, connect the iPhone to the computer's USB port using the USB cable which is used to charged your iPhone. Once connected, your iPhone's basic information will be displayed on the pane.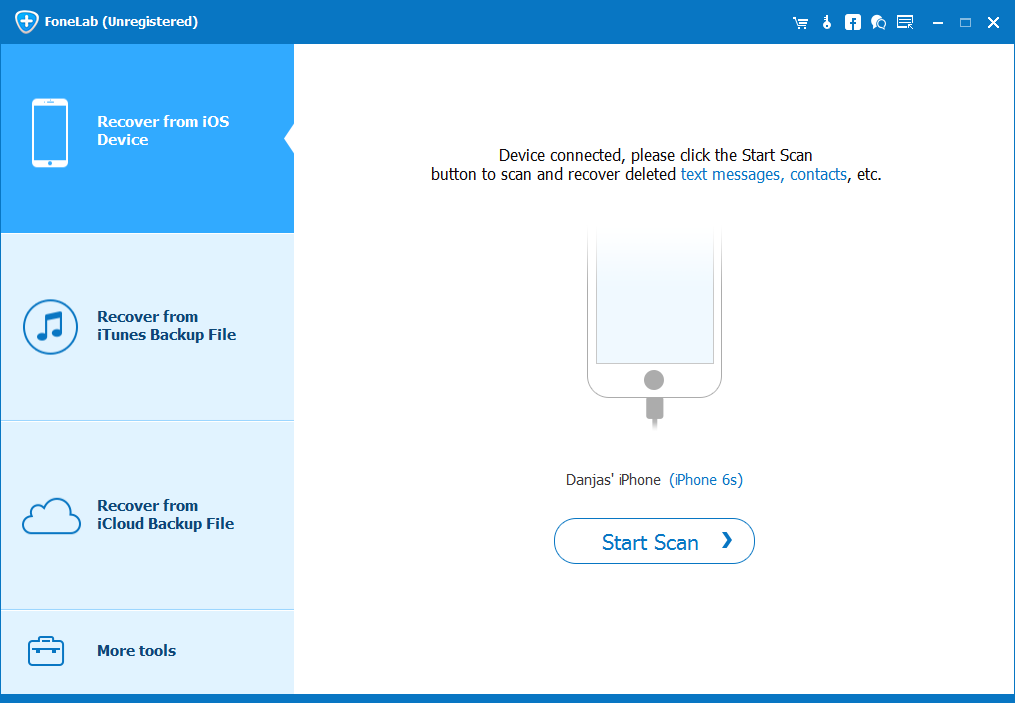 Step 2: Scan iPhone's memory
Click the blue Start Scan button and the program will begin a direct and deep scan for the device - both deleted and existing content.
After scanning, you can see all kinds of files with quantity are arranged on the left side of the window.
Step 3: Preview iMessages
For a way to quickly locate the certain content you wish to restore, you're empowered to choose any individual category on the left pane for details previewing on the right pane.
To do this, simply click "Messages" and "Messages Attachments" on the left pane of the interface and you can see the specific items of iMessages with private information on the middle pane where you can also press any of item to reveal the conversation on the rightmost column. From there you can check whether it is the intended iMessage to be undeleted.
Step 4: Start recovering the deleted iMessages from iPhone
Now, tick the checkboxes next to messages you want to regain back on the middle pane, each of these items can be highlighted.
Afterward, click the Recover button on the bottom-right position and a dialog box will be introduced, promoting you to choose a location for the undeleted iMessages.

The last hit of the Recover button again in the bottom right corner, will initiate the process of recovering the iPhone iMessages and store as HTML or CSV format on the computer.
One thing to be noted is that you'd better to go to the designated folder to check the recovered iMessages of iPhone after every attempt.
If you are running on a PC machine and would like to migrate the recovered iPhone iMessages back to iPhone (iPhone X, 8, 7, 6s, 6, etc) in a quick way, then you may give a shot at iTransfer (PC download) - a nice alternative to iTunes for managing stuff among iDevices, Android devices and computer.

This method is workable to get important data back even if you don't back it up through iTunes or iCloud. Other alternative is simply extract iPhone iMessages from iTunes backup or iCloud backup if you performed a full backup before and archives can be restored in their entirety.
Option 2: Restore iPhone iMessages from an iTunes Backup
This method requires you to keep precious backup of iPhone iMessages in iTunes and then go digging around to the find the corresponding backup files to recover from.
Step 1: Activate to iTunes recovery mode
Navigate to the "Recover from iTunes Backup File" mode, click it and this utility will automatically load the iTunes backup files from the computer.
If the iPhone's backup is encrypted, you'll need to unlock it with password.
Step 2: Scan content from iTunes iPhone backup
Select iPhone backup from iTunes device backups list that contains the iMessages you want to recover and click the Start Scan button at the bottom-right corner. This method won't let you choose the individual data type you want to scan for, but you can eventually choose which among them you tend to recover.
Wait for a while until the program finishes scanning the backup files.
As you can see in the picture as below, all the stuff from iTunes backup is displayed on the pane, arranged by data types.
Step 3: Preview and recover iMessages
For quickly find the deleted iMessages of iPhone, use the arranged directory on the left pane of the window, where you can choose to display the imbedded files on the right pane.
On the leftmost side of the window, you can click "Messages" category (or "Message Attachments" category) to preview the items on the middle pane. And you can check the conversations from certain iMessages on the rightmost side by pressing any of item on the middle.
The default state is that all the items are marked. If you want to restore only several of them, then you need to uncheck the items you don't need and subsequently find the Recover button at the bottom right corner, press it with which a dialog box reveals, for choosing a save location to keep the retrieved iMessages of iPhone.
Confirm a final time, and hit the Recover button in the dialog box. Then the software will initiate extracting iPhone iMessages along with attachments from iTunes backup to your computer.
After the restore process, you can connect your iPhone to your PC with USB cable and sync the files to your iPhone using iTransfer software.
Option 3: Extract iPhone iMessages from iCloud Backup Files
Step 1: Enable iCloud recovery mode and sign in to iCloud account
On the main interface and choose the third mode "Recover from iCloud Backup File" and you'll need to input your Apple ID and password which you use for the iCloud account.
This iPhone iMessages recovery software respects your privacy and never records iCloud-related information during the process.
Step 2: Gain access to iCloud backup files
After logging in, you'll find all of the backups archived in this iCloud account listed on the right pane of the window below, and the given device's name, latest backup date or iCloud account will give you an indication of which backup is the most relevant one that includes the iMessages of your iPhone. Just pick the one and click the Download button.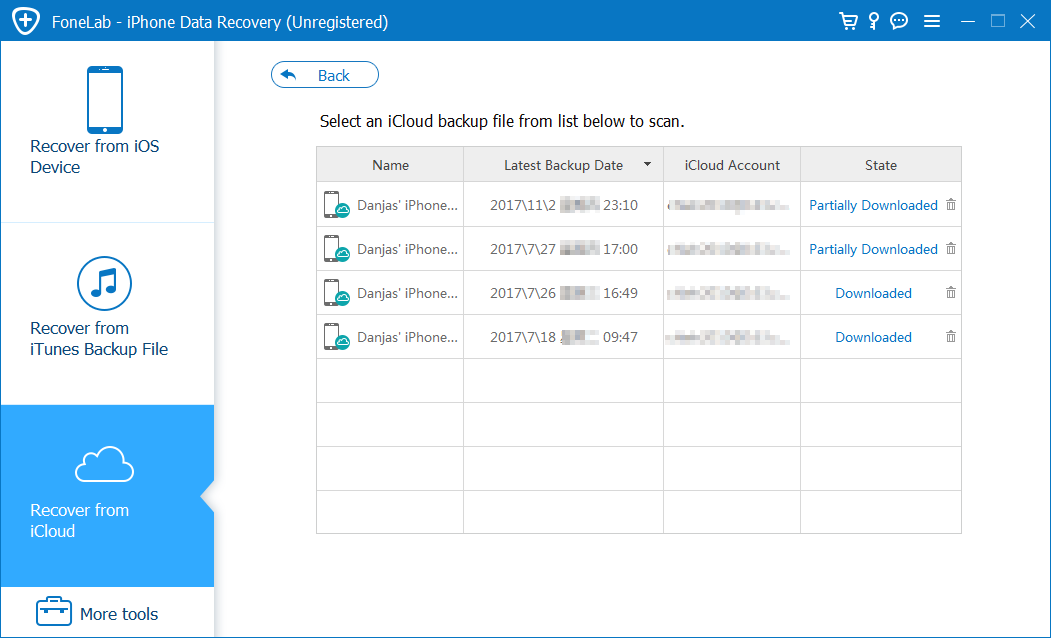 A dialog box will get displayed, you just make selection of the file types which is to get downloaded.
In this purpose, tick the "Messages" and "Message Attachments" option as desired. You can also select other data if you retrieve more than iMessages. Then, click on the Next button to confirm and start downloading the backup files.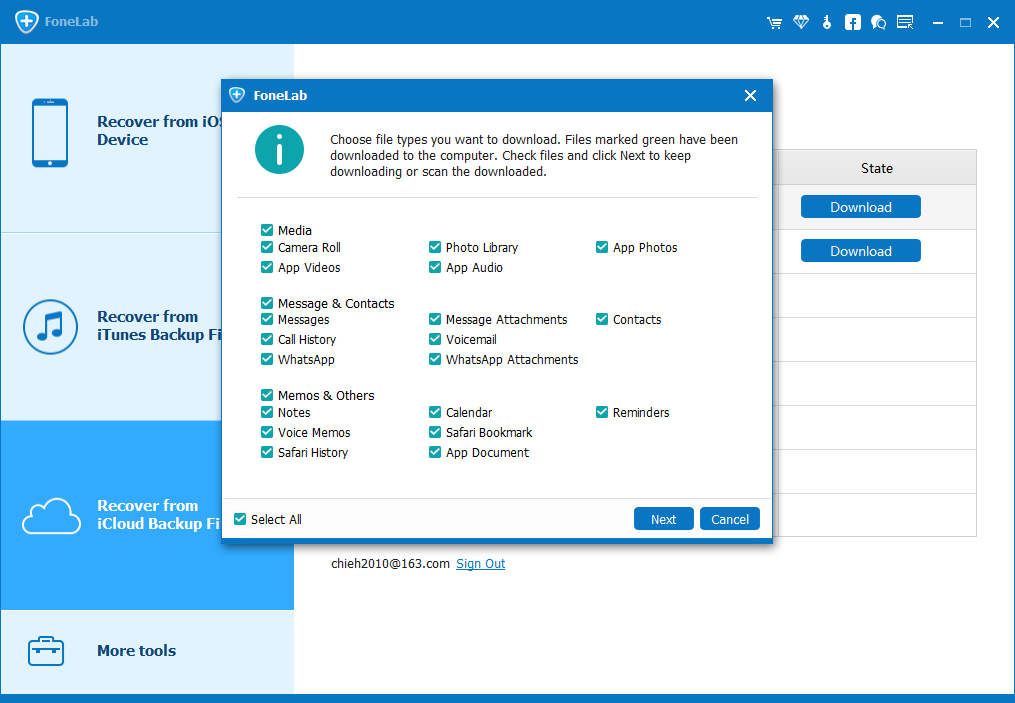 Step 3: Preview and restore iPhone iMessages to the computer
At this point, you can click "Messages" category (or "Message Attachments" option) to make a comprehensive preview of the iPhone iMessages, including name, phone number and email. Also, you can get a display of chat history on the right column of the interface by selecting a certain contact on the middle pane.
Mark the items when viewed in the middle pane by highlighting the corresponding check boxes. Then, press the Recover button at the bottom-right corner of the window. When a window pops up, depending on your need, you can choose a path to store the output iPhone iMessages.

Now, click the Recover button one more time and the program begins grabbing all the selected iPhone iMessages from iCloud backup and exporting them to a destination of your choice.
You shall get all your iMessages deleted or lost from iPhone once restoring process is done. That's done!
Conclusion
iOS Data Recovery works safely and quickly, which has immensely helped it in winning over users. Whenever you're suffering the data loss of iOS devices, iOS Data Recovery can handle it without hassles. Just download this reliable program and test it!