How to Import VOB to iTunes on Mac/ Windows
I have a number of .bup, .vob, and .ifo files in a video_ts folder, every time when I want to put them onto iTunes to sync to my iPad, iTunes says it is not the recognizable file, one question please, how do I convert .vob file to something readable for iTunes? Any program should I need to use to fix this?
While there are tons of container file types in the digital field, there isn't a common standard for videos. Some of recording software and devices shoot in different formats, and other type of devices may not support these formats you're trying to play. As for iTunes, it is fine if you've got all of your movies from iTunes Store - they are fully compatible with your Mac: QuickTime, iMovie, iPad, iPhone, Apple TV and FCP, but if you've got a DVD vob media file, say from your disc, things get tricky when you trying to import VOB to iTunes to get them workable for iOS device and Mac application.
In order to add VOB to iTunes for Mac, you need use a video converter to encode videos and create iTunes compatible files (MP4, QuickTime MOV, and M4V) prior to transferring. There are several converters in the market and one of our favorite cames out pretty good - Video Converter for Mac - it converts everything to everything smoothly, including VOB to iTunes, and produce high-quality video. Besides, The program has a good range of pre-configured options to convert videos with the correct resolution for the popular device. If you would like to get your VOB files added into your iTunes installed on Windows computer, please refer to Video Converter for Windows.
VOB files on commercial DVDs are encrypted and you can't extract them out directly. You need a third-party software such as DVD Ripper to tackle this sort of thing. So keep that in mind.
This guide will talk you through how to convert almost any movie you have for iTunes including encoding VOB to iTunes file on a Mac, so you can put it on your iPad/ iPhone or other iOS device.
Step 1: Import VOB files
Launch the converter, the program is light on system resources with a basically empty and easy to use interface. Click "Add File" button to locate the VOB files into the software.
By the way, if you want to combine several files into one large file, you can enable "Merge" option.
Step 2: Set iTunes support video format as output file
Next, choose your preferred format for conversion. iTunes by default supports MP4, MOV, M4V video format (check Apple Device Supported Format List).
Click "Profile" drop-down list, you'll find a wide variety of formats. Here you can choose MP4 or MOV, or M4V as output format. For each format there has options that allow you to go in and modify most output settings like audio/video bitrate, codec, quality, etc.
Then, make sure the location you're saving the new created video is correct via "Destination" box.
Step 3: Conversion
This part is the simplest, but the longest.
Now that you've got everything set up how you want, to start converting files from VOB to iTunes compatible files, simply press the "Convert" button to begin the encoding. You'll see an increased percentage of the track in a blue status bar.
When Total Progress shows 100%, you will have compatible version of your video(s) for iTunes, just drag them into your iTunes library and have a fun!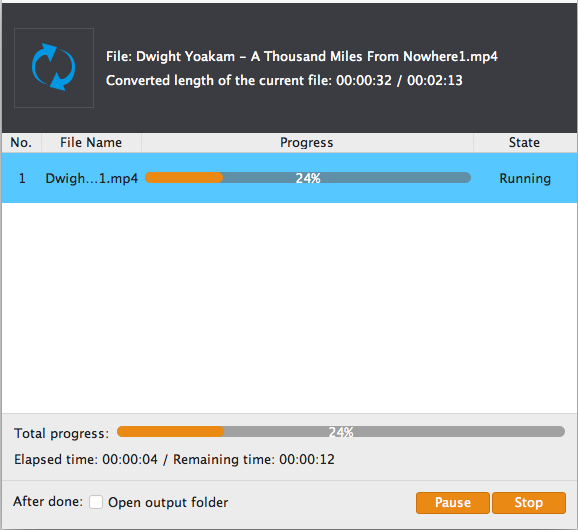 Step 4: Put the converted files from VOB to iTunes library
When all the files have finished converting, just launch the Apple iTunes, and copy the resulting files into library and move them to your iOS device.
That is it!
More Related to iTunes Conversion
How can you convert the WMV file and import into iTunes library
How to Convert 4K H.265 video to ProRes 422 LT MOV file for Mac