How to Extract Audio from VOB to MP3 on Mac/ Windows
I have a vob file stored on DVD that I want to extract just the music and save as mp3 file. I have been on the net and done so many searches but still no found on vob to mp3 tool, so I thought someone out there would be able to help me out" - Herron
DVDs, use DVD Video Object (VOB) to save their video and audio together in one file. You may wish to pull the sound from a DVD that created yourself to use an audio file on an audio device, such as MP3 player. Due to the fact that VOBs do not separate their video and audio, you must rip the DVD and extract the audio from a VOB to MP3. Once the file is converted into MP3 format, it is can be played on an MP3 player or burned to CD.
Many programs are capable of converting VOB to MP3 audio on Mac, including an easy yet helpful application - Video Converter for Mac. With it, just within three clicks you can get audio sound from VOB to MP3, OGG, AAC or FLAC. The following steps give you detailed information about how to use the powerful app to accomplish the conversion. For converting VOB to MP3 on a Windows computer (8/7/Vista/XP), please try Video Converter for Windows. VOB files on DVD are sometimes encrypted. If you can't decrypt and extract the content of a DVD (.vob) as a MP3 file, please use DVD Ripper.
Today we're going to see how it performs conversion from VOB to MP3 on a Mac.
Step 1: Import VOB files
Click "Add File" button to open the file browser window and import VOB (DVD video_ts) file to the program. Alternatively, just easily drag and drop VOB files into program for converting.
Step 2: Select MP3 as the output format
Click "Profile" drop-down list on the lower left side of the program interface, and then choose MP3 from "General Audio" list as output format.
If you want to convert a VOB to a video format such as MOV, for example, simply switch from "General Audio" list to "General Video" list and scroll down until you find the MOV option and pick it.
Step 3: Start VOB to MP3 Mac conversion
Simply hit "Convert" button and let it go to town. This operation could take a few minutes/hours, depending on the length of the video, the settings which are being used and the hardware in your computer.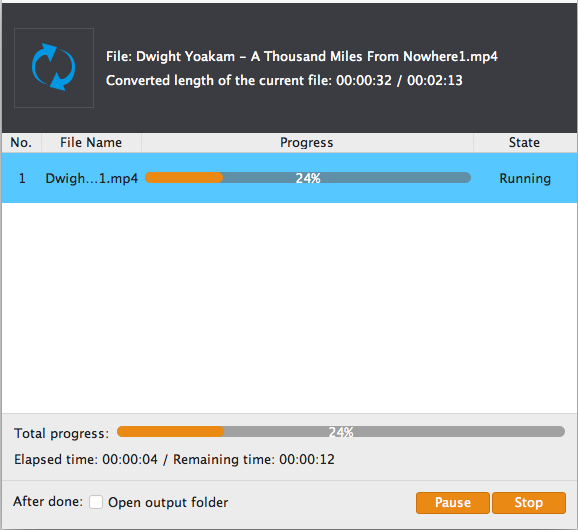 After you successfully converted you VOB to MP3 file, you can enjoy it on iTunes or transfer to iPod, iPhone and other players. Or burn to a CD for music listening on the go.
Conclusion
Video Converter is a little handy application that enables you to convert VOB files to MP3 audio. You can also use it to convert other digital files including High Definition videos, and the range of output formats is impressive. See at: how to convert TS video files to MOV format.
into a wide range of formats and generally, this works fine.