How to Restore iPhone & iPad Notes from iCloud Backup
I have been using iPhone since I had access to smartphone. From iPhone 4s to iPhone 7 (Plus), it facilitates my work greatly. I often use iPhone notes to keep track of everything, mostly my work issues. But something goes wrong now because I deleted some notes by mistake. I have iCloud enabled, is it possible or any way to recover those deleted notes on iPhone?
Some of important notes in Notes App have been erased on your iPhone or iPad? Well, there is a chance for the deleted notes to come back. Read this post and learn an effective way to recover iPad & iPhone notes from an iCloud backup (see this article about official way for restoring from iCloud).
Many iOS (iPhone, iPad) users take notes on a daily basis to keep important information and ideas that can be viewed when needed. But things are always unpredictable, and so are notes on an iPhone. Notes can be lost due to unexpected reasons and you try every means to get them back, especially in critical times. Therefore, we must keep something for a rainy day.
Absolutely, iCloud is a good way to back up your notes. You can recover your device and get back the notes via iCloud backup. But there is one thing to be noted: when you restore your iPhone, all the stuff that stored to your device will be replaced by the iCloud backup. This is an all or nothing operation.
To retrieve the missing notes safely and selectively from iCloud backup, iOS Date Recovery is something you can't miss.
This program is capable of recovering notes from iCloud backup quickly and easily. Other recoverable data includes contacts, call history, text messages, reminders, media files (video, audio and photos), among other things. Besides, you can preview and select the notes that are meaningful to you, rather than restoring all the items. If you haven't backed your iPhone to iCloud before, nor to iTunes, but still want to recover your notes, read our article: how to recover notes from iPhone without backup file.
Let's see how this program works.
Step 1: Log in to iCloud account
Download the software and install it on your computer.
Run it and select the third mode labeled "Recover from iCloud Backup File" from its main interface. When you get a window like the one below, enter your Apple ID and password in the box, so the program can have access to all your backup files.
Step 2: Choose what sorts of files you want to download from a backup
Once logged in, you will get all the available backup files you made for iPhone previously. Select one of them that contains the notes you want to recover notes from and press the Download button.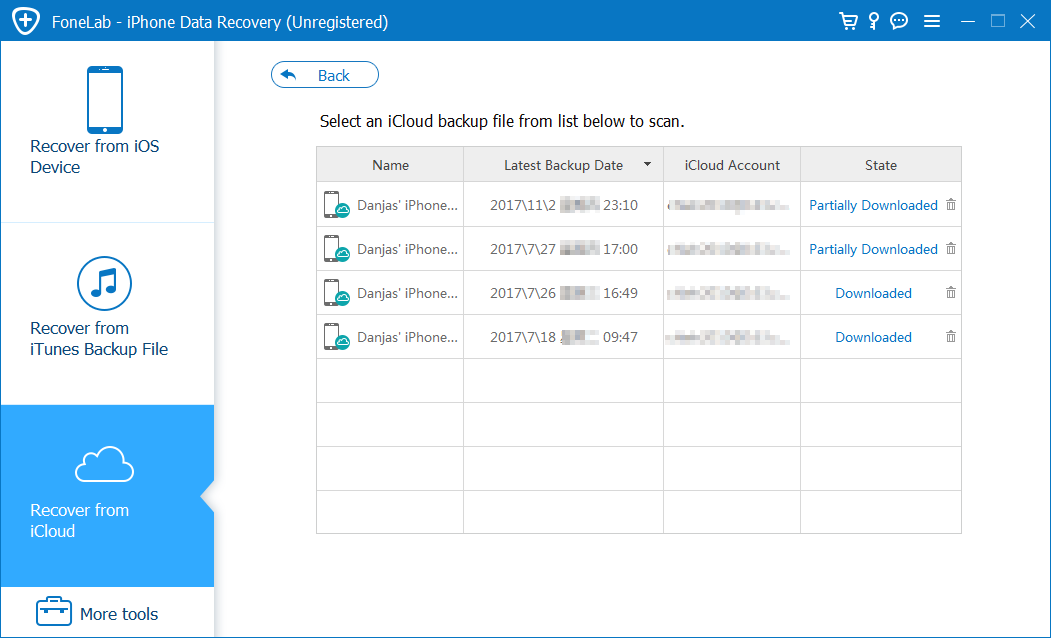 A window pops up, from where you'll need to pick what types of files you want to downloaded.
By default, they are all selected; if you want to remove some of them and leave only the ones (make sure Notes is ticked) you wish to download, go through the list and uncheck any data files you do not want.
Press the Next button to start downloading the files.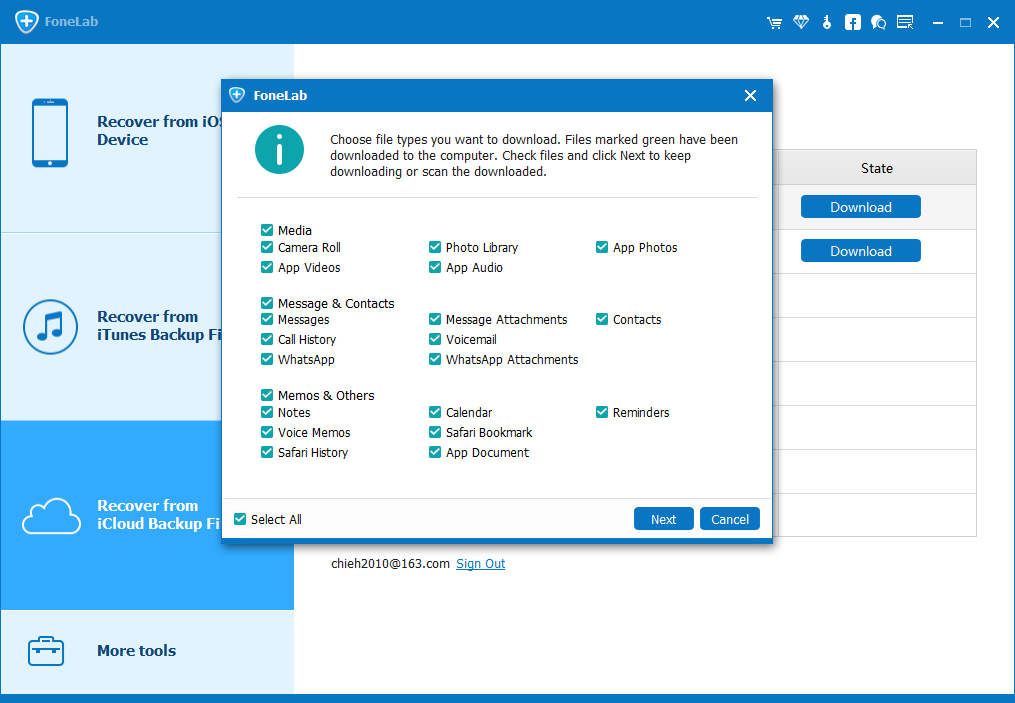 Step 3: Preview iPhone's notes
After the files have been downloaded, you can have a preview of the notes. From the left menu, click the "Notes" category to preview the details of your memos: Title, Date, Location and Memorandums.
Next, check the notes you want to retrieve from the list by marking the small boxes next to each one.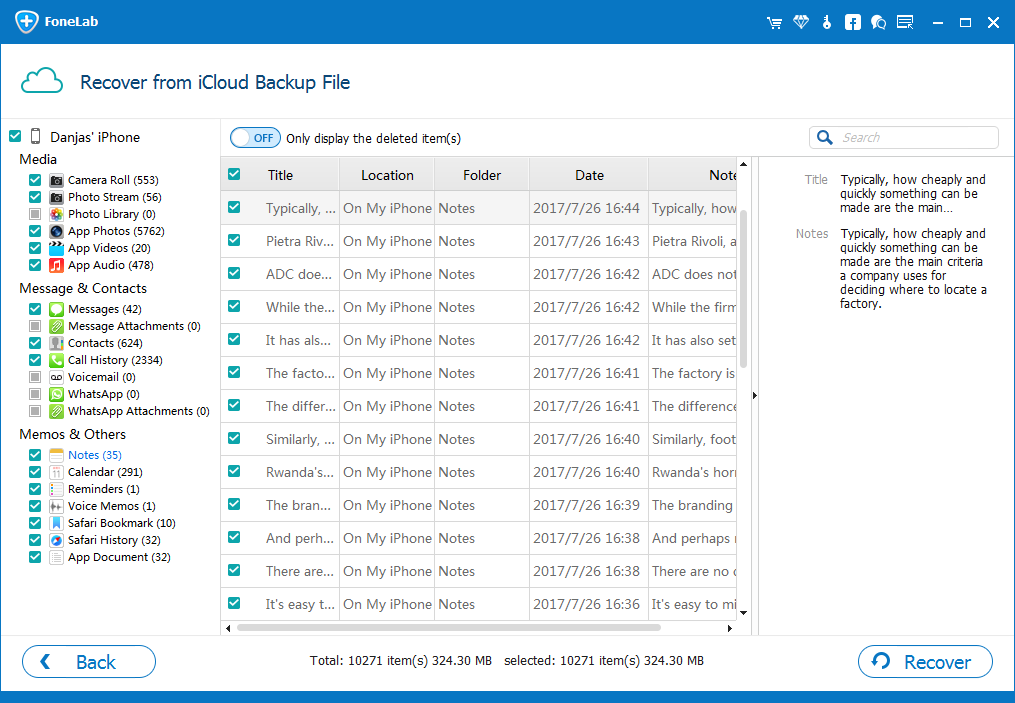 Step 4: Start restoring lost notes
once selected, go ahead and click on the Recover button at the lower-right corner. Then, you are required to designate a local folder in the pop-up dialog box.

After that, hit the Recover a second time. This iPhone notes recovery software will start restoring notes from the backup and save to your computer.
The exported files will be saved in your computer in HTML file, so that you can then view the notes on a browser.