How to Reset Windows 8 Password on Acer Laptop & Desktop
Forgetting an account password on logon screen of computer is a common occurrence regardless of which platform you're running. If you've accidentally lost the admin password on ASUS laptop & desktop PC with Windows 8/ 8.1 system, there are ways to reset the password and gain access to your ASUS Windows again. Here's how to get started.
Starting from Windows 8 operating system, Microsoft provides two different types of account - Microsoft Account and Local Account for users to log into a Windows computer & tablet. If you're using an email address of Windows Live ID as user name to log into your ASUS PC, it's a Microsoft Account. In that case, resetting the password on your ASUS with Windows 8/ 8.1 can be relatively quick and easy. You just need to follow this.
If you instead are using a Local Account which only save the log information on the ASUS machine itself, the first thing you should always do is see if you have a pre-made Windows 8 password reset disk placed somewhere in your room. You can use it to reset the forgotten password instantly and regain access to the ASUS computer without any data loss. See this.
However, in a worst case scenario, what if you don't have a reset disk ready nor resort to installing the system? Thankfully, it really doesn't matter what the situation is, Spower Windows Password Reset can help you bypass the Windows 8 password on ASUS laptop & desktop and get you back in business without ever needing to know what the original password was.
The program (editions comparison) comes with a simple design that allows you to easily reset the local password on all versions of Windows including Windows XP, Vista, 7, 8, 8.1, 10, and reset the domain password on Server 2003, 2008, 2012. In addition, you can also use it delete an unwanted account or create a new administrator account for the computer.
The following step-by-step instructional guides explain how to reset the password on ASUS laptop & desktop with Windows 8 (or any of other system).
Step 1: Run the program and create a Windows 8 password reset disk USB/ CD/ DVD
Download the copy of the program on a second PC with Internet access, install it.
Launch the program you'll be greeted with a simple main interface where gives you basic instructions about how it works.
Insert a blank CD/DVD or USB device onto the computer, hit the USB device or CD/DVD button to begin creating a password reset disk for ASUS Windows 8 system.
After the creating process is completed, pull the disk out of the machine and insert into locked ASUS computer.
Next, you're required to change the BIOS of your locked ASUS machine so that the Windows 8 reset password disk comes before the Windows 8 system drive in the boot order of ASUS BIOS settings.
Step 2: Set BIOS to boot your ASUS computer from the Windows 8 password reset disk
1) Most new computers come with UEFI firmware instead of the traditional BIOS since 2012 when Windows 8 released. If you're on a new computer with Windows 8 preinstalled – it should use UEFI (Unified Extensible Firmware Interface), you have to [Windows 8] How to enter the BIOS configuration of Windows 8, and then follow How to boot the system from the USB disk or the CD-ROM drive.
2) If you just replaced your PC's old operating system (e.g. Windows 7 or Vista) with Windows 8/ 8.1 on an existing machine which still uses legacy BIOS, you can simply follow the article about how to set legacy BIOS to boot from CD/DVD or USB drive.
Afterward, restart your computer.
Step 3: Reset the password of Windows 8 on ASUS computer
As soon as your locked ASUS machine quit the BIOS and boot from the password reset disk, the program resetting screen that contains detected user accounts will display.
Now you should be able to reset any of account you like. Select the Windows OS on machine if there is more than one installed, and then choose an account that you need to reset the password to, press Reset button at the bottom.
The program will reset the password for that account to be blank password, no matter how long or complicated the original password was.
When you have reset all unavailable account password in Windows 8/ 8.1, hit Reboot button to restart the computer, just be sure to unplug the disk out of your ASUS computer first!
Note, you can choose to go back in BIOS and change the boot order to the original settings - that is, set 1st boot device to the hard drive on where you install Windows 8 system. It doesn't matter if you don't do that, it won't affect Windows from booting as long as the password reset disk is unplugged.
That's all there is to it. Now you'll finally log on to your ASUS computer without entering a password.
The Special version of this application, aside from resetting the forgotten Windows 8 password on ASUS laptop & desktop, also enables you to add a new account with administrator privilege. Deleting an account is also supported.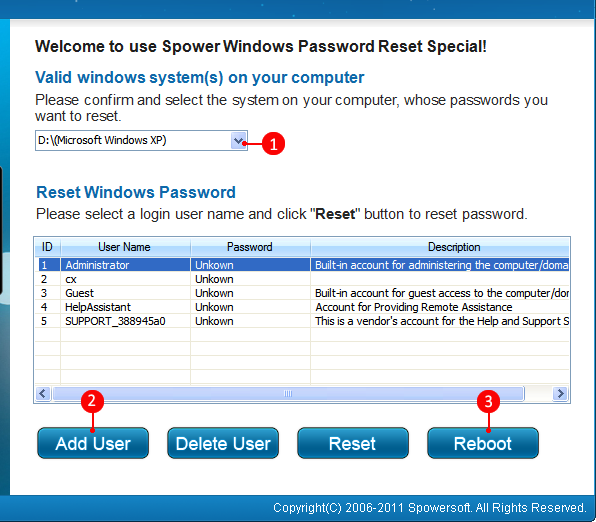 List of ASUS Notebooks & 2-in-1 PCs, Desktops & All-in-ones Supported
Notebooks & Ultrabooks & 2-in-1 PCs: Zenbook Pro UX 501VW, N550JX, N551JQ, N550JK, ZenBook UX305CA, UX305UA, UX303LA, UX303UB, UX 305FA, ROG GL552VW, GL752VW, G752VL, G771JM, GL551JW, G752VY, G752VT, N550JX, N551JQ, N550JK, K501LX, K501UX, X552WA, X751LX, X550JX, X550ZA, X551MAV, X555LA, X751MA, E402SA, Vivobook E200HA, E403SA, Eee PC T101MT, E402MA, EeeBook X205TA, F555LA, F555UA, Transformer Book Flip TP200SA, TP500LA, TP550LA, TP300LA, Q553, Q303, Q503, Q551, Q552, Q302, T100HA, T300chi, T200TA, T100TAM, T100TAF, T100TA, T100chi, etc.
Desktops & All-in-ones: M52BC, K30BD, M32BF, M32AD, K30AM-J, VivoPC M32CD, M32BC, ROG G20BM, G20AJ, G20CB Oculus Ready, G20CB, G11CD, G10AJ, G11CD OCulus Ready, G11CB, G10AC, VivoPC VM42, VC62B, VM60, VM62N, VM62, ROG GR6, VivoMini UN62, UN42, UN65, VM65N, VC65R, VC65, UN65H, UN45, VivoStick PC (TS10), Zen AiO Pro Z240IC, Vivo AiO V230IC, ET2221IUTH, ET2311INKH, A420, etc.
List of computer brands Supported