How to Reset Windows 8 Password on Toshiba Laptop & Desktop
Having a Windows 8 password forgotten on Toshiba is never fun for all of us — whether it's your own fault or just an unexpected occurrence. There will also come a time when you're going to want to reset or recover the lost password of Windows 8/ 8.1 on your Toshiba laptop & desktop.
Windows 8 gives users more types of user accounts to sign in to the system, so the way to reset or recover password on your Toshiba computer with Windows 8/ 8.1 varies.
If you are using a Microsoft account (also known as Windows Live ID) to connect to your Toshiba Windows 8 8.1 login account, resetting the lost login password is dead easy and quick enough. You are able to go to https://account.live.com/password/reset via a browser on another accessible computer or table. Once you select "I forgot my password..." option on the screen, you'll be prompted to fill out the related information to verify the ownership the account. Once that done you will receive the code, enter it in the field provided, and then you're prompted to set a new password.
If you log on to your Windows 8/ 8.1 Toshiba PC with a local account — just like you sign in to the earlier versions of Windows XP, Vista or 7, Microsoft also provides users a way to reset that kind of password. Microsoft comes with a built-in option in Windows 8/ 8.1 to create a password recovery disk in case a user forgot the login password. However, it is helpless if you don't have such a disk in hand. I don't think this way is valid for you at this point, or you wouldn't be here reading this article, right?
Fortunately, there are more than a few 3rd party tools available for resetting or recovering Windows 8 admin or user password on Toshiba laptop & desktop, so we can get back in to the computer in no time.
Amongst them, Spowersoft Windows Password Reset is our pick. It provides a user-friendly GUI to create a password reset disk so as to make the Windows 8 password resetting on Toshiba much easier. It also works on other versions of Windows since Windows XP, regard of what type of password you're losing, local password or domain password. Compare the editions to select a proper one to get the job done.
Basically, the basic steps involve downloading the tool to a second PC, making a bootable Windows 8 admin/ user password reset disk, turning your locked Toshiba machine and booting from it to reset the lost password. Also, this guide but can still be of use for resetting password on other versions of Windows.
Step 1: Run the software and create a password reset disk for Windows 8/ 8.1 system
Launch the software. Put a blank CD/DVD media disc or USB flash device onto computer.
Click on the blue "CD/DVD" or "USB device" button, in the next screen, click the "Start burning". The software will begin creating a bootable Windows 8 password reset disk.
When the process finishes, you will see a message "burning successfully" on the screen, close it, and quit the software.
Remove the disk from the computer, and insert it into your locked Toshiba computer that you need to reset the lost Windows 8 password for.
To reset your Windows 8 user account password, make sure that your problematic Toshiba PC will boot from the disk you just made rather than the default hard drive where contains your Windows 8 installation. So we have to change the boot order in Bios on locked Toshiba desktop & laptop.
Step 2: Change Bios settings to specify the disk you just made as 1st boot device
1) If you're using a computer with Windows 8/ 8.1 preinstalled – it will use UEFI firmware which can speed and secure startup, you have to enter the UEFI firmware and disable Secure Boot option, then follow the traditional way to set legacy BIOS to boot from CD/ DVD or USB drive.
You can also follow a useful topic from Toshiba Official Forum - How To: Enter the system Bios or UEFI on Windows 8.1 or Windows 8 computers.
2) Instead, if your computer was upgraded to Windows 8/ 8.1 from ealier versions like XP, Vista or 7, it should run the legacy Bios, you can simply follow the article about how to set legacy BIOS to boot from CD/DVD or USB drive.
Step 3: Reset the password of Windows 8 on your Toshiba computer
After saving your Bios changes, you computer will restart and boot from the password reset disk.
When the loading completes you can see the tool's rest interface, with a list of user names found on the Windows 8 operating system. This will bring you to the last step of the password reset.
Now you need to choose the user account that needs a password reset, and click the "Reset" button at the bottom side of the screen. The tool will start resetting password on Windows 8/ 8.1 to blank in a fast way, which means you're able to use the account to log on to computer without a password next time.
Next you can press "Reboot" button to restart the machine. Be sure to remove your Windows 8 password reset disk from the Toshiba computer so it doesn't again try to boot from the disk.
Now you can log in to Windows with that account without password, you have full access to all files on your Toshiba computer.
It's advisable to switch your local account to Microsoft account on your computer, or create a password reset disk via the User Account settings in the Control Panel to avoid reinstalling the system in case you're locked from the machine again.
Delete an account or create a new account with admin rights (Special version only)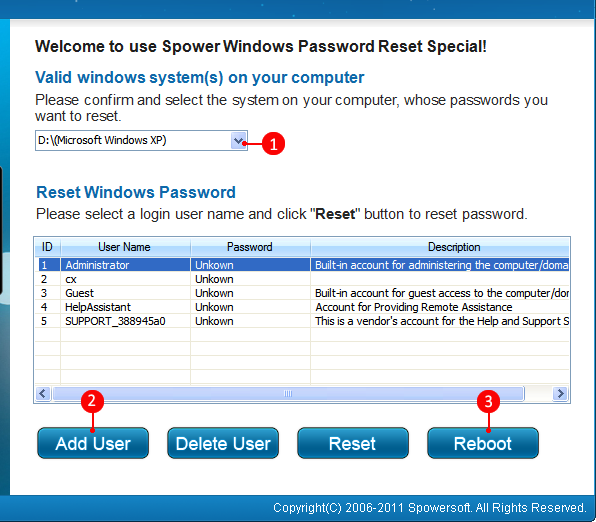 List of Toshiba Laptops & Notebooks & Ultrabooks Supported
Tecra®: C40 (C40-C1430 /14"), C50 (C50-C1500, C50-C1502 /15.6"), A40 (Portégé A40-C1440 /14"), A50 (A50-C1540 /15.6"), Z40 (Z40-C1410, Z40-C1420), Z50 (Z50-C1550), etc.
Portégé®: A30 (A30-C1340, A30t-C1340 /13.3"), WT20 Tablet (12.5"), Z20t Ultrabook® (Z20t-C2110, Z20t-C2112 /12.5"), Z30 (Z30-C1310 /13.3"), etc.
Satellite: C40-C, C50-B, C55-C, C70-C, CL10-B, CL10-C, CLICK 10 LX0W-C, CLICK 10 LX5W-C, CLICK MINI L9W-B, L12-C, L50-C, L70-C, P50-C, P70-B, Radius 11 CL10W-C, 11 L10W-B, 11 L10W-C, 11 L12W-C, 12 P20W-C, 14 L40W-C, 15 P50W-C, Z30-B, Z30-C, Pro A30-C, Pro A40-C, Pro A50-C, Pro R40-C, Pro R50-C, Radius 11 CL10W-C-108, 11 CL10W-C-107, 11 CL10W-C-105, etc.
KIRA®: KIRA-10Z, KIRA-10H, KIRA-10J, etc.
ENCORE: ENCORE 2 WT10-A, WT8-B, etc.
QOSMIO: QOSMIO X70-B-112, X70-B-10T, etc.
Equium (desktop): 8050D, 8050M, 8050S, 8100D, 8100M, 8200D, 8200M, E8050, etc.
List of computer brands Supported