How to Reset Windows 8 Password on HP Laptop & Desktop
"Uh no...", Those are probably the first two words you'll utter when you realize that you've forgotten the login password on Windows 8 and can not access to your HP computer. Before you take it to local computer repair shop to restore the machine to factory condition, which may clear all the information from the system, there are ways and programs you can use to reset the password of Windows 8 on HP, regardless of which version you're running.
Windows 8/ 8.1 provide a new way - Windows Account (or Windows Live ID) to log onto a PC compared to the earlier versions of Windows. Microsoft Account is an ID that you can use on MS services such as Xbox Live, OneDrive, Skype, Windows, Outlook and desktop settings sync. If you old login was using an Microsoft account, you can go to this page to reset the forgotten password on Windows 8 on your HP laptop/ desktop.
If you're using a traditional way - Local Account to sign in to Windows, the most efficient method to solve the program is using a Windows 8 password reset disk you made previously in HP computer. But this method will only work if you have the disk ready before you were locked out of the computer. You might wonder is there any other way to get you back to Windows if you have no such disk in hand?
Windows 8 Password Resetting Software
Luckily, there is a great selection of programs available out there that can bypass the Windows 8 password for HP PCs or laptop. If you're looking to reset the password on HP with Windows 8 quickly and safely, you then can find few better tools than Spower Windows Password Reset.
The program is simple to use and comes with a very user-friendly interface. It can reset both local password on Windows XP/ 7/ Vista/ 8/ 8.1/ 10 and domain password on Windows Server 2003/ 2008/ 2012. Plus, it's capable of creating a new administrator account for the computer. The software has three versions to satisfy the requirement of the users with different Windows versions.
The entire procedure involves three basic steps: make a Windows 8 admin & user password reset disk, boot your locked HP PC from the disk, and the account password is cleared and you have access once again. Let's get started.
Step 1: Run the software on a second computer and create a password reset disk
Since you do not have access to your HP that lost logon password at this point, you will have to download the software (see link above) to another accessible computer, install it on desktop.
Open up the software and Insert a blank CD/ DVD or USB key drive onto the machine.
Click on the blue USB device or CD/DVD button at the main interface, and click the Start burning button in the next screen to begin creating a Windows 8 password reset disk.
Once done, you will see a "burning successfully" message on screen. Click OK to close it. You then remove the disk from the computer and insert into your locked HP laptop & desktop.
Step 2: Set BIOS in HP to boot from the Windows 8 password reset disk
As your HP computer in question boots from the Windows 8/ 8.1 normally every time you turn on it, to boot from the Windows 8 reset password disk what you've made, you will have to configure your machine's BIOS to change the 1st boot device order.
1) If you're using a computer with Windows 8/ 8.1 preinstalled – it will use UEFI firmware which's designed to improve software interoperability and address limitations of legacy BIOS. In that case, you should have to enter the UEFI firmware and disable Secure Boot option, then follow the traditional way to set legacy BIOS to boot from CD/ DVD or USB drive.
2) If you just upgraded from an old Windows 7 system or older version to Windows 8/ 8.1 operating system on your computer, it should runs with legacy BIOS. In that case, you can follow the article about how to set legacy BIOS to boot from CD/DVD or USB drive.
Step 3: Reset Windows 8/ 8.1 password on HP
When your HP computer starts and boots from the Windows 8 password reset disk that you specify in BIOS boot order, the following screen appears, where displays the list of users it detects in the computer.
Simply choose an account that you want to reset the password on Windows 8/ 8.1, and press Reset button, the program will then reset the account to blank password in a few seconds.
Repeat the same steps above until you have all unavailable accounts reset.
The next step is restart the computer by going to the bottom side of the screen and clicking the blue Reboot button. Make sure to remove the Windows 8 reset password disk from the computer, so that your machine will boot from Windows normally, rather than boot from the password reset disk again.
Now you should again have working access to your Windows 8/ 8.1 HP computer without Windows prompting you for a password.
Congratulations!
Tip: the Special version of this Windows 8 password resetting program also enables you to add a new account that has administrator privileges on the HP computer.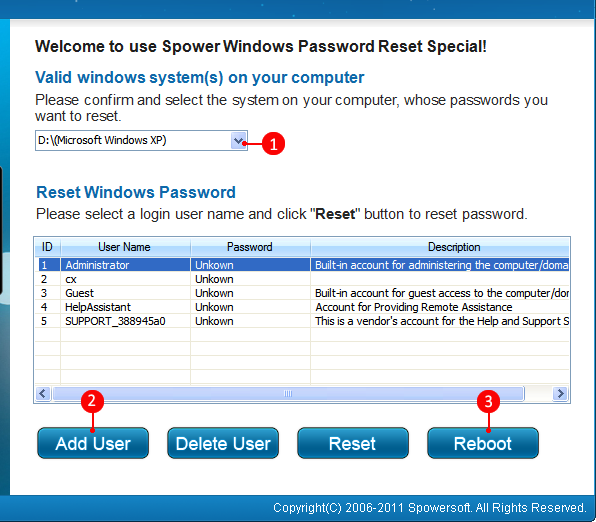 List of HP Laptops & Desktops Supported
Laptops & notebooks & Ultrabooks & 2-in-1 PCs: EliteBook Folio 1040 (G2, G3), Elite X2 1012, EliteBook 850 (G2, G3), EliteBook Folio 1020, EliteBook Folio 9480m, x360 310, EliteBook 820, EliteBook Folio, EliteBook 840, EliteBook 725, EliteBook 745, EliteBook 755, EliteBook Revolve 810, ProBook 640, ProBook 645, ProBook 650, ProBook 655, ProBook 470, ProBook 430, ProBook 440, ProBook 450, ProBook 455, ProBook 11, ZBook 14 Mobile Workstation, ZBook 15 Mobile, Zbook Studio Mobile, ZBook 15u Mobile, OMEN Pro Mobile, ZBook 17 Mobile, Elite X2 1011, Spectre Pro x360, Pro x2 612 12, x2 210, mt42 Mobile Thin Client, ENVY notebook, Spectre x2, Spectre x360, Elite x3, HP OMEN, Pavilion Gaming Notebook, ElitePad 1000, Pro Slate 12, Pro Tablet 10, Pro Tablet 408, Pro Tablet 608, ENVY 8 Note, etc.
Desktops & All-in-ones: EliteDesk 800 Mini, ProOne 600, Z240 Workstation, EliteDesk 800 Small Form Factor, EliteDesk 800 Tower, EliteOne 800, EliteDesk 705 Mini, EliteDesk 705 Small Form Factor, EliteDesk 705 Microtower, EliteOne 700, ProDesk 600 Mini, ProDesk 600 Small Form Factor, ProDesk 400 Mini, EliteDesk 800 Ultra-slim, ProDesk 400 Small Form Factor, ProDesk 400 Microtower, ProOne 400, 260 Mini, 280 Microtower, Z240 Small Form Factor Workstation, ProDesk 600 Microtower, Z1 All-in-One, Z440 Workstation, Z640, Z840, t310 All-in-one Zero Client, t520 Flexible Thin Client, t620 Flexible Thin Client, ENVY 750xt, ENVY Phoenix 850se, ENVY Phoenix 860se, ENVY 750qe, ENVY Phoenix 850qe, ENVY 750se, ENVY 750se, ENVY Phoenix 860st, Pavilion 550z, Pavilion 550t, 251xt, ENVY 750z, Slimline, ENVY Curved All-in-One, Pavilion - 27qe, 23tw, 23se, 20tw, 22z, 22tw, Pavilion 22m, EliteOne 800 G1, Pavilion 27st, EliteOne 705 G2, ProOne 600, ENVY 27xt, 20xtb, ENVY 24qe, etc.
List of computer brands Supported