How to Reset Windows 10 Password on Dell and Other Computers
The most common Windows 10 password forgot scenario involves too long time away from using your Dell computer, an overly strong password with numbers, symbols and mixed-case letters etc. The password is not the most important part of a computer, but it is probably the most vital part to you at this point. If you forgot the administrator password on Dell Windows 10 computer, you're prevented from accessing to the desktop where contains all your files and data.
How can you regain access to your Dell computer with your Windows 10 account if you lose the password? Thankfully, this can be easily accomplished using a Windows 10 password reset disc or via Microsoft account online reset page, many of third-party utilities on the market provide ways to bypass or recover the password of a admin/ user account in Windows 10.
1. When you lost a Windows 10 Microsoft account password
Windows 10 lets you create two types of user accounts: WIndows Account and Local account. If you're using a Microsoft account on dell, also refer to Microsoft Live ID, to sign in to Windows 10 and other Microsoft services like Xbox, OneDrive, Skype, Outlook.com, Windows Phone, things become very easy. You can reset the lost password online https://account.live.com/resetpassword.aspx from a browser on another computer or from your phone. This will then apply for any other Microsoft services you sign in with this Microsoft account, for example Outlook.
2. When you lost a Windows 10 local account password
A local password of Windows 10 is similar to the user account in previous versions of Windows including XP, Vista, 7. The easiest way to get back to your Dell laptop & desktop from a local account password lost situation is to use a Windows 10 password recovery disk that you created in Menu > Control Panel > User Accounts. Power on the Dell computer and type the wrong password at the Windows login screen, Windows 10 displays a message stating the user name or password is incorrect. Then you click Reset password link, and follow the on-screen instructions to use the password reset disk.
However, if you didn't have the foresight to create such a recovery disk on Dell, this method wouldn't work.
Using a third-party Windows 10 password crack tool
Spowersoft Windows Password Reset is a user-friendly program that you can use to create a password reset disc to bypass the lost local account password on your Dell with Windows 10 as well as other operating systems (8/ 7/ Vista/ Xp), no matter how long or complicated the password is. It even gives you ability to create a new admin account, and delete an account existing on your computer.
The program comes with three versions (Pro., Ultimate and Special) available to satisfy the requirements from different users. The Ultimate and Special versions even allow you to reset domain password in Windows server 2012, 2008, 2003, and 2000. Compare versions here.
The entire process of resetting a password in Windows 10 on Dell computer will take minutes. The 3 basic steps below work in every case regardless of you're on a Windows 7, 8, RT 8.1, or Vista, Xp OS. Let's begin:
Step 1: Create a bootable media on CD/DVD or USB drive
Download the program (see link above) and install on an accessible computer. Open up it.
Connect a blank USB drive or insert a CD/DVD disk to your computer, depending on media you have in hand. In this article, I am going to use a USB drive.
When on the program window, hit the "USB Drive" button, in the next screen hit "Start burning" button to begin burning the program to create a password reset disc for Windows 10.
Once done, disconnected the USB drive from the computer. and insert it into locked Dell computer.
Step 2: Configure Dell BIOS to boot from USB Drive
Since the problematic computer boots from the Windows normally every time you start it, you will have to change the boot order option on BIOS Setup to boot from the Windows 10 password reset disk.
1) If the Windows 10 operating system is preinstalled on your computer from the factory when you purchased it, your computer should use a UEFI BIOS. In that case, you have to access the UEFI BIOS and disable Secure Boot, then follow the traditional way to set legacy BIOS to boot from CD/ DVD or USB drive.
2) Instead, if you just upgraded from Windows 7 or earlier versions to Windows 10 on an existing computer, it should use legacy BIOS, and you can follow article: how to set legacy BIOS to boot from CD/DVD or USB drive.
Step 3: Select the account from the list and reset the password for Windows 10
Wait until your Dell machine restart and boot from the Windows 10 password reset USB drive, then you'll see the program interface, where displays a summary of account information including user name, password, description.
Next, select Windows 10, and choose on which account you want to reset the password from the list, and press "Rest" button. You're done.
You lost Windows 10 password will be reset to blank password in a few seconds. (If you're on a Windows server 2012/ 2008/ 2003/ 2000, the domain password will be reset to Spower@2011).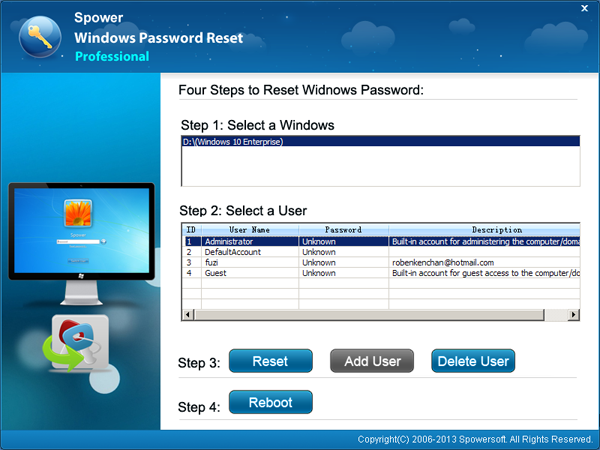 Finally, press the "Reboot" and let the computer restart. Now you'll have to remove the USB drive from Dell computer in case your machine will boot from it next time.
That's it! You should now be able to access the account again on your Dell with Windows 10.
Happy resetting passwords in Windows 10 on Dell laptop & desktop & 2-in-1 PC!
Additional: delete an existing account or add a new account (Special version only)
Actually, deleting an existing Windows 10 account or add a new admin/ regular user account is pretty easy. All you need to do is select an account you want to remove and press "Delete User" button on the bottom of the screen, or just click on the "Add User" button to create a new account with password.
See screenshot below: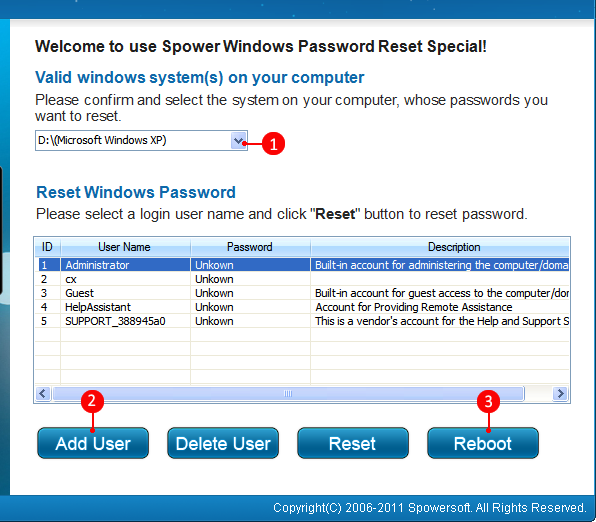 List of Dell machines Supported
Laptops & 2-in-1 PCs: Inspiron 11 3000 Series, Inspiron 11 3000 Series 2-in-1, Inspiron 14 3000 Series, Inspiron 15 3000 Series (Inter/ AMD), Inspiron 15 5000 Series (Inter/ AMD), Inspiron 17 5000 Series (Inter/ AMD), Inspiron 13 7000 Series 2-in-1, Inspiron 15 7000 Series 2-in-1, Inspiron 15 Gaming Series, XPS 12, XPS 13, XPS 15, Alienware 13, Alienware 15, Alienware 17, Latitude 14 3000, Latitude 15 3000, New Latitude 11 5000 2-in-1, Latitude 12 5000, Latitude 14 5000, Latitude 15 5000, Latitude 12 7000, Latitude 13 7000, Latitude 14 7000, Latitude 11 Education, Latitude 13 Education, Latitude 12 Rugged, Latitude 14 Rugged, Vostro 14 3000 Series, Vostro 15 3000 Series, Precision 15 3000 Series (3510), Precision 15 5000 Series (5510), Precision 7000 Series, etc.
Desktop & All-in-Ones: Inspiron 3000 Series All-in-Ones, Inspiron 5000 Series All-in-Ones, Inspiron 7000 Series All-in-Ones, XPS 8900, XPS 27, Alienware Alpha, Alienware Steam Machine, Alienware X51, Alienware Area 51, etc.
List of computer brands Supported