How to Reset Windows 10 Password on Lenovo and Other PCs
User accounts option in Control Panel of Windows 10 allows you to assign a password to the account to prevent your Lenovo computer from unauthorized access. But chances are that sometimes you may forgot your Windows admin/ user password, which can happen if you create a password without thoughtfully think about what your were creating, or a long time stay away from the machine, or even you create a strong password without writing down a password hint to keep in a safe place.
Actually, forgetting a password on Lenovo computer with Windows 10 can happen even for the most savvy computer users, the situation is never any fun. However, that is not the end of the world. Before you have to turn to a dreaded factory restore which will erase everything on your machine, there are many of ways and programs available for you to bypass a Windows 10 password on Lenovo and other PCs.
If you are using Microsoft Account on Windows 10
Start from Windows 8, Microsoft is trying to persuade you to use an online Microsoft account to sign in to all of Microsoft services including Windows 10 system. If you want to reset the forgotten Microsoft account password that you use to connect to Windows 10 on Lenovo laptop & desktop, you can use a browser on another computer or tablet to go to https://account.live.com/password/reset, and follow the steps it provides to complete the identity verification and reset the password, this may involve standby email and phone to receive the code and SMS text.
If you are using a Local Account on Windows 10
Lost your Windows 10 local account password can be very frustrating, as you can't do the resetting process easily as you do for Microsoft account via online link on MS official site. However, if you had a Windows 10 password reset disk in hand, you can use it to bypass the account and create a new password. Try hard to think whether you made such a disk in the past.
Also, check if your Lenovo Windows 10 computer has another account with admin permission to enter the machine. This will help you go to Control Panel and change the lost password of any account.
Another possible method is test all possible passwords you've ever used with password hint.
What if none of the above methods are available to you? Fortunately, there have been several more efficient means of resetting forgotten Windows 10 password to get access to your computer.
Spowersoft Windows Password Reset here is highly recommended. It's one of the best tools when it comes to reset Admin and user password for Lenovo computer windows 10. It works on other versions of Windows including 8.1, 8, 7, Vista, XP. And its advanced version (editions comparison here) even allows you to reset domain password on Windows server 2012, 2008, 2003, and 2000. Additional features including creating a new admin account with password or deleting an existing account.
Download the program and install on any accessible computer. The following 3-steps instructions works for all of the version of Windows – anything from Windows 10, 8.1 with update, 8, 7, Vista and XP.
Step 1: Create a bootable Windows 10 password reset disc on USB drive or CD/DVD
Launch the tool, and connect a USB drive or CD/DVD with computer, then in program interface, then hit "USB device" or "CD/DVD" to make a password reset disk that can then be booted from your locked Lenovo to reset the password on Windows 10.
In this case we are choosing a USB drive but many users they are using a CD, depends on your needs.
Step 2: Power on your Lenovo computer and make the USB drive to boot first
Since the problematic computer boots from the Windows normally every time you turn on it, you will have to change the boot order option on BIOS Setup to boot from the Windows 10 password reset disk.
1) If you're on a PC with Windows 10 preinstalled – it should use UEFI, a standard firmware interface designed to replace BIOS for PCs, you have to access the UEFI firmware and disable Secure Boot, then follow the traditional way to set legacy BIOS to boot from CD/ DVD or USB drive.
Lenovo also has more detailed instructions on How to Enter UEFI BIOS in Windows 10 - ThinkPad, ThinkCentre and How to Enter UEFI BIOS Setup from Windows 10 System - Idea Notebooks/Desktops.
2) Instead, if you've installed Windows 10 operating system on an existing computer (e.g. upgrade from Windows 7 to Windows 10), you can simply follow the article about how to set legacy BIOS to boot from CD/DVD or USB drive.
Step 3: Reset the user and administrator password on Windows 10
Once you save the boot order changes in BIOS, the computer will restart and boot from the Windows 10 password reset USB drive, you then will see the program interface as shown below:
In our example, you can see a list of user name detected on my Windows 10 OS on Lenovo PC.
Now you need to choose the user name that needs a password reset, and press the blue "Reset" button at the bottom, and let the program do the rest - all automatically.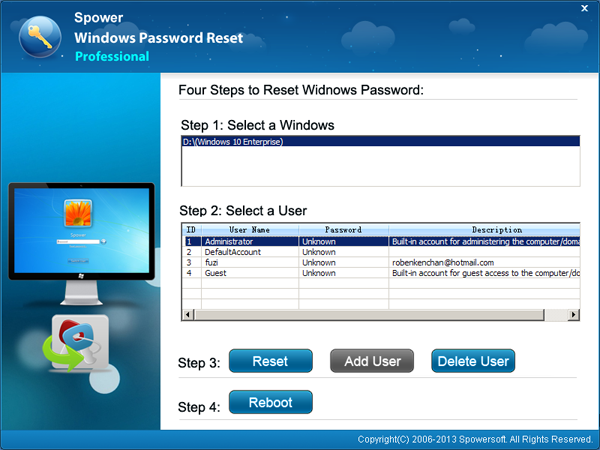 The program will automatically reset the password of Windows 10 account you select to blank on Lenovo.
After the resetting process finishes, press Reboot button and disconnect the USB drive from the computer.
Congratulation! You have successfully reset the Windows 10 password on Lenovo computer without harming any window files. Now you're ready to log onto the computer without password.
How to delete an existing account or create an Admin account (Special version only)
Let's see how we can delete an existing account, or create one new account with administrator privilege on Windows 10 in your Lenovo laptop/ notebook/ all-in-one PC.
Assuming you're running more than one OS on your computer, select the operating system that you want to delete or create an account, and then press the "Delete User" or "Add User" button on the bottom, and follow the pop-up simple instructions to do the rest things.
That's it!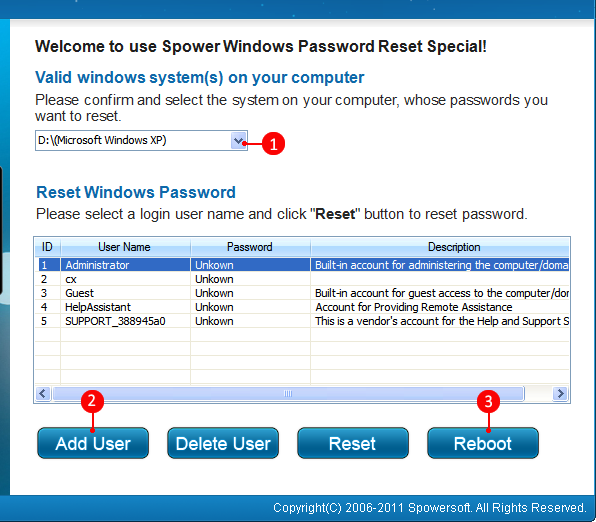 List of Lenovo Laptops & Desktops Supported
Laptops & notebooks & 2-in-1 PCs: ThinkPad X Series (X1 Carbon, X1 Yoga, X260), ThinkPad P Series (P40 Yoga, P50s, P50, P70), ThinkPad Yoga (Yoga 260, Yoga 460), ThinkPad T Series (T460, T460p, T460s, T560), ThinkPad E Series (E460, E465, E560, E565), ThinkPad L Series (L460, L560), ThinkPad 13, ThinkPad 11e Series (11e, Yoga 11e), ThinkPad Helix 2nd Gen, Ideapad Y700 Series (Y700, Y700 Touch), Yoga 900 Series 2-in-1 (Yoga 900, Yoga 900s), Yoga 700 Series 2-in-1, Flex Series (Flex 3), Ideapad 700 Series (700, 710s), Ideapad 500 Series (510S, 500S, 510, 500), Ideapad 300 Series (310, 300, 300S), IdeaPad 100 Series (110, 110S), Ideapad Miix 700, Ideapad Miix 300, ThinkPad 10, etc.
Desktops & All-in-ones: ThinkCentre M Series (M900, M800, M700, M79, M900z, M800z, M700z, M900 Tiny, M700 Tiny, M600 Tiny, Lenovo Yoga Home 900, Ideacentre 700, Ideacentre AIO 700 Series, Lenovo C200 Series, Ideacentre 300 Desktop PCs, Ideacentre AIO 300 Series, Lenovo H Series (H30, H50), Ideacentre 200, Ideacentre Stick 300, Ideacentre Y900, Ideacentre Y700, Erazer X Series Gaming Computers (X315, X510), ThinkStation P Series Workstations (P900, P700, P300, P310), etc.
List of computer brands Supported