How to Reset Windows 10 Password on Sony VAIO Laptop
Have you ever tried to remember a login password on your VAIO computer with Windows 10, but it just slips your mind? We have to admit the fact that it's surprisingly easy to lock yourself out of your computer if you're using a single account, or being a long time away from touching the machine.
Whenever you create a Windows 10 login account with password on your Sony VAIO laptop, it's important to create a Windows 10 password recovery disk in Control Panel in case you forgotten the password. What if you haven't created such a disk in hand at this point? Is there any other method available for you to regain access to the computer without reinstalling Windows back to how you bought your computer?
Fortunately, some other ways also exist to recover or reset password in Windows 10 on VAIO computer, depending on whether you sign in to your computer using either a Microsoft account (also known as "Windows Live ID") or a local user account.
Reset Forgotten VAIO Windows 10 password for Local Account
If you've lost local account password on Windows 10 in VAIO computer and have no password reset disk available for use, there's also a lot of other ways to get you back in the machine. Spowersoft Windows Password Reset is the tool we'll use in this article. It's capable of creating a password reset disk on USB drive or CD/DVD to reset the lost Administrator & user password you use to sign into Windows 10.. You can even use it to delete or add a new account with administrator level.
Compare versions here to select an appropriate version to get the job done.
Click the "Download Now" link to download the program on an accessible computer and install it. The step-by-step guide outlined below works with all versions of Windows including Windows 10, 8, 7, Vista, XP if you login to Windows with a local account.
Step 1: Burn the ISO file to a USB drive/ CD/ DVD to create a reset disc
Launch the program, you will see a message "Step 1 of 2: Choose media type" which prompts you to select what device to use to create a VAIO Windows 10 password reset disk. In this case we are choosing a USB drive.
Plug a blank USB flash drive into the program USB port, press USB device button on the main interface, and then press Start burning in the next screen. The program will begin burn its ISO file into the USB drive and creating a password reset disk for Windows 10 system.
A progress bar will show you the burning status, generally, it takes only a few seconds.
When you finish burning the disk, remove the USB drive from the computer, and insert it into your Sony VAIO computer that lost Windows 10 password.
Step 2: change your VAIO laptop's boot order to boot from USB drive
In this step, you'll have to change the boot order option on BIOS Setup to boot from the password reset disk you just created.
1) If your computer (bought after 2012) is preinstalled with Windows 10 and use UEFI, you have to access the UEFI BIOS and disable Secure Boot, then go to set legacy BIOS to boot from USB drive.
2) However, if you've installed Windows 10 on an existing computer (e.g. upgrade from Windows 7 to Windows 10) that uses the legacy BIOS, you can simply follow the article about how to set legacy BIOS to boot from CD/DVD or USB drive.
Step 3: Select a username to reset the password on Windows 10
When your VAIO computer restarts, BIOS will attempt to boot from the USB drive in the 1st boot order you specified, and the program interface will pop up, as shown below:
You will see the admin and user accounts it detects listed well on the panel. What you need to do is select a Windows system (if you're running more than one OS in VAIO laptop), and choose the account that you want to reset the password, then press blue Reset button to reset the Windows 10 password of that account.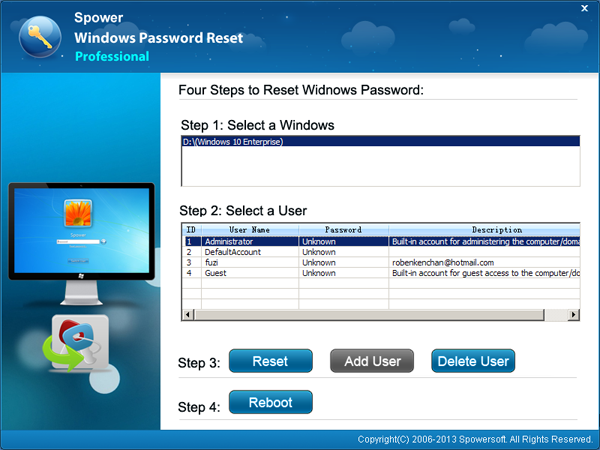 That's it! Now you can use that account again. Press the blue Reboot button and wait your machine restarts. Don't forget to quit the USB drive from the computer, or else your VAIO will boot from the USB drive again next time you restart it.
After your VAIO machine restarts, you'll finally get access to the Windows 10 without entering a password. Be sure to configure a new password in Control Panel to protect your computer.
Reset your VAIO Windows 10 Password for Microsoft Account
This is very easy if you're using Microsoft Account as your old login on VAIO laptop. Just go to https://account.live.com/password/reset web page from a browser on another accessible PC or phone, and follow the steps there to reset your Microsoft account and create a new password. This change will then apply to other Microsoft services you sign in with that account, such as Outlook, Xbox, OneDrive.
List of Sony VAIO Laptops & Computers Supported
VAIO Z (flip): Intel i5/ Windows 10 Home/ 256GB SSD/ 8GB RAM, Intel i7/ Windows 10 Pro/ 256GB SSD/ 8GB RAM, Intel i7/ Windows Pro/ 512GB SSD/ 16GB RAM
VAIO Z: Intel i5/ Windows 10 Home/ 256GB SSD/ 8GB RAM, Intel i7/ Windows 10 Pro/ 256GB SSD/ 8GB RAM
VAIO S: Intel i5/ Windows 10 Home/ 128GB SSD/ 8GB RAM, Intel i5/ Windows 10 Pro/ 256GB SATA SSD/ 8GB RAM, Intel i7/ Windows Home/ 256GB PCle SSD/ 8GB RAM, Intel i7/ Windows Pro/ 256GB PCle SSD/ 8GB RAM
VAIO Z Canvas: VJZ12AX0311S, VJZ12AX0211S, VJZ12AX0111S (Windows 10 Pro 64-bit, Intel® Core™ i7-4770HQ, 2.20GHz (1), up to 3.4GHz with Intel® Turbo Boost Technology, 16GB (onboard) / 16GB (not expandable), 12.3 inch, High Speed SSD 1 TB (512 GB x2) PCI Express x4 (32 Gb/s), Solid State Drive, 1TB).
List of computer brands Supported