How to Reset Windows 10 Password on ASUS Computer Quickly
If you're running a Windows 10 OS on your ASUS laptop or desktop machine, then you probably take a strong password to protect your computer from unwelcome users. Chances are that sooner or later it will possibly happen to you that you forgot the administrator password on your Windows 10 computer. The good news is that there are many of methods and utilities that will allow you to reset or recover the lost Windows administrator or user password so you don't have to perform a clean install of the Windows 10 operating system on your ASUS computer.
Reset lost Windows 10 local account user password
Microsoft provides users with both Local account and Microsoft account (aka "Windows Live ID") to sign in Windows 10. If you are using local account in Windows 10 and want to crack the lost password, the most efficient and fast way to deal with that is use a Windows 10 password reset disk. Add that to the fact that you will have the disc in hand before forgetting the Windows 10 password on the ASUS laptop & desktop.
What if you don't have any password reset disk prepared previously, nor another account with admin level available? Don't worry still you can reset your lost Windows 10 password to get access to the ASUS computer again.
In today's discussion, our favorite is Spower Windows Password Reset. It is a incredibly easy-to-use software that's designed to do exactly what the name implies: support on any version of Windows with 32-bit or 64-bit: Windows 10, 8.1, 8, 7, Vista, XP, Windows Server 2012, 2008, 2003 and 2000.
The software will detect the Windows installation and the account names automatically, and to reset the admin and user password in minutes. It allows you to delete an existing account, and can even support additional new account creation easily. Please note the software don't support recovering Windows 10 password.
There are 3 editions (Pro., Ultimate, Special) available for satisfying you needs. Compare the Editions to select a suitable edition for resetting Windows 10 admin/ user password in ASUS machine.
The following guide will show you how to reset password of windows 10 or any earlier version of windows you're running on ASUS laptop & desktop computer.
Step 1: Use the program to create a Windows 10 password reset disc
Download the copy of program and install on an accessible computer machine. After you launch the program, the instructions for using it are written on the right portion of the screen.
The first thing we need to is select a media device to make a password reset disc that will be used later in step 3 to reset forgot password for ASUS computer windows 10. Almost all type of storage media devices on the market are supported: CD, DVD, USB drive, flash drive, floppy drive, memory stick, etc. In this guide, we're going to use a USB drive.
Put a blank USB drive into the USB plot on the computer, press the USB device button on the program screen, and then click the Begin burning to burn the program into USB drive to create Windows 10 admin/ user password reset disk. The burning process will be finished in a few seconds.
Next, pull the USB drive out of the computer and insert into your locked ASUS computer and start it.
Step 2: Change boot order in BIOS to boot from the USB drive you created in step 1
Normally, your Asus laptop & desktop boots from the Windows every time you turn on it, so you will have to change the boot order option on BIOS Setup to boot from the password reset disk you just made instead.
1) If you're using a computer with Windows 10 preinstalled – it will use UEFI firmware which can speed and secure startup, you can consult ASUS official article: Windows 10 - How to enter BIOS configuration on ASUS and then Windows 10 - How to boot the system from USB drive/CD-ROM. This way, you computer will boot from the Windows 10 password reset disk you just created.
2) If you've installed Windows 10 on an existing computer (e.g. upgrade from Win 7 to Win 10) that uses the legacy BIOS, you can simply follow the article about how to set legacy BIOS to boot from CD/DVD or USB drive.
Step 3: Reset any Admin/ user password in window 10 on ASUS desktop & laptop
After change the boot order option on BIOS, restart your machine, you have to wait until the ASUS computer boots from the usb drive and displays the program window as shown below.
In this example, you will see four account names: one Administrator account, one Default account, one user account and a guest account.
To reset Administrator password or any other user password, just select a Windows 10 operating system (if you have more than one OS installed on your ASUS machine), and highlight the account name, and then click on the Reset button.
The Windows 10 admin/ user password resetting process will take only a few seconds, no matter how complex the original password is.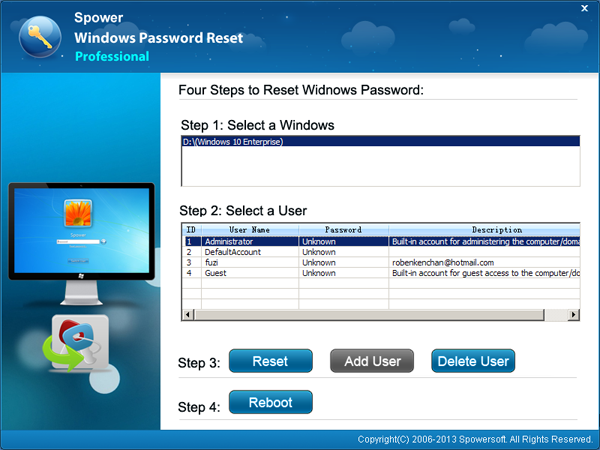 That is all there is to it! After the process completes, go to the bottom of the screen and press Reboot button to restart the computer. Remember to remove the USB drive from the computer (important!).
Now you're ready to get back into your ASUS computer again with a blank (empty password) password. If you're the only user, Windows 10 will boot all the way to the desktop without a logon screen.
Delete an account or create a new Windows 10 account (Special version only)
Please note that deleting and creating a new Windows 10 admin or user account on ASUS laptop or desktop machine is only available in Special version (Compare Editions here).
Repeat the step 1 and step 2.
After you restart your ASUS machine and boot from the Windows 10 password reset disc, you will see the program window like something below:
From operating system choosing box, select a Windows 10 OS you want to delete or add an account if there are more than one OS installed.
Next, for deleting an account on Windows 10, highlight that account, and press "Delete User" button at the bottom of the screen; for adding a new Admin or regular account, press the corresponding "Add User" button to finish the task.
Finally, press "Reboot" button to wait until the Windows boots.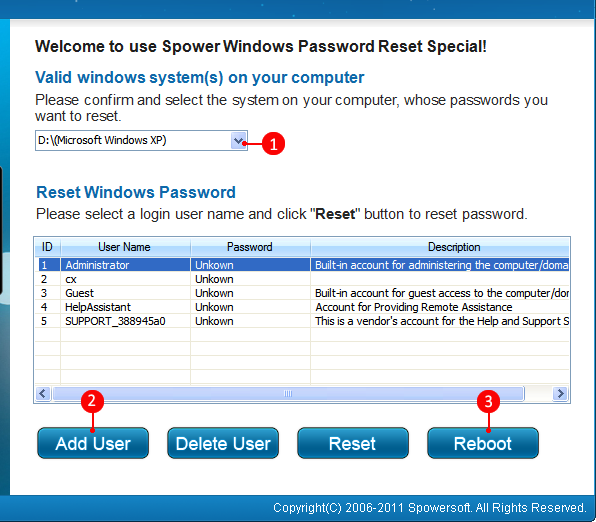 Reset Forgotten Windows 10 Password for Microsoft Account
If you are using Microsoft account to log into Windows 10 on ASUS computer but lost password, things are simple. Navigate to the https://account.live.com/password/reset using any of your accessible devices (PC, laptop, smartphone, tablet) with Internet connection. Afterward, click the "I forgot my password" option at the top of the resulting list, then follow the on-screen instructions to finish the Windows 10 password recovery procedure and to re-enable the account on your ASUS computer.
List of ASUS Notebooks & 2-in-1 PCs, Desktops & All-in-ones Supported
Notebooks & Ultrabooks & 2-in-1 PCs: Zenbook Pro UX 501VW, N550JX, N551JQ, N550JK, ZenBook UX305CA, UX305UA, UX303LA, UX303UB, UX 305FA, ROG GL552VW, GL752VW, G752VL, G771JM, GL551JW, G752VY, G752VT, N550JX, N551JQ, N550JK, K501LX, K501UX, X552WA, X751LX, X550JX, X550ZA, X551MAV, X555LA, X751MA, E402SA, Vivobook E200HA, E403SA, Eee PC T101MT, E402MA, EeeBook X205TA, F555LA, F555UA, Transformer Book Flip TP200SA, TP500LA, TP550LA, TP300LA, Q553, Q303, Q503, Q551, Q552, Q302, T100HA, T300chi, T200TA, T100TAM, T100TAF, T100TA, T100chi, etc.
Desktops & All-in-ones: M52BC, K30BD, M32BF, M32AD, K30AM-J, VivoPC M32CD, M32BC, ROG G20BM, G20AJ, G20CB Oculus Ready, G20CB, G11CD, G10AJ, G11CD OCulus Ready, G11CB, G10AC, VivoPC VM42, VC62B, VM60, VM62N, VM62, ROG GR6, VivoMini UN62, UN42, UN65, VM65N, VC65R, VC65, UN65H, UN45, VivoStick PC (TS10), Zen AiO Pro Z240IC, Vivo AiO V230IC, ET2221IUTH, ET2311INKH, A420, etc.
List of computer brands Supported