How to Reset a Windows 8 (8.1) Password on Computer Quickly
I bought a laptop computer installed with Windows 8 system. Now I can't remember the logon password what it is. How can I log on to my computer again (reset a password would be ok?) ? Anyone has a trick that will get me back in?
Forgetting a Windows 8 password is a common issue when people are encouraged to create a complicated combination of letters and numbers to ensure the security, and the fact of you can't log into your Windows 8 is very frustrating. Luckily for Windows 8 and 8.1 users, there are options for resetting your password in Windows 8, regardless of for admin and user password on local account or Windows account.
Windows 8 and the later 8.1 (and the previous Windows 7, Vista, XP version) has built-in options to reset your password to get back into computer. One of that is the pre-created Windows 8 Password Reset Disk. If you made a reset disk before losing your Windows 8 password, you simply insert the disc on your locked computer, input the wrong password to bring up the "Reset password" option activated at the logon screen, and then follow the instructions on-screen to create a new password.
If there is another administrator account or a Microsoft MSN account you has ever set up to used for signing in to Windows 8, you still are able to reset the password to regain access to the Windows 8.
What to do if you can't use any of methods mentioned above to reset a forgotten Windows 8 password? It isn't the end of the world. You don't have to re-install Windows 8 (or 8.1) system to back into a dreaded factory defaults. There are many ways out there to help you wipe out Windows 8 password and log in screen again. Spower Windows Password Reset utility is we use and recommend today. Download link below:
The program is a tiny, easy-to-use tool that gives your flexible to reset Windows 8 passwords for Administrator and user account in minutes. Its advanced version even allows you to create a new Administrator account. As a versatile tool, it also works for Windows10, 7, Vista, XP, Windows server 2012, Server2008(R2), Server 2003(R2) and Windows 2000. Compare the 3 editions here to select a most appropriate version to reset your forgotten password.
Resetting the password for Windows 8 account can be relatively quick and easy. The follow guide will walk you through on how to use the software to burn a Windows 8 password reset disk to reset the admin and user passwords step by step. The guide is written for Windows 8 and 8.1, but still applies to the earlier versions of Windows you're running such as Windows10, 7, Vista, XP.
See Also: How to Reset a Password on Dell Computer with Windows 7
Step 1: Create a password reset disk for Windows 8
After you download the program on an accessible computer, you have to burn it on a USB flash drive or a CD/DVD with ISO format. Here I will take USB drive for example.
Fire up the program and insert a USB drive. Click the USB Device button on the main screen, and then hit Begin Burning button on the next screen to start burning process.
To your amazement, it takes only about one minute to create a password reset disk with the program.
Once it completed, you pop the USB drive into the locked Windows 8 computer you want to reset the forgotten password.
Step 2: Set the boot priority (BIOS Setup) on your computer
In this step, you have to change the boot order option on BIOS to ensure that your locked computer will recognize the Windows 8 password reset USB drive created previously when the power start.
1) If the Windows 8/ 8.1 came preinstalled on your computer, it should use UEFI firmware which designed to replace for the legacy BIOS. To boot the computer from Windows 8 password reset disk, you have to enter the UEFI firmware and disable Secure Boot option, then follow the traditional way to set legacy BIOS to boot from CD/ DVD or USB drive.
2) However, If you've installed Windows 8/ 8.1 on an existing computer (e.g. upgrade from Win 7 to Win 8), it should use the legacy BIOS, then you can simply follow the instructions about how to set legacy BIOS to boot from CD/DVD or USB drive.
Step 3: Begin your Windows 8 Passwords resetting
Now, the computer will boot from USB drive, then you should see the following screen where all of operating system and account information list out.
The exciting moment is coming: choose the Windows system (if you have more than one systems installed on computer), and then select a user account where you want to reset the password, finally press the blue Reset button to start the Windows 8 password resetting process.
With a few seconds, the program will set the account to empty without password.
After that, restart your computer again by clicking the Reboot button. Pull the USB drive out of computer, or else the computer will boot from it every time your PC starts.
Now, you're back in Windows 8 again without password.
That's all there is to use a reset disk for resetting Windows 8 password. For a safe considering, you're suggested to create a backup copy of your Windows 8 password, or set alternative login methods, like creating another Admin account, using a Microsoft MSN account, or PIN code.
How to Delete a password or create a new account (Special version only)
Repeat the previous step 1 and step 2 and restart your locked computer to boot from the password reset disc, then a screen appears, as you can see below (The Special version of the program has a bit difference in screen layout compared with the Pro. and Ultimate versions):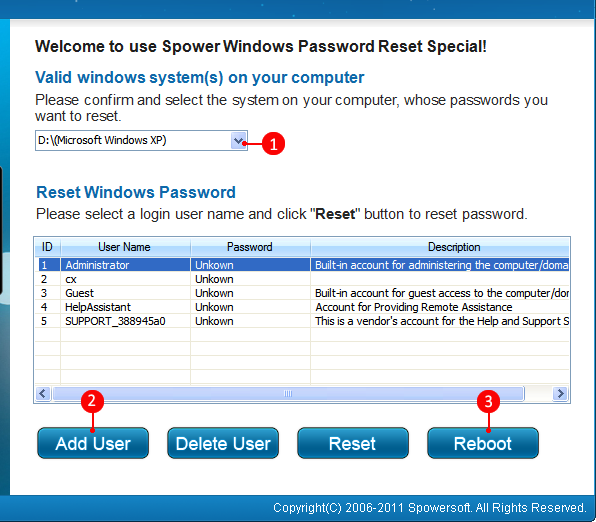 Simply choose a Windows system, and click Add User or Delete User button to finish the task.
List of computer brands Supported