How to Reset Windows 7 Password on HP Desktop & Laptop
If you have important documents, videos, photos and music on a HP Windows 7 computer, the chance is that you assign a strong password on the log-on screen to keep the machine secret from the world. However, if the password is truly strong, sometimes it may leave you locked out of your HP computer when you forgotten the administrator password to the Windows 7 system. Before you perform a formatting and HP System Recovery, there is a very good chance that you have Windows 7 password recovery or reset on HP—you just need to know how to do it.
Oh well, it doesn't really matter if you forgot the admin password or a user account password on a HP laptop & desktop with Windows 7 operating system. There is a vast assortment of methods available for you to reset or recover the lost password to regain access to the HP with Windows 7.
One method of resetting your login credentials is by using a previously ready Windows 7 password reset disc — that is, assuming you create that disc in HP prior to forgetting your password. The instructions can be found at Microsoft site: here.
The second option is by trying to use another administrator account on the HP computer to reset your password for you. If there is another user account available with Windows 7 administrator privileges on the machine, you can still use it to log on to the Windows, and change the password of unavailable account in User Accounts option under Control Panel.
Another method is by trying hard to remember the password with password hint. This can be time-consuming and exhausting especially the password is overly complex, but it is not always helpful.
Use a Solid Password Crack Tool
It's time to use 3rd party tools that's capable of resetting or recovering Windows 7 forgotten admin password. In this article, we'll use a top rated tool called Spowersoft Windows Password Reset.
The program is fast and easy enough even for a novice with a basic knowledge of Windows to reset the password on all version of Windows systems including XP/ 7/ Vista/ 8/ 10 and Server 2003/ 2008/ 2012. One of its additional bonuses is it allows you to create an account with admin rights.
Also the program includes three versions (Professional Vs Ultimate Vs Special) to reset local and domain password. Please select a right one to handle the password reset issue. The link providing below gives you a download of Professional version.
Use a second computer that has Internet access to download the program. The procedure for resetting a password on HP laptop & desktop running Windows 7 is very similar to that of Windows 10.
Step 1: Use a USB drive or CD/ DVD to create a reset disk
Open up the program you'll be greeted with a clean interface with instructions on the right pane.
Insert a removable media on which you want to create the password reset disk into the computer, whether it is a blank USB flash drive, a CD or a DVD media, here we use a USB drive.
Press the blue USB Device button, in the next screen press Start burning button, the program will begin burning its ISO file onto the media you insert to create a password reset disk for Microsoft Windows 7 system.
After the "burning successfully" message pops up, click OK to close it and remove the disk out of the computer.
Insert the disk into your locked HP computer that lost Windows 7 password. Normally, when you power on a computer, it will boot from a Windows installation. So here we have to change the BIOS boot sequence of HP machine to boot from this disk.
Step 2: Boot you HP computer from the disk you just created
Insert the Windows 7 user & admin password reset disk into your locked HP laptop & desktop, restart it, or turn it on if it's already off.
In order to enter the BIOS setup, when you see a message that says something like "Press [key] to enter Setup" or something similar "Press [key] to enter BIOS", "Press [key] to access system configuration", "Enter BIOS by pressing [key]", then immediately press the key required, it will bring up the BIOS screen.
It's worth pointing out that most of HP machines would use F10, F1, or ESC to enter BIOS configuration when booting the system, but some HP computers instead use F1, F2, F6, or F11 key, and on HP tablet PCs pressing F10 or F12 will help you open the BIOS. You can check HP official article about BIOS Setup Information and Menu Options.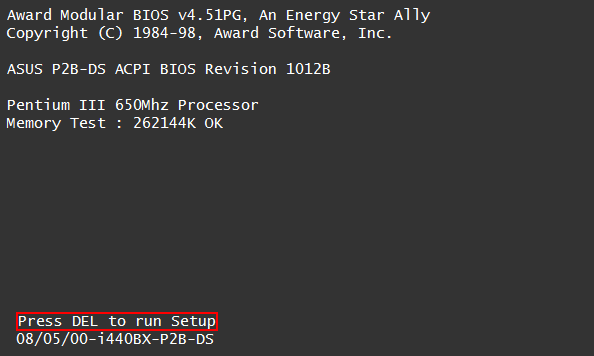 Now you are entering HP BIOS setup utility interface, as shown below. Here the most important thing to do is make sure that the disk you just make is selected as first boot device in BIOS settings.
Note that in BIOS you mouse is unavailable, you will need to use keyboard to operate any of settings. Check instructions listed at the bottom of the screen to know how to make changes with keys.
Changing the boot order of the bootable devices is very easy. Simply head to Boot tab, then expand the Boot Device Priority option, you will see 1st Boot Device. If the Windows 7 password reset disk that you made early in this tutorial is CD/ DVD, here select CDROM as 1st boot device option. Or if you create a password disk on a USB Drive, here select Hard Drive as 1st boot device option (some computers BIOS may label the USB boot option as USB or Removable Devices).
Note, if the interface of BIOS on your PC is not the same as the screenshot shown below, you can check our summary article about: how to change your PC's boot order option on BIOS of different manufacturers.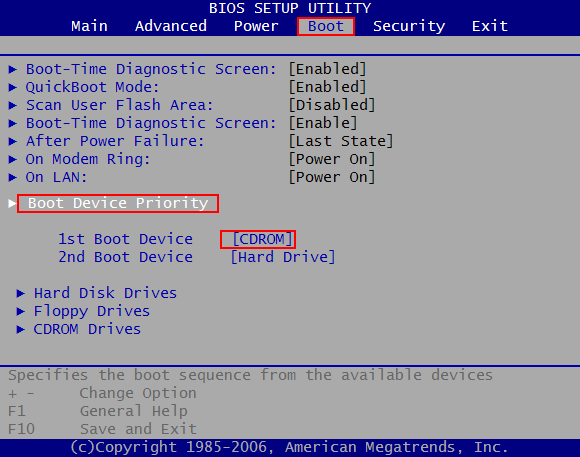 Before boot order changes take effect, press F10 to save. BIOS will quit and your HP computer will reboot automatically.
Step 3: Choose the Windows 7 account to reset lost password on HP machine
Go ahead and wait your HP computer booting from the disk until the program resetting screen comes up, as demonstrated in the screenshot below.
In the screen, it will show a list of the system(s) and user accounts that have been found on the PC. In this example, you can see there is a single Windows 7 Ultimate installed on my HP drive C, and four accounts (including an administrator account) are listed.
Now, select the Windows 7 system (if you've more than one installed) where you want to reset the lost password, and then select any of found account, press Reset button on the bottom right of the screen. The program will reset the password on your Windows 7 to a blank (no password) quickly in a few seconds.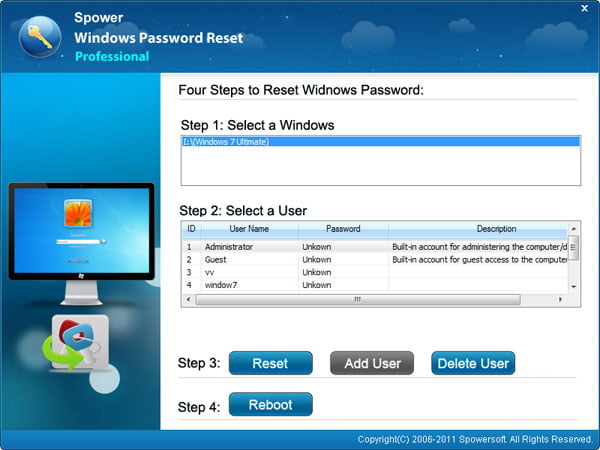 Once you have reset all of unvailable accounts password of Microsoft Windows 7 on HP, press Reboot button and wait your HP computer reboot. Remember to remove the disk from the computer as you will no longer need to boot from it.
At this point, you computer will boot from your Windows 7 as usual and finally presents you with a log-on screen. Now you're able to log on to the Windows 7 again using the account without a password.
How to create a new account with admin rights in HP (Special version only)
With the Special version of this Windows 7 password cracker tool, you can also access to your locked HP machine and add a new account with administrator privileges that can do anything on machine.
When you use the Special version of the program to create a password reset disk, the original grey "Add User" button will be activated to blue color in step 3. Simply click it, a dialog box pops up, enter a user name and password, and click OK to confirm.
That's it!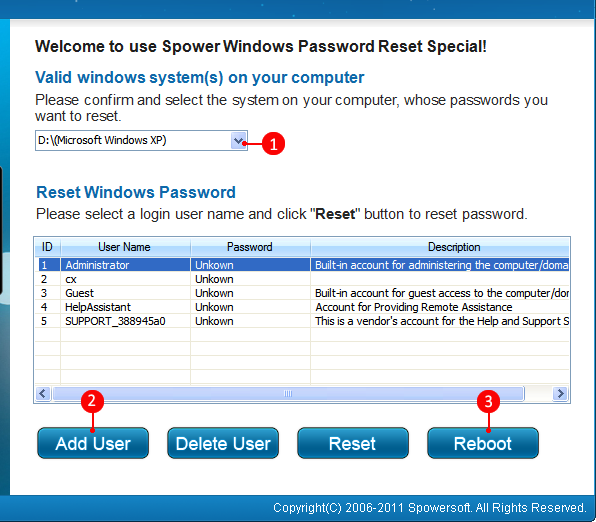 List of HP Laptops & Desktops Supported
Laptops & notebooks & Ultrabooks & 2-in-1 PCs: EliteBook Folio 1040 (G2, G3), Elite X2 1012, EliteBook 850 (G2, G3), EliteBook Folio 1020, EliteBook Folio 9480m, x360 310, EliteBook 820, EliteBook Folio, EliteBook 840, EliteBook 725, EliteBook 745, EliteBook 755, EliteBook Revolve 810, ProBook 640, ProBook 645, ProBook 650, ProBook 655, ProBook 470, ProBook 430, ProBook 440, ProBook 450, ProBook 455, ProBook 11, ZBook 14 Mobile Workstation, ZBook 15 Mobile, Zbook Studio Mobile, ZBook 15u Mobile, OMEN Pro Mobile, ZBook 17 Mobile, Elite X2 1011, Spectre Pro x360, Pro x2 612 12, x2 210, mt42 Mobile Thin Client, ENVY notebook, Spectre x2, Spectre x360, Elite x3, HP OMEN, Pavilion Gaming Notebook, ElitePad 1000, Pro Slate 12, Pro Tablet 10, Pro Tablet 408, Pro Tablet 608, ENVY 8 Note, etc.
Desktops & All-in-ones: EliteDesk 800 Mini, ProOne 600, Z240 Workstation, EliteDesk 800 Small Form Factor, EliteDesk 800 Tower, EliteOne 800, EliteDesk 705 Mini, EliteDesk 705 Small Form Factor, EliteDesk 705 Microtower, EliteOne 700, ProDesk 600 Mini, ProDesk 600 Small Form Factor, ProDesk 400 Mini, EliteDesk 800 Ultra-slim, ProDesk 400 Small Form Factor, ProDesk 400 Microtower, ProOne 400, 260 Mini, 280 Microtower, Z240 Small Form Factor Workstation, ProDesk 600 Microtower, Z1 All-in-One, Z440 Workstation, Z640, Z840, t310 All-in-one Zero Client, t520 Flexible Thin Client, t620 Flexible Thin Client, ENVY 750xt, ENVY Phoenix 850se, ENVY Phoenix 860se, ENVY 750qe, ENVY Phoenix 850qe, ENVY 750se, ENVY 750se, ENVY Phoenix 860st, Pavilion 550z, Pavilion 550t, 251xt, ENVY 750z, Slimline, ENVY Curved All-in-One, Pavilion - 27qe, 23tw, 23se, 20tw, 22z, 22tw, Pavilion 22m, EliteOne 800 G1, Pavilion 27st, EliteOne 705 G2, ProOne 600, ENVY 27xt, 20xtb, ENVY 24qe, etc.
List of computer brands Supported