How Do You Convert a Video to MP4 File on Mac & PC
A number of videos downloaded from the internet are in various formats (AVI, WMV, MP4, MKV, MOV, M4V, etc). You can play some of them on your machines or devices. But you will certainly stumble sometimes as they are not always the appropriate format to work on some particular devices. If such issue really comes to you, you might need to change your video's format, so that it can play on your TV, computer, or mobile device again.
It's not hard to find that MP4 format seems to appear at anytime and anywhere. As MP4 is currently one of the most universally compatible video formats around. So that nearly all phones, machines or other mobile devices can play videos in .mp4 format. [Also see: How to burn MP4 file to DVD/ BD]
Therefore, converting our videos to MP4 is relatively a safe choice for practically all modern devices. But in this case,  another question comes about—Among those numerous online programs that are available to convert your videos to MP4 format for Mac or PC's, which one is better to choose?
Actually, the element of selection depends, to a major extent, on whether the software you have at your disposal is professional, easy to use, versatile, or powerful enough. Fortunately, Video Converter is such a conversion tool. There are almost no restrictions regarding the audio and video formats that it supports, which amounts to over one hundred formats. And if you have many video files to convert into MP4 or any other format, it allows batch conversion for you to save much time.
Additionally, this utility gives you options to edit the video as you like, including trimming, splitting, cropping, merging, adding watermark or subtitle, and so on. Also, you are provided with numerous presets to choose the device you want to play your videos on. Even better, Its PC version gives you ability to download videos from online sites.
Note that the software has both Windows and Mac version, make sure to get the right version. The follow guide shows you how to convert video files to MP4 format on Mac computer.
Step 1: Load your video files
To add your source files to the program, it's as simple as clicking on "Add Files" button from the tool bar, then navigate to find the videos you want to convert. Or you can simply drag the video from computer's hard drive and drop them to the interface.
You will be able to create the unique videos as you like, such as trimming, splitting, cropping, etc. To do this, all you need is to click the "Edit" icon on the tool bar.
Step 2: Select MP4 as output format
After successfully adding your videos, click "Profile" at the bottom of the screen, this will bring you a drop-down list. Then from the "General Video" category in it, select MP4 as the output format. As you can see, the output .mp4 file can be encoded in either mpeg-4 or h.264/mpeg-4 avc codec, please select one according to your need.
If your source video is high-definition and want to convert into MP4 video with minimal loss of quality, you can also choose to select HD MP4 from "HD Video" category; if your source file is 4K want to output 4K MP4 video, there is "4K Video" category available for you to select output format from.
For experienced user, this MP4 video converter allows you to click the "Settings" to the right of the "Profiles", then you can get access to more options to tweaks the conversion settings like resolution, bit rate, frame rate, etc. This is optional part.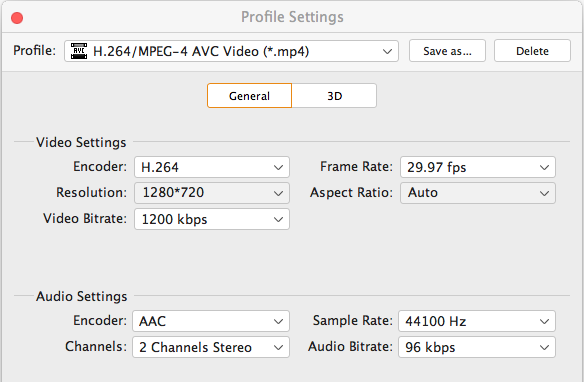 Even better, if you want to let your videos play on the devices you like, here are a great amount of presets profiles for you to choose.
Step 3: Begin converting video file to MP4 file type in Mac or Windows computer
When you are ready, click the "Convert" button at the right lower corner of the window, then the video to MP4 conversion process begins.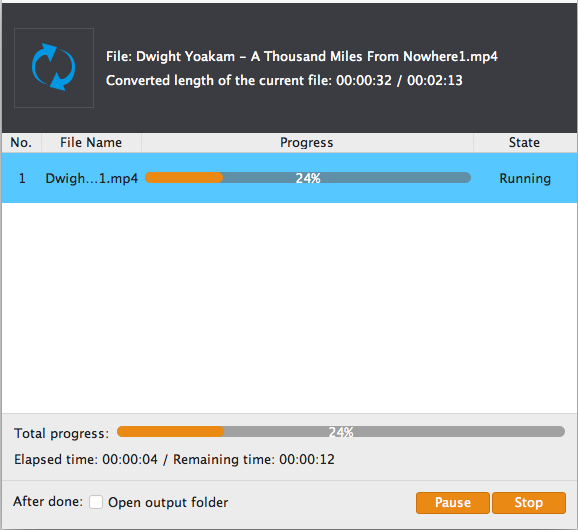 Once you have converted your files, for MP4 format's great compatibility, you will then be able to easily play them on nearly all kinds of machines, mobile devices, or other digital tools. That's fantastic, isn't it?