How to Transfer iPhone Contacts to Samsung Galaxy S8 (Plus) Safely
When you switch to a new phone, the first annoying issue you'll face is to figure out some easy ways to make a copy of hundreds of media files like music and tons of personal data like messages, call logs and especially contacts which stay with us through our life. For one thing, it is unrealistic for us to manually type countless names and numbers. For another, we can't wait to start to enjoy our new smartphone so that we want this to be done quickly. This guide will tell you how to move contacts from an old iPhone (5, 5s, 6, 6s, 7, etc.) to an new Samsung Galaxy S8 (Plus) Android smartphone.
In the March of 2017, Samsung company launched the trendy Samsung S8 (Plus), which becomes a smash hit among numerous smartphone users. By comparison with other Samsung series, a series of new technology has been added to Samsung S8 (Plus). First of all, it boasts a bigger curved screen with no bezel on it, giving you an immersive experience. Then there is Bixby, a voice assistant featuring image recognition. The most striking features about Samsung Galaxy S8 (Plus) phone are its iris scanning and face recognition, which allows you to better protect your privacy.
For technology enthusiasts like you, it is hard to describe every possible detail of the luxurious Samsung S8 (Plus) unless you try it yourself. So if you have become tired of your iPhone and want to try a new operating system, like Android, then you can't miss Galaxy S8 (Plus) phone.
However, here comes the head-scratcher: when you need to make a phone call with Samsung S8 (Plus), you find that you don't have the contacts, so you thumb through the contacts in your old iPhone and locate the number from the contacts, which is troublesome. Any shortcuts? Yes, a magic tool can move iPhone contacts to Samsung S8 (Plus) phone, and that magic software is Phone Transfer.
What's Special About Phone Transfer
Featured with an intuitive interface, eliminating unnecessary steps when you migrate contacts from an iPhone to a Samsung Galaxy S8 Android handset.
Not only contacts, but also SMS, call logs, music, videos, photos, etc that are to be transferred.
Support most mobile OS including iOS (iPhone, iPad), Android, WinPhone.
Work on both Windows and Mac, whether it be desktop or laptop.
Backup and Restoration features for the sake of avoiding data loss.
Let's cut to the chase and see its magic power. In the article as follows, we will show you how to migrate contacts from the old iPhone to new Samsung S8/ S8 Plus.
See Also: How to Transfer iPhone Text Messages to Galaxy S8 (Plus) Easily and Quickly
Step 1: Connect iPhone and Galaxy S8 to the computer
Launch Phone Transfer on either your Windows desktop or Mac machine, and connect your both iPhone and Samsung S8 (+).
On the program's main window, click the green phone to phone transfer option to continue.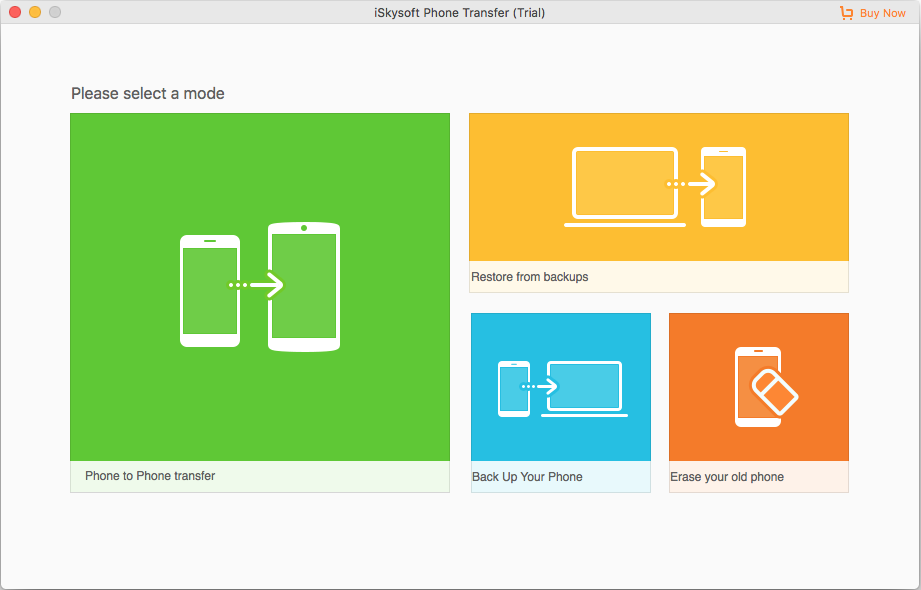 Please remember to enable USB debugging mode on your Samsung S8 (Plus) smartphone, then tap trust on your iPhone (iPhone 7, 6s, 6, 5s, whatever).
Step 2: Select contacts from your old iPhone
When you get a screen as below, it means the software has established a successful connection between the two handsets. Please mind the source and target device. Click Flip button to switch their positions if necessary.
A list of transferrable data within iPhone is displayed on the middle box longitudinally. If you transfer contacts only, just tick the box beside Contacts.
Before you begin extracting your contacts from iPhone and importing onto your Samsung Galaxy S8, you can tick a "Clear data before copy" option on the lower right corner of the window to wipe out the existing data on your S8 if necessary.
Tips: If you discover that some of the important data are missing in your iPhone due to accidental deletion or iPhone resetting, you can recover the content from iPhone directly using a iPhone data recovering tool.
Step 3: Start copying contacts to Samsung Galaxy S8 (Plus)
When you are finished with your choice, click the green Start Copy button. please don't fiddle with both the devices in the course of iPhone contacts moving or it might cause disconnection.
When the progress bar is 100 percent full, click "completed". In this way, your iPhone contacts has been migrated over to Samsung Galaxy S8 (plus) phone.
Quite easy, right? Download the program and give it a go!