How to Migrate Text Messages from an iPhone to a Motorola Phone
As the saying goes, the only constant is change itself. One of the hardest kind of change is the switch to a new and different smartphone. What I am saying is not the switch from Android to Android or from iPhone to iPhone. Actually, I am talking about the move from iPhone to Android or the opposite way.
Q: "I am a frequent phone switcher, obsessed with tech stuff. I like to switch to different smartphones every year. My last phone was Google Pixel. Currently I am using iPhone. Next month I will get a Motorola. In this instance, I need to transfer contacts and text messages from iPhone to Motorola. Are there any tools available online? "
Texting messages is an indispensable way to communicate with each other in our daily life, next to calling. It is quite common that we save a lot of text messages in our device. When you change a smartphone from iPhone to Motorola, you definitely want to take the SMS messages, right? Getting iPhone messages onto Motorola Android is difficult, but possible, even between different OS.
Phone Transfer is a wonderful piece of software that aims to migrate a vast array of text messages, together with other transferrable content like contacts, call logs, photos, songs, among other things between devices, including iPhone to Motorola. This program also acts as backup and restoration tool. You can save the data to the computer for the sake of minimizing data loss. When you need the files back, it is feasible to retrieve them from the computer or from other options offered by this program like iTunes, iCloud, Kies or OneDrive, as per your needs.
This program can migrate text messages within different ecosystems. It is OK that you alternate between different platforms. Perhaps you are using iPhone now and plan to get a new Motorola next month. Next year, you are going to shop online for another Android.
Now, follow the directions below to learn how to move the text messages saved in iPhone over to Motorola smartphone.
Instructions
Step 1: Select the transfer mode
After the installation of the program on the computer, open it.
Select the green "Phone to Phone Transfer" mode from the main interface.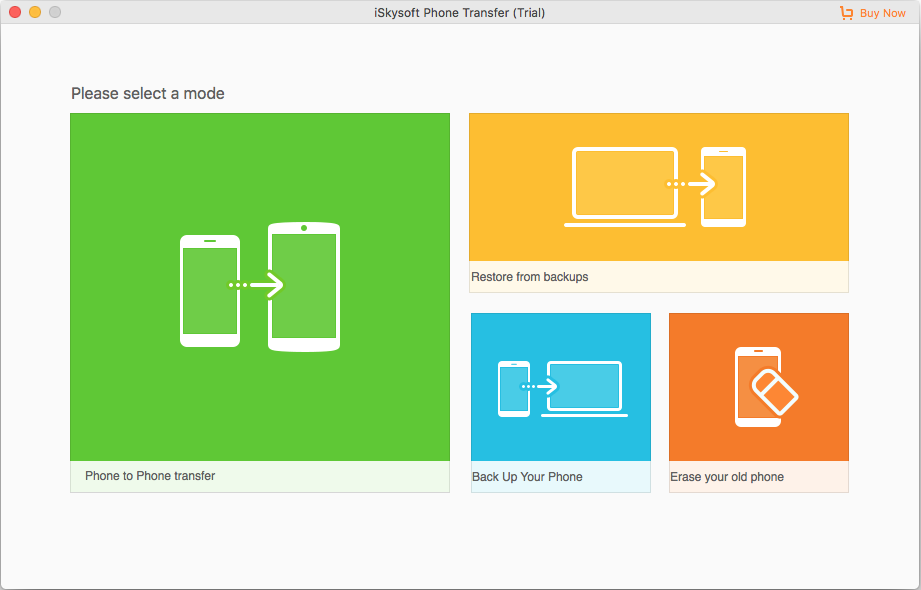 Hook up two handsets to the computer by means of USB cables. Meanwhile, switch on USB Debugging Mode on Motorola. As to iPhone, simply tap trust on its screen.
Step 2: Check text messages in the middle pane of the screen
Once connected, the two devices are visible on both sides. If iPhone is placed on the left and Motorola on the right, it means the text messages will be moved from iPhone to Motorola. If not, press Flip button to reverse their place.
The program will check for your iPhone memory and show all content you have available for transfer on the middle box of the window.
To transfer SMS only, just tick off the Text messages option.
Step 3: Start transferring messages
Press Start Copy at the lower-center of the interface, and your iPhone messages will begin to be transferred to the destination Motorola Android handset. Please don't interrupt the transfer.
After the process is over, you can unplug both handsets from the computer and check whether the text messages are saved in Motorola device.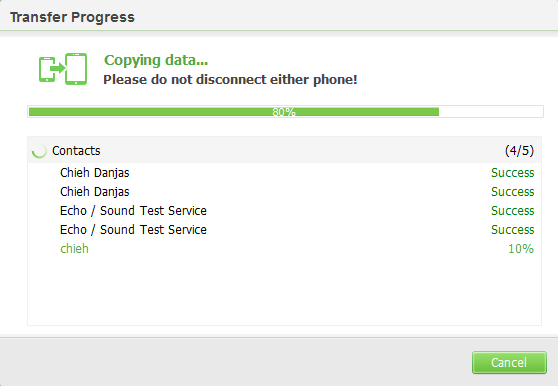 Note: There is possibility for your iPhone data to be lost due to all sorts of reasons such as iOS updates, unresponsive device or failed jailbreak. In this instance, you can use iOS Data Recovery, a useful program that allows you to preview and recover contacts, messages, call logs, notes, photos and the like from iPhone, iTunes and iCloud backup files selectively.
Manually Move Text Messages from iPhone to Motorola Phone
Phone Transfer is all that extremely easy to use since it makes transferring text messages from iPhone to Motorola phone all in one go. If this is not your preferred way, instead, you can go with a little work and a few apps — iTunes, iSMS2droid and SMS Backup & Restore, to duplicate all the information about your iPhone text messages on Motorola handset. We'll divide the migrating process into three sections for better understanding.
Section 1: Backup iPhone Text Messages on Computer via iTunes
Fire up iTunes and attach your iPhone to computer. From the top-left corner of the interface, click on File > Devices > Backup. Your iPhone backup should be stored on computer after backup process.
Locate the backup file. For Windows users: C://[Users]/[Username]/AppData/Roaming/Apple Computer/Mobile Sync/Backup. For Mac OS users: ~/Library/Application Support/MobileSync/Backup/.
Under Backup folder, select the folder with the most recent timestamp. Open it up and find the iPhone SMS file 3d0d7e5fb2ce288813306e4d4636395e047a3d28. Then copy and paste it on computer's desktop and disconnect your iPhone.
Plug your Motorola handset to computer, move the file to either its SD card or internal memory, then unplug it.
Section 2: Convert iPhone Messages to Android Format with iSMS2droid
Download and install iSMS2droid on your Motorola phone, open it and tap Import Messages on the startup screen to choose your iPhone SMS database file which is copied from computer.
When a popup appears, tap on IMPORT ALL to load all text messages or SELECT BY CONTACT to choose specific messages history by contact. In this case, we choose IMPORT ALL. Then the conversion will begin and the SMS file is saved as XML which can be read by Motorola phone.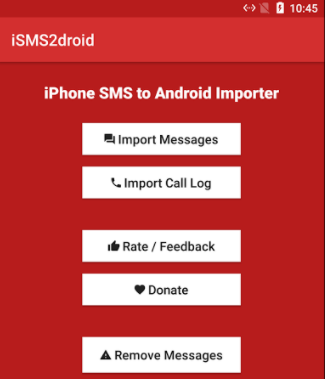 Section 3: Restore Messages to Motorola Phone with SMS Backup & Restore
Install and run SMS Backup & Restore on Motorola handset. Tap on Restore and you will be directed to a directory from which you need to pinpoint the file created by iSMS2droid, then tap OK.
Choose Restore All Messages and tap OK. Once the restoration completes, you will now have your iPhone text messages come with you on your potable Motorola phone.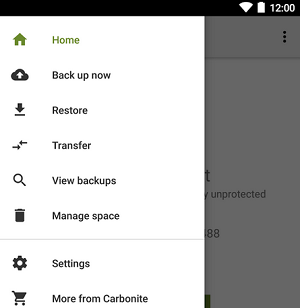 That's all there's to it. By going through these steps, you have moved across the text messages you have stored on your iPhone onto Motorola Android smartphone
The Bottom Line
Being one of the most efficient and intuitive application of its kind, Phone Transfer allows you to move data between devices without any trouble, whether you are updating to the latest version or moving to a different mobile platform. Just get it installed on computer and have a try.