How to Copy Music from iPhone to Motorola Phone Instantly
Let's say you've grown tired of the iOS ecosystem and decided to join the camp of Android. As you prepare to abandon the old phone, naturally you probably want to take your favorite music files that stored on the old device with you. Today we're going to discuss how to transfer music from your old iPhone to a new Motorola Android phone. Also see: Motorola call logs recovery.
You can always just transfer your music the old fashioned way—by manually getting tracks off from iPhone onto the computer, and then copy to Motorola phone; or install a data-moving app on both your iPhone and Motorola handset, and follow the on-screen wizard to migrate music via WiFi. It's no doubt that they all work for you, but is there an easier way to transfer your music files and other stuff? Especially if you have a large number of physical songs on your iPhone that you want to put onto Motorola smartphone, or vice versa.
The answer is YES! In this article, we'll show you a straightforward and easy way to move tunes from an iPhone to a Motorola Android handset instantly, without WIFI connection or tedious steps.
Phone Transfer—Migrate your Contents Between Phones Quickly and Easily
If you want the music migration from iPhone to Motorola or vice versa to be as painless and easy as possible, Phone Transfer is a decent tool for this purpose. Not only does it transfer music files, it can even move contacts, videos, photos, call logs, calendar, messages between any of Android and iOS devices. Additional features including one-click to create a backup of your phone data on computer, or read your iCloud & iTunes library and transfer its backup file to your phone. Let's see how it works.
Before you proceed to start copying songs from Motorola to iPhone or iPhone to Moto device (Moto Z Force Droid, Z, Z Droid, Z Play, G, etc.), make sure you've already installed it otherwise click the link below first to download the tool. It works for both PC's and Mac machine.
Step 1: Attach your Motorola and iPhone to the computer
First of all, launch the application and connect your both iPhone and Moto to your PC's / Mac.
Next, click on the green "Phone to Phone Transfer" option on the left side of the application interface. You should now see your both devices appears on the screen, as screenshot given in Step 2.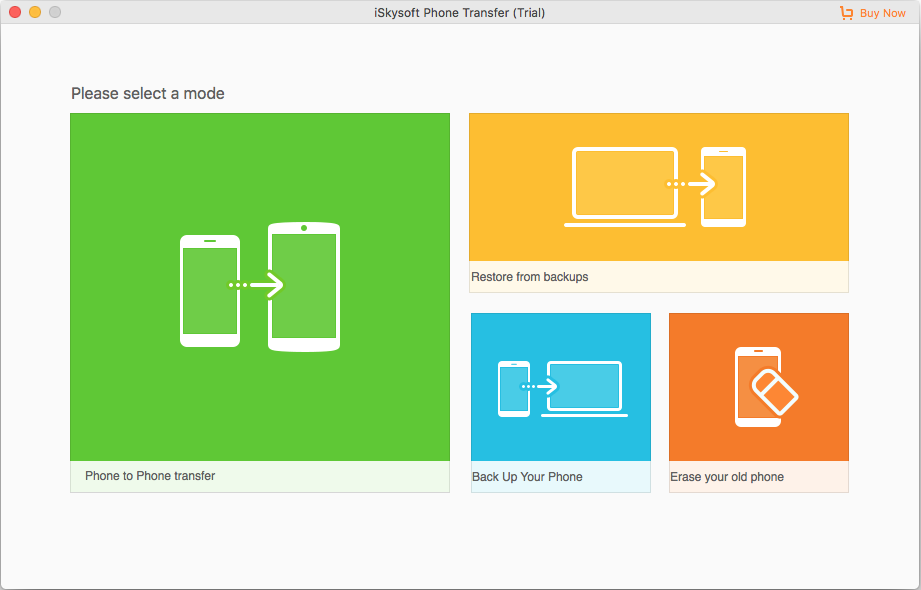 Note that if you directly select the "Phone to Phone Transfer" option once your launch this music transfer utility, you'll be presented with a screen like this, which asks you to connect your both devices to the computer.
Step 2: Scan music on your device
After your two devices present on the program window, make sure you have USB debugging mode enabled on your Motorola phone to access the data. Don't panic, it's easy enough with just a few taps.
Next, a scan of data on your source phone begins. This will take a little while, be patient.
Once the scan finishes, your contents that're contained on the device display on the center box.
Tip: the Flip button located on the top center is available for you to exchange position between the sending and receiving phone. In this example, we set iPhone on the "Source" place to transfer music from iPhone to a Motorola Android phone. If you want to make a reverse journey, just click the Flip button there.
Step 3: Select Music and transfer to your target phone
Now, simply check the Music box from the list and finally press the green "Start Copy" button. All of songs on your iPhone will automatically be transferred to your Motorola handset.
Done! When the process is finished, you can disconnect the data cable from your phones and your computer. Sound easy, right? Try it!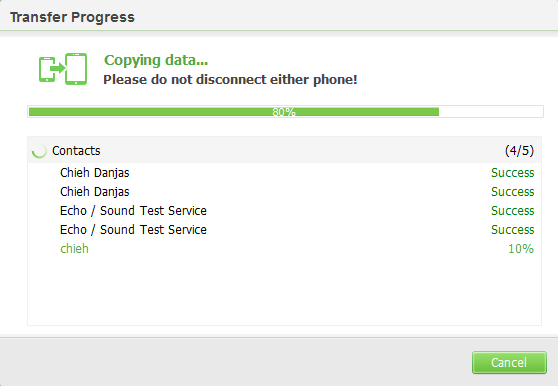 Conclusion
Phone Transfer is definitely an efficient tool to transfer files between iPhone and Android phones if you have large files such as photos, songs, videos, contacts, text messages on your old mobile device. Additionally, you may notice that it includes backup and restore features on its main interface. This can be very useful for someone who wants to create backup of phone on computer frequently, as well as restore files from iTunes or iCloud backup if his or her handset is lost or damaged. Check another detailed guide on moving contacts from OnePlus to an new iPhone.
iTransfer: Powerful & Flexibility & Intuitive
Just want to copy a specific playlist, or individual songs from your Motorola to a new iPhone? You would like to create a new playlist before transferring? Or need to upload favorite movies, music, photos from your computer to your handset? Want to root your android phone? iTransfer understands this and delivers exactly what you want.
Music transferring screenshot: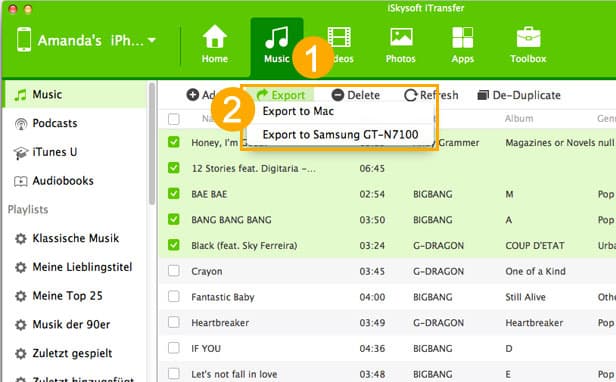 As an one-stop solution, iTransfer gives you power to manage your entire mobile lifestyle. You can transfer files amongst iPhone, iPad, iPod, Android phones, tablets, iTunes, PC, Mac smoothly without having to worry about the video's or the song's compatibility as the program will automatically convert them to a readable format for the device you're transferring it to before transferring. You can add, edit, organize, delete, backup your files such as videos, photos, tunes, contacts, messages, audiobooks, podcasts; fix music ID3 tags, rebuild your iTunes library, create funny GIFs and more.
Motorola models supported: Moto Z Force Droid, Moto Z, Moto Z Droid, Moto Z Play, Moto Z Play Droid, Moto G⁴ Plus, Moto G⁴, Moto G⁴ Amazon Prime Exclusive, Moto G⁴ Play, Moto G⁴ Play Amazon Prime Exclusive, etc.
iPhone: iPhone X, iPhone 8/ Plus (64G, 256G), iPhone 7/Plus (2G, 64G, 128GB), iPhone SE, iPhone 6s/Plus, iPhone 6/Plus, iPhone 5s, iPone 5C, iPhone 5, etc.
How to Transfer Messages from a LG Phone to an iPhone
The Complete Way to Transfer Text Messages from iPhone to Android
A Guide on Copying All Your Text Messages on iPhone at once to Motorola