How to Convert FLV to MP4 (or MP4 to FLV ) for Mac & Windows
I have about a dozen .flv flash videos that need to be edited in iMovie and then sync to view on my iPad, I understand I have to convert the flv format into mpeg-4 file for Mac, I'm new at this. Please suggest any converter software?
FLV is a flash file format that's designed to play in a Flash Player or web browser plug-in. It is the way to watch videos on the Internet, and many of video-sharing websites like YouTube encode their media as FLV. If you're Mac owner, you might have some .FLV files obtained from YouTube and want to play the FLV on Mac, or just organize FLV files in iTunes library. In this case, converting the .flv to .mp4 format is one of the ways you go, so that you will then drop them on any Apple products of your choice.
While MP4 (H.264/MPEG-4 AVC and MPEG-4) format is one of the most used file types for a wide selection of mobile players, computer applications and Android-based products. For some reason, if you want to upload a MP4 video and distribute on a YouTube-like website, you'll probably need to compress .mp4 to .flv flash format to make the file a smaller size.
No matter what the situation is, you will be involving in file conversion. Video Converter for Mac is our favorite to handle those video files. It is lightweight and easy-to-use that lets you convert almost every multimedia format you've ever heard. You can convert FLV to h.264 MP4 file or FLV to MPEG-4 video on Mac OS X or vice versa. The equivalent version - Video Converter for Windows is also available for PC user. Do note that the Windows version has a built-in downloader which enables you to easily grab videos off online and convert in a number of file types.
OK, let's take a look at how easy is to convert your video files. In this article, we will take converting a .flv to a .mp4 file on Mac OS X for example. The process on Windows is pretty much identical to the one described below for Mac. Let's get started.
Step 1: Import FLV videos
Launch the program, you'll be presented with an empty window that serves as a drop target for video files.
Click "Add File" button to open the file browser window and import .FLV file(s) – or any other video formats. Can't Miss: How to convert videos in. mkv to MP4 File for Mac
You can also drag the target FLV files into the main windows of this FLV to MP4 Mac converter. In the main panel, you can delete one or more files as you like and preview your files before conversion.
The converter comes with bulk conversion, which allows you to process multiple videos at a time.
Step 2: set the output format to universally accepted MP4
Now that you have FLV files imported, next, move to bottom section of the window. There is a drop-down menu named "Profile", where you'll choose what format the resulting file will be in. Just click it to open the panel and then select MP4 from General Video category as exported format.
Then, just make sure where you intend to save the FLV file by clicking the "Destination" option.
In "Setting" window, H.264 and MPEG-4 video codec are supported. Since I'm going to convert .flv file into an .mp4 file with the same frame rate as the original, so here I won't change any settings of the video.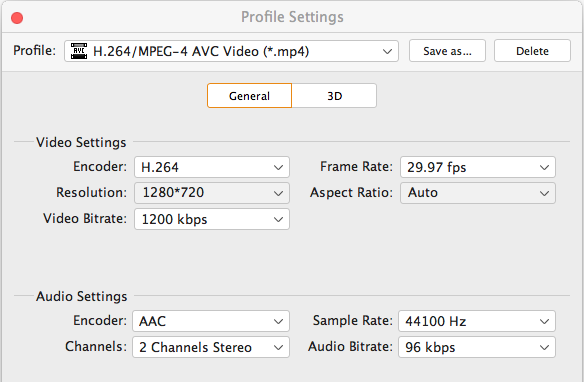 Rather than choosing a specific output format, if you want to convert FLV to MP4 just for stream the video on a device, you can alternatively select your device profile from the "Preset" drop-down menu on the left side, this Mac FLV to MP4 converter has a selection of device-targeted profiles and will automatically adjust the conversion settings appropriately.
Please keep in mind that if you are try to convert .mp4 to flv in Mac just for uploading onto YouTube, there has been YouTube Video (*.flv) profile in Streaming Video category. You simply highlight it as output and you're off.
Tip: For converting your FLV to MP4 file for a device that "Presets" list have not, please follow your device's user manual for the correct supported resolution / bit rate / channel / frame rate, and set it manually.
Video editing (optional)
Actually, before the conversion, as an optional step you can choose or not, you are offered some useful edit functions on the top menu bar to edit the FLV files in the program - you can do things like trimming, cropping, flipping, adding effects for the video.
Step 3: Start FLV to MP4 conversion in Mac
Alright, you can simply press the "Convert" button at the bottom right corner of interface to begin encoding FLV to MP4 on Mac. A couple of minutes later you will get quality MP4 file(s). The entire process will take a bit of time, obviously vary depending on the size of the FLV flash files and your computer hardware specs.
That's it! Now you can drop the converted MP4 files into your portable player and enjoy them in the living room, on a trip, or anywhere.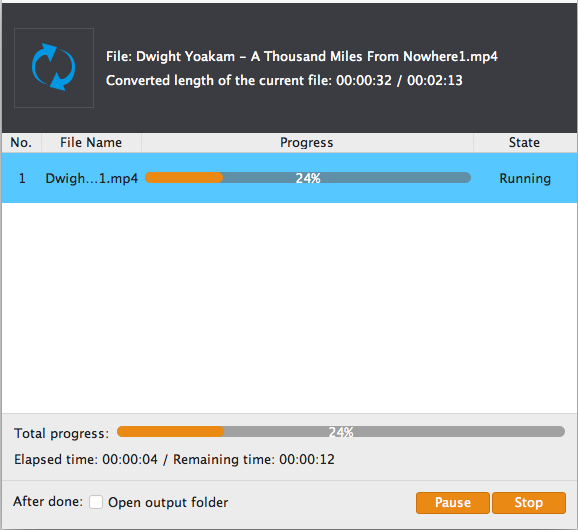 You can benefit from using this Mac app to make your FLV files work on iPhone, iPad, iPod, QuickTime, Final Cut Pro, Sony Vegas Pro, Windows Movie Maker, Xbox 360, and transfer FLV into WMV, AVI, MOV, MP3, etc.
For those who have high quality h.264 mp4 clips exported from iMovie and now wish to compress into smaller clips that can display in Flash online. You can choose to turn to FLV file on your Mac, but there may be a bit little loss of the image quality.
More Related to FLV Conversion