How to Convert WMV to FLV (or FLV to WMV) in Mac/ Windows
I have some of interesting videos and they are in .wmv format, now I want to upload them to YouTube so that my friends can watch. I opened the movies in format factory, everything is default but it fails to convert wmv to flv file, I have tried many times, it still in vain. Any alternative tool that can be used to do this? - Bomber
FLV is a popular video format primarily used for online streaming content (such as those from YouTube). However, flash videos are not compatible with some media player. You may wish to convert FLV to WMV on Mac for storing on their hard drives or for re-editing existing footage in another program. Simultaneously, if you have WMVs at hand and want to post them online, you might need to convert WMV to FLV file extension. Anyway, you're not alone. It is a simple process to convert between FLV and much more playable WMV format with the help of video conversion software.
Video Converter for Mac is a lightweight and effective program that converts several digital files to a number of formats perfect for your computer apps, your portable device or whatever you happen to own. It encodes WMV to FLV files or FLV to WMV on Mac, and offers many nice options that let you get plenty of control over the video, including tweaking the encoder, bit rate, file size, and bit rate. One of the highlights for this video converter software is that converting or compressing audio/video components still result in good in quality. If you are on a PC, Video Converter for Windows will do the trick.
Let's go with the detailed tutorial about how to convert WMV to FLV format on Mac OS X.
Step 1: Load WMV video(s)
To add WMV videos to the queue, click on the "Add File" button on the top menu and select the WMV files you want to convert. You can also add your files by dragging them from your computer and dropping into the window of the program.
The program has batch-encoding feature, so you can create a queue if you have several WMV files that need to be encoded.
Step 2: Set output parameters
Here, you will be requested to set output format. Simply click "Profile" drop-down box and it will display a new panel, from where you choose FLV. The WMV to FLV converter program will optimize all the video settings for you.
In the panel, there are a number of handy presets (see the list of scrollable preset icons on the left) that make it much easier to output video optimized for devices: iPhone, iPad, Xbox One, as well as for a slew of applications: Windows Movie Maker, YouTube.
Check another article: How to add your WMV files onto iTunes.
Edit FLV movies down before conversion: (optional)
Highlight the video you want to edit, and click the "Edit" button on the top menu. You can crop into the picture to remove unwanted portions, set brightness to adjust effect for your videos, deinterlacing an interlaced video to avoid mosaic, and more.
Step 3: Begin converting WMV to FLV
Once you've configured all the settings just the way you want it, just click the "Convert" button to get things rolling. The process will begin. You'll be able to see the progress in the Log window. Once the WMV has been successfully converted to FLV, you can find the exported file inside your folder.
That is it!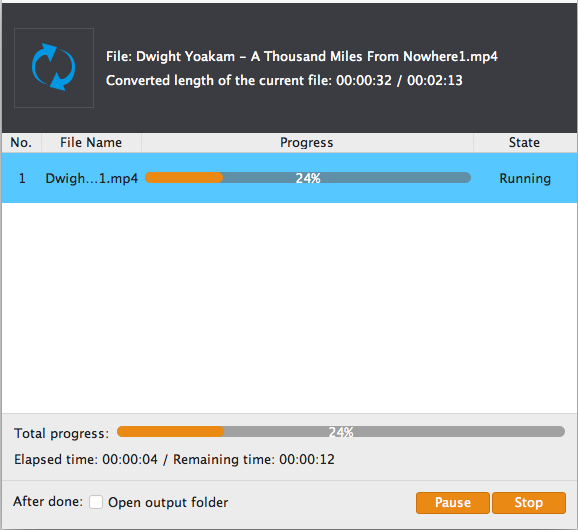 More Related to WMV to FLV Conversion