How to Convert MOV to MP4 (or MP4 to MOV) for Mac/ Windows
How can I encode HD video clips in .MOV (~400mb about 2 minutes of video) to MP4 format for Mac. Alright, I recently get an iPod. Now the problem is I'm getting my videos off my canon camcorder as a MOV file, and for it to play on the iPod it had to be a MP4 format. I'm after a converter that is fast and keep the quality of the file, Any help? - Guona
As one of the primary formats for Apple QuickTime, the QuickTime MOV files are commonly used by Mac users. They are often large and mostly uncompressed files that may take up too much room on your computer. If you want to save space on your hard drive, or upload to popular video websites like YouTube or share video files with someone who doesn't have a Mac, what you need to do is converting MOV to MP4 on Mac or other compatible file format to increase compatibility across multiple platforms.
For some bizarre reason, you've probably encountered issue that you have some of mp4 videos that you really like, but the format restricts the ways you can use it on Mac applications. In that case, you will want to convert from MP4 to MOV file type.
For converting between QuickTime .mov and .mp4 so that they can be format-shifted, here we'll use a program called Video Converter for Mac, which is a very flexible application that specializes in that very task - just choose your source file and output format and go. It converts all kinds of video formats and comes with lots of advanced options like batch conversion, file merging, and frame cropping to enhance the resulting file. If you would like to put the exported video on a portable device to watch on-the-go, you can also use its built-in device-targeted preset profiles.
For user who's running a Windows 8/7/Vista/XP PC, please try Video Converter for Windows.
In this walkthrough I'm going to show you how to transfer video in MOV to MP4 file on Mac OS X. You can use the tool to perform reverse process of converting MP4 to MOV format. Also, the steps applies to Windows conversion.
Step 1: Import MOV files into the MOV to MP4 converter for Mac
Launch the application, click the "Add File" button to select original MOV files you would like to convert. You can also drag-and-drop files to the project area. When the video source is selected, you are able to see the source media file info such as the original format, file name, resolution, output length, etc.
One of the advantages of this MOV to MP4 converter is the ability to do do bulk conversion, which enables you to set multiple MOV video files to convert at the same time.
Tip: Joining segmented .mov clips together will make playback easier and more efficient. If you have several small sections of .mov footage that you would like to combine into one file, you can use the option labeled "Merge into one file" at the bottom right corner of the screen.
Step 2: Choose MP4 format as output file
Click "Profile" drop-down list option on the bottom section of the program window, and then choose MP4 as the output file type under "General Video" category, if you are trying to converting HD MOV to HD MP4 file, here you go to "HD Video" category, and select HD MP4 instead.
For experienced user, if you do know how to tweak the profiles, you can manually adjust the quality and compression options using "Settings" button. And you can choose to create a new format profile to your taste by clicking the "Save as..." button on the upper right corner, so you can use it next time. It should display in the "User Defined" category.
For novices, you can ignore these since the default settings produces a great result.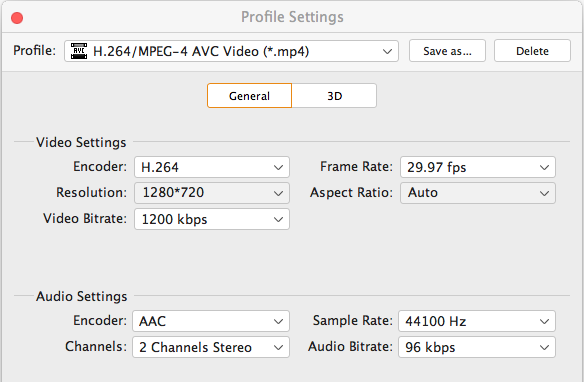 The program has device-presets that will convert video to the correct resolution and format and instantly forward them to popular devices. So if you are willing to put the converted video to a certain media device, you can select the icon corresponding to the device in the presets list.
Edit MOV files before the conversion: (optional)
The MOV to MP4 video converter is also integrated with advanced editing function for users to merge, clip, crop and add some effect to favorite video. More details on user guide.
Related: How to burn a MOV movie onto a DVD or Blu-ray disc.
Step 3: Start MOV to MP4 Mac conversion
After completing the setup, now, start converting QuickTime .mov movie file via "Convert" button in the bottom right corner of the interface.
Wait for the application to convert the MOV file you imported to MP4 (H.264/MPEG-4 AVC). A little blue bar will appear showing the progress of the operation. The conversion process time may take a few minutes or hours, vary depending on the size of MOV videos and quality you choose for the MP4 files.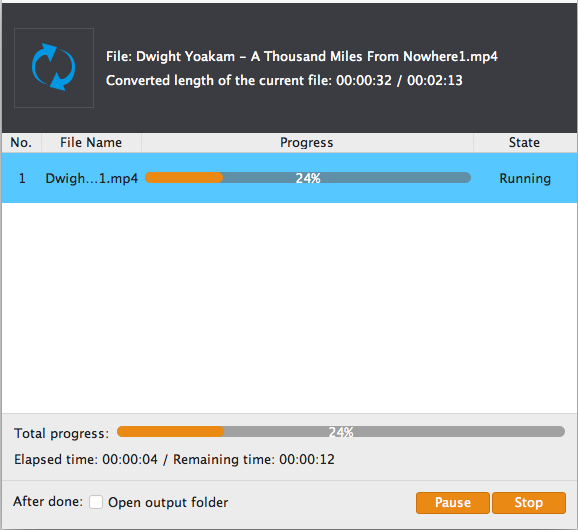 More Related to MP4 to MOV Conversion