How to Convert FLV to MPEG (or MPEG to FLV) on Mac/ Windows
If you have a video saved in the .MPG format on your Mac computer, you might want to compress your MPEG (.mpg) to reduce the file size and convert the file into a more accessible format such as FLV -- if, for example, a friend sends you a quality MPEG/MPG video by email, and you want to embed it on your website as a flash movie, or upload them on social networking site for online streaming video, like YouTube.
Conversely, while YouTube and other video sources have flash video's online that play in your browser, there are tons of software out there – from browser plugins to stand-alone programs – that will allow user the ability to pull off the videos in their original Flash format (FLV) on your local hard drive. However, if you capture an .flv video you may run into issues if you want to watch it on device of your choice or edit that footage in iMovie or Sony Vegas. To make those of applications work with FLV format, you'll need to convert the FLV to MPEG format for Mac OSX.
Luckily, you can go through an easy process to Mac convert FLV to MPEG video format or vice verse with ease and in no time. Video Converter for Mac is one program you could use to obtain the file in your desired format comfortably. It converts every movie files you throw at it and then save into several other formats. In addition, There are a handful of presets and quite a few output configuration options, giving the software best-in-class capabilities. For those people who're running a Windows PC, please try Video Converter for Windows here to convert between .flv (flash video) and mpeg file. BTW, the Windows version has plugin that enables you to download videos off online.
See: how to convert MPEG video to a QuickTime MOV file
Here below is the step-by-step guide about how to convert videos from FLV to MPEG on a Mac. The process of converting any other formats remains basically the same.
Step 1: Add file
The first step is to of course go and download the application, then install it.
Launch the program, select the source video files (.flv) you wish to work on with to the queue by dragging them into the program. Or by clicking "Add Files..." You will see the files loaded into this FLV to MPEG converter, which looks like the image below.
Bulk conversion feature allows you to add many flash FLV files one time, and convert these files on the fly in a batch, works much faster than converting them one-by-one.
Step 2: Select profile
On the bottom side of the program window, simply click "Profile" drop-down box to bring up a new window, and then choose MPEG (or HD MPEG from "HD Video" list if your FLVs are HD) as output format. It support MPEG-1, MPEG-2 encoding .mpg video.
Just be aware that this Mac FLV to MPEG converter has a wealth of presets (see left below) to convert video for iPhone, iPad, Samsung Galaxy series, PS3, etc. Just select the icon corresponding to device of your choice, the output parameters are adjusted automatically to match the preset you selected.
Edit
The FLV converter also includes the ability to edit your files. This means that you could make editing on your video, such as trimming video to get a section, cropping to set an output aspect ratio, applying special effects. For doing that, highlight the video and click the Wrench icon to the right side corner of the video, and this will bring a new window where you can do everything you like.
Step 3: Start converting
When your settings and output directory are selected, you then click the "Convert" button to start the flv to mpeg conversion for Mac. Sit back and wait while the hard work is done for you. when program convert, one process bar can tell how much percent had be done and estimating the time remaining. Generally, the conversion process will take in a very short amount of time.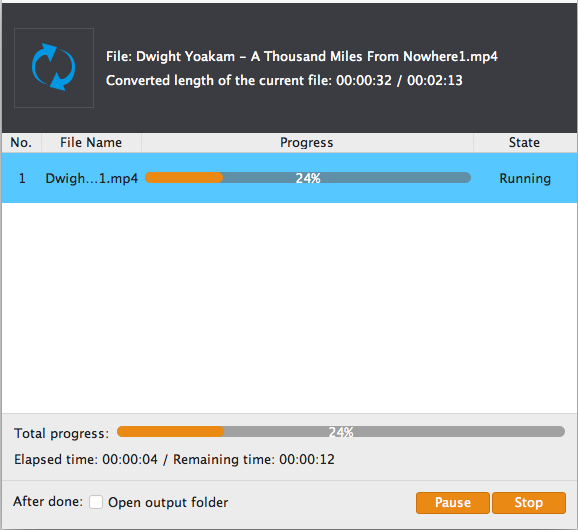 With FLV to MPEG converter enhanced editing functions, you can also trim, crop, make effect and add watermark on your video, merge several video clips into one file, and extract audio from FLV to mp3, aac, ogg, w4a, wav on your Mac.
More Related to MPEG to FLV Conversion