How to Downscale a MP4 from 4K to 1080p/ 720p on Mac and PC's
With the emergence of 4K UHD, we came to realize the superiority both in visual quality and smooth playback of it. The number of camcorders like Panasonic HC-WXF991K, Sony FDR-AX100, Sony FDR-AX53, Canon XC10 that can shoot 4k videos are ever-increasing. However, despite its superior viewing experience, 1080p and 720p is still the most popular cofiguration used today. Downscaling a .mp4 footage from UHD (4K) to 1080p or 720p also results in smaller files size and bitrates for legacy devices to handle, whether it is on a PC, HD TV, smartphone, tablet or portable player.
Thankfully, one path may lead you to a way in which not only get the 4K MP4 file downscaled to1080p (or 720p), but also lets you convert your movie collections to other digital formats if you want. All you need is a video conversion utility that is capable of handling video resolutions.
For your video conversion needs, Video Converter for Mac (for Windows) is a good choice. It works on both Windows and MacOS, and can do all sorts of video conversions, including downsizing a 4K mp4 file to HD 1080p MP4 file, and helps you get quick results without any fuss.
Main Features of Video Converter
Configure your video files including MP4 from 4K to 1080p, 720p and 480p.
Adjust the quality of the result file like codec, framerate, bitrate, sample rate.
Convert your source footage to almost all formats as you want, MP4, MOV, WMV, AVI, MKV, etc.
Convert audio files among FLAC, M4A, MP3, WAV, OGG, MKA, WMA and other audio files.
Handy video editing options to save a portion of a 4K file, remove black bars, add logo, etc.
High speed in conversion process
Related Article: How to Convert a WMV to MP4 File on Mac and PC's
This tutorial will guide you through the steps that you need to perform on the process of converting 4K MP4 to make a 1080p movie on MacOS. Downscale 4k footage into a 1080p file on your PC can be the same as the equivalent Mac operation.
Step 1: Add original MP4 4K files to the program window
Once installation is complete on Mac, double-click the program icon to open it and click "Add File" button to load your raw 4K .mp4 footage from your computer. This tool allows batch conversion, allowing you to add a slew of source files at one time.
Next, you can preview a file to check it's definitely the one you want by clicking the "Play" button in the preview window on the right side of the interface.
Step 2: Configure output settings
Click the "Profile" drop-down menu, you'll be presented with a format-choosing panel.
If you just want to downscale your files from 4K to 1080p only and keep the .mp4 extension, you then select the "HD H.264/MPEG-4 AVC Video (*.mp4)" from the "HD Video" category, or "H.264/MPEG-4 Video" from the "General Video" category.
Alternatively, select any other available format profile from the list.
Then you'll have to click the "Settings" right beside the "Profile" menu to adjust the conversion settings including resolution.
As you can see in the following image, in "Resolution" box in video settings section, please do remember changing the value of "Resolution" to 1920*1080 (1080p) from 3840*2160 (4K). If you want to convert your mp4 4K file to 720p instead, just change the value here to 1280*720 (720p).
Similarly, you can alter other video parameters, such as Encoder, Video Bitrate, Frame Rate, Aspect Rate and Audio options like Encoder, Channels, Sample Rate and Audio Bitrate as well if needed.
For those who want to convert your movies to be playable on your Apple iPhone, iPad or other popular devices, this Video Converter can also meet your satisfaction. Just one simple click of the device-oriented category and choose what you want your file convert to from the preset lists, including Apple, Android, Samsung, Game consoles, and so on.
Step 3: Start 4K to 1080p MP4 conversion
When you've finished your selections, all you need to do is hit the "Convert" button located on the lower right corner of the screen and nothing more! The software will start converting your 4K MP4 video to 1080p file on Mac.
Then wait for a few minutes to let the program do its job.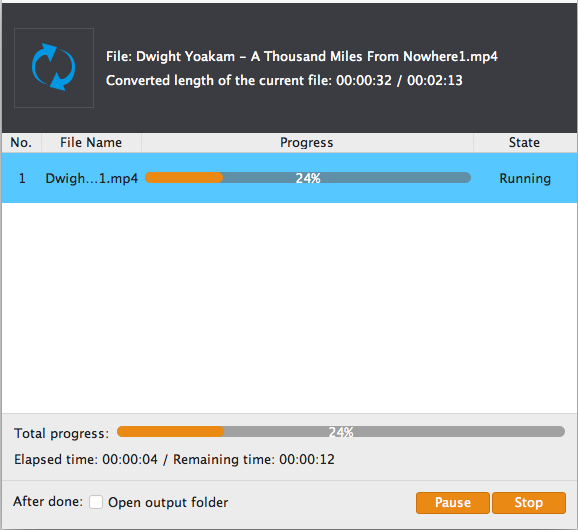 You'll be presented with a process window where you can get information about the current processing status. Also, you can tick the "Open output folder" option on the bottom to let the folder where saving your resulting 1080p video files opens automatically after the conversion is complete.
And that's how you change a .mp4 video from 4K to 1080p/ 720p using Video Converter. Done!
See Also: What to Do If You Want to Get Your MP4 Files into QuickTime Format
Conclusion
As you can see above, this video converter delivers on its promise in video converting and offers a number of additional useful features. In this article, we didn't discuss one of unexpected features, video editing, which helps ensure the file looks better before you output it, but you can experiment by clicking the corresponding buttons in Edit window to see what happens on your original video.
4K Ultra HD Camcorders
Sony: Sony FDRAX33/B, Sony FDRAX53/B, Sony FDR-AX100/B, Sony FDRX3000/W, FDR-AX1, etc.
Panasonic: Panasonic HC-WXF991K, Panasonic HC-X1000, HC-VX981K, HC-VX870K, HC-X1, etc.
Canon: Canon XC10, etc.
JVC: JVC GY-HM170U, etc.
Others: AKASO EK7000, etc.