How to Restore iPhone iMessages from iTunes Backup
Thanks to things like iTunes, Apple has made iPhone data management inherently easy and hassle-free. Unfortunately, restoring just the iPhone iMessages from iTunes backup still seems to such a questionable process. Read this post about getting the iMessages vanished from iPhone back at hand, and you'll get to know some tricks that allows you to extract them from iTunes backup files with ease nevertheless, if you've backed up the iMessages conversions through iTunes.
Q: "I prefer to use iMessages on my iPhone because it allows me to sent pictures, video, contacts, locations as well as text messages. Even after I'm done with discussions, I love to check out the chat history to go over some wonderful occasion. Unfortunately, I accidently deleted a iMessage completely. This made me really feel vexed. Is there any way to recover it from iTunes backup but don't erasing my iPhone data?"
iMessage is the new instant messaging service that directly built in iOS devices. As well as text messaging, it allows you to send pictures, videos, audio, contacts, location across iPhone, iPad, iPod touch as long as internet connection is available and personalize the messages with animated effects. All these features have made it stand out among Apple users.
Many iDevice users keep a lot of iMessages around and put value on them since old messages are an interesting source of nostalgia and triggering memory. However, it is unavoidable iMessages are disappeared from iPhone for some likely reasons like factory resets, virus attack, failed jailbreak, water damaged, etc or mistaken deletion. Well, there is always a solution for that.
The main app that we'll be using in this tutorial, outside of iTunes, is iOS Data Recovery.
It's comprehensive and easy-to-use, featuring three different methods by which to get back all iPhone vanished iMessages or any content ( contacts, notes, photos, call logs, Whatsapp messages, etc.). Be it recovering iPhone iMessages from iCloud backup, from iTunes backup and from iPhone directly. It works well in both cases, making recovery and extraction possible through a simple interface. Plus, on the upside, it's also great in that you don't have to restore the entire backup archives, you can view and pick the specific texts, files, photos, etc you wish to recover.
Just check the guide below as I walk you through the entire step-by-step process.
Option 1: Extract iPhone iMessages from iTunes Backup Files
Option 2: Restore iPhone iMessages via Apple iTunes
Option 1: Extract iPhone iMessages from iTunes Backup Files
Step 1: Detect iTunes backup on local computer
Run the program on the computer and select "Recover from iTunes Backup File" mode. Then the program will immediately identify all the iTunes backups on the hard drive and display them on the window.
Note: You should be advised that an Apple ID passcode is often required when dealing with encrypted iTunes backups.
Step 2: Scan and extract content from iTunes backup
Choose an iTunes backup which is for your iPhone and includes the synced iMessages (usually the recent one) and press the Start Scan button to extract the files from iTunes backup.
After the extraction process completes, you can browse all the iPhone stuff from iTunes backup on the interface.
Step 3: Preview and restore missing iMessages from iTunes backup
From the left list, click on the category "Messages" and "Message Attachments" (or whatever other data type) to preview the conversations in the text bubble and other content like images from iMessages.
Subsequently, enable those iMessages items you want to recover on the middle pane by ticking the corresponding checkboxes one by one.
Confirm the items you check and press the Recover button at the bottom-right corner. At this moment, a dialog box shows up, asking you to assign a location for the extracted files.
Finally, once hit on the Recover button at the lower bottom of the pop-up will kick off the process of pull off the deleted iPhone iMessages to your computer. As usual, these iMessages will be save as HTML or CVS files.
That's it! Your deleted iMessages are now reappear in the local folder.
Perhaps you'd even like to transfer your iMessages to the same iPhone or another separate device, here, iTransfer is a great data migrating tool that will do you a favor.
See also: A Full Guide on Moving Songs from a Mac to an iPhone without iTunes
Option 2: Restore iPhone iMessages via Apple iTunes
There is an Apple official way to get back your iMessages, that is, restoring iPhone from iTunes backup using iTunes. Read on and see how it works.
1. Open iTunes on a Mac or Windows PC.
2. Attach iPhone to the computer with a USB cable.
3. When your iPhone icon become visible on the left top, click on it.
4. Under the summary menu, press Restore Backup button. Then a pop-up dialog box will prompt you to turn off "Find My iPhone" in the iCloud Settings. Do as the dialog box requires and come back to the summary page.

Press "Restore Backup" button again and select the most relevant backup that includes the iMessages you need.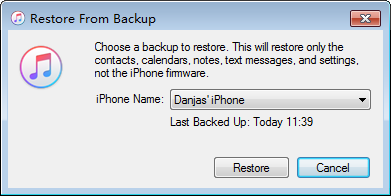 5. Finally, press the Restore button to kick-start the restoration. The entire process won't take long. Please wait for a while.

Note: Restoring iMessages through iTunes is quick and straightforward. However, this option has its disadvantages. For one thing, there's no simple method to extract only iMessages or other specific files from an iTunes backup — you must restore the entire backup to the iPhone or other iOS devices in order to access the items you seek. For another, it will definitely erase your iPhone and you should set it up from scratch.
Conclusion
That's all there is to it! The two options provided above are typically effective enough to help you out of the predicament. Both you can try on your particular situation.