How to Move Content from LG Phone to iPhone Seamlessly
Whether you're upgrading to a new iPhone from an old LG Android phone and vice versa, the data migration process is actually quite painless thanks to Phone Transfer.
Android and iOS, the two most prevailing mobile operating systems in the world, are vying with each other in winning every customer's heart.
Maybe you can't wait to make a switch to a new iPhone from LG Android phone or have already done so. But here comes the question: how can you transfer the data from the old LG to the new iPhone quickly and conveniently? Most users are annoyed by the dull process of transferring the data such as contacts, photos, media files (both audio and video files) and other data from LG over to iPhone by drag-and-drop in the computer?
Now it's less difficult, thanks to Phone Transfer software. The biggest bonus about it is that you can use it to quickly and easily transfer all your content between phones, including LG and iPhone. The whole process is insanely simple. Hook up your two devices to the computer via USB, tell the software what data file types you want to transfer, then press the Start Copy button and it'll take care of business in the background without you ever knowing. Let's take a look at what it does.
Data Migration Between iOS and Android Devices
One of the most useful features about the tool is the ability to copy the selected data from LG to iPhone and other Android & iOS devices. The data migrating process is quick and easy only in a few clicks. The content includes contacts, music, video, photos, calendar, text messages, call logs, and others. It also works perfectly for BlackBerry, Windows Phone and Symbian.
Data Backup from Device to Computer
You never know when you will lose you data. Perhaps your phone is attacked by malware or virus that causes data loss. There is also the possibility that your phone is stolen or you accidentally delete or erase the data. Whatever the cause, data loss is unpleasant and sometimes can put you into trouble. To avert these happenings, data backup is necessary. Phone Transfer can make it for you.
Data Restore from iTunes & iCloud & OneDrive Backups
Another feature of Phone Transfer is to bring back the data which has been backed up on your machine previously, or from iTunes & iCloud & OneDrive backup. With this feature, you can take comfort in the fact that the important information on your device can be easily restored.
To help you stay on top of Phone Transfer quickly, the following steps are presented. Here we take moving all of the data on your LG smartphone — your contacts, music, videos, photos, messages, and calendar to iPhone on Mac computer for example.
Step 1: Plug your both iPhone and LG phone into computer and launch the program
After you start the software, its main interface opening.
Select the green Phone to Phone Transfer module to get into next screen.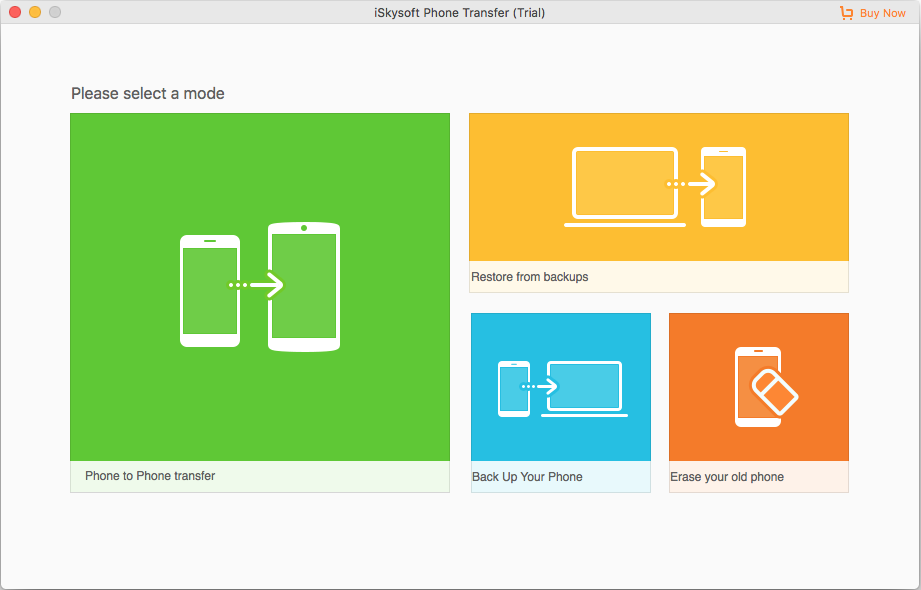 The program will take you to a new window, as image shown below.
Simply plug your both iPhone and LG smartphone into the computer using a USB cable. The program will should recognize both devices and show their icons on the left side and right side of the screen.
For Android phone, you have to enable USB debugging mode on it to access the data. To do this, you can follow the on-screen instructions to set it up. Alternatively, you can refer to article - how to enable USB debugging mode on Android. As for iPhone, you need to tap Trust to proceed when a 'Trust This Computer' alert appears.
In this article, we would like to transfer data from LG over to an iPhone, make sure the iPhone appears on the right side of the screen as target device and LG as source device on the left side. You can click Flip button to switch their position if they're in the wrong place.
Step 2: Scan the content and select items you want to migrate
When two devices are connected successfully, a scan of data on your source LG phone begins. After a while, your stuff that's contained on the device including contacts, messages, music, videos, photos, etc will display on the center area of the screen.
Next, you tick the box next to the item(s) you want to transfer to your iPhone. It also offers you the option to erase the data in your new device prior to data transferring by clicking the Clear data before a copy option on the lower right corner of the screen.

You cannot directly moving apps and call logs from your LG smartphone to iPhone since the two mobile operating systems don't talk to each other.
Step 3: Press "Start Copy" button
Now, you may start process of moving all your selected content to iPhone from the old LG phone. To do it simply press the Start Copy button. Please avoid disconnection before the process is complete. You can monitor the progress via the progress bar that appears at the top of the progress screen.
That's all there is it! We hope that the tutorial above helps you with seamless data migration from a LG Android phone to an iPhone.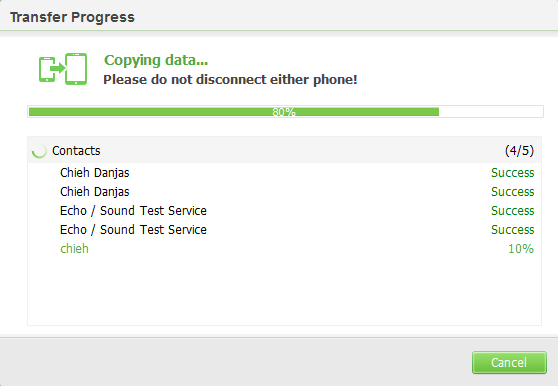 If you want to migrate data from iPhone to LG instead, just click the Flip button on the Step 2, and select your desired stuff contained in iPhone, and press Start Copy button.