How to Reset Windows 7 Password on Toshiba Computer Quickly
The frustrating situation that can happen to most computer users, aside from a hard drive failure, is forgetting your Windows log-on password. The lost of your login password prevents you from getting access to your computer where saving all of your important data, files, and other things. Today, we'll talk about how to reset a password in Windows 7 on your Toshiba laptop or desktop if you've forgotten the password.
You lose your Windows 7 password and can't log into your Toshiba machine. If there are any other users set up on the computer who has the level of administrative rights, they can log in the Windows 7 and go to Control Panel > User Accounts > Manage another account > Change the password to reset the password for you. This solution won't work if you can't find such an account.
Another method you can try is use a pre-created password reset disk, which comes in handy if you ever forget your Windows 7 admin & user password on Toshiba. When your password attempt fails at the login screen, you'll be presented with a "Reset password..." link, click it and insert your Windows 7 password reset disk, follow on-screen wizard to enter a new password.
Password Unlocking Tools
What do you do if find yourself locked out of Toshiba computer without such a password reset disk? Fortunately, there is actually a host of 3rd party tools you can go about resetting or recovering a password for Windows 7 on your Toshiba laptop & desktop. Spowersoft Windows Password Reset introduced in this article is our favorite.
It is an easy-to-use utility that aims specifically at resetting the lost password on Windows machines safely and quickly. It works all versions of Windows, no matter which operating systems you have - Windows 7, XP, Vista, 8.1 or 10 and even Windows Servers such as 2000, 2003, 2008 and 2012. You can even use it to create a new account on your computer with administrator rights. Three versions are available for this program, check comparison editions here to select a right version.
Please download the program and run it on a second accessible computer. The guide that I describe below can work with all versions of Windows machines (XP, Vista, 7, 8, 8.1, 10, 2003, 2008, 2012).
Step 1: Run the program and make a password reset disk for Toshia Windows 7
To reset a Windows 7 password reset disk, you need either a USB flash drive or a CD/ DVD media.
Open up the application, and connect one of these blank media discs to your computer.
Click either USB device or CD/DVD button on the screen to begin creating a password reset disk that's later used for resetting the administrator & user account password on Windows 7 in Toshiba machine.
When a "burning successfully" message displays, click OK to close it. Disconnect the disc with your computer.
Normally, your Toshiba computer will boot from the Windows 7 when you power on it. So we need to make your computer recognized the Windows 7 password reset disk you just made as 1st boot order sequence during bootup.
Step 2: Set BIOS of your locked Toshiba to boot from the disk you just made
To do this, insert the disk into your problematic Toshiba laptop & desktop that needs to reset the lost password for Windows 7, and power on it.
Watch for a "Press [key] to enter BIOS Setup" message in the first few seconds after turning your Toshiba computer on, and immediately press the key displaying on the screen to enter BIOS. Usually, the F1, F12, ESC or F2 key should get you into the BIOS. On the Toshiba Equium F12 will enter the BIOS.
Toshiba has more detailed instructions on BIOS Setup / BIOS settings -- access instructions, and we also find a useful topic from Toshiba Official Forum - How To: Enter the system BIOS on Windows 7 computers.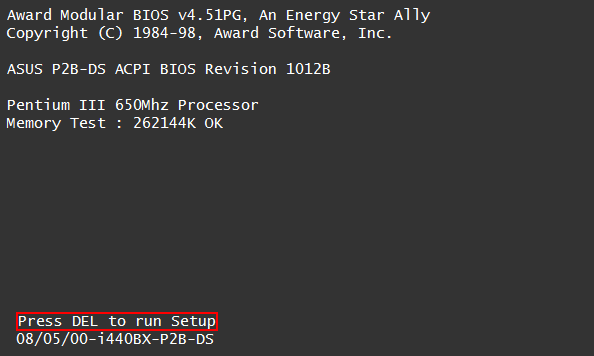 Once you enter the BIOS configuration, follow the instructions at the bottom of the screen to change which device to boot from first. In this example BIOS, you can change the boot order option via + and – keys.
Any removable device connected to your computer will be detected and listed under the Boot Device Priority, such as Hard Disk Drivers, Floppy Drivers, CDROM Drivers.
If you created a Windows 7 admin & user password reset disk on a USB drive in step 1, here you select Boot > Boot Device Priority > 1st Boot Device > Hard Drive, and choose [Your USB Drive Name] under it; if you instead created password reset CD/ DVD disk, you select Boot > Boot Device Priority > 1st Boot Device > CDROM.
Remember, your BIOS may have different layouts, see: how to change boot order in the most common BIOS layouts on motherboards.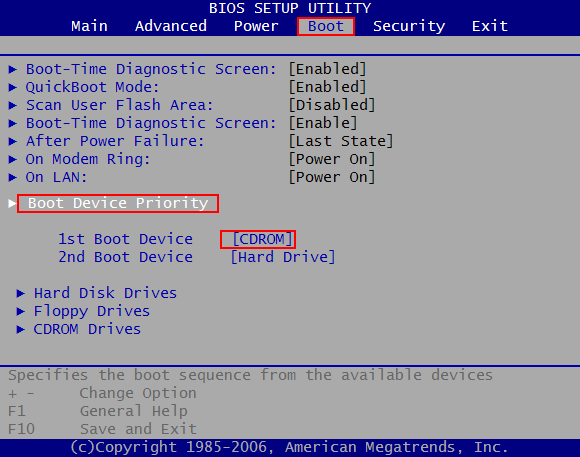 Make whatever boot order changes you need and then press F10 to save your settings. You Toshiba computer will quit the BIOS and reboot.
Step 3: Reset forgotten password of Windows 7 to get access to Toshiba computer
Once the USB drive finishes booting you will find yourself in a screen like the screenshow below. In this example, you can see a Windows 7 Ultimate system with 4 accounts (Admin, Guest, v, Windows 7) it finds are listed on the screen.
Now what you to do is select the account you'd like to reset the password, and click Reset button at the bottom of the screen, the program then will set an empty password for it, enabling you to log on to the Windows on Toshiba without a password.
Repeat the process until you have all unavailable account reset to blank password.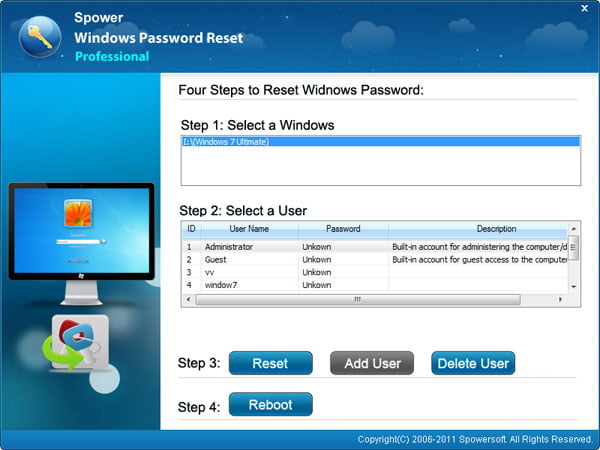 When everything is OK, restart your Toshiba computer by clicking the Reboot button at the bottom of the screen, and remove your disk from the computer.
Now the machine will boot from Windows as usual. And you can log on your account to Windows 7 without a password.
Once you're logged in, be sure to go to the Control Panel and set a password to something else—something you can remember for your account in Windows 7.
BTW, in addtional to bypassing the password on Windows 7, the Special version of the application even allows you to create a new account with Administrator-level privileges on your Toshiba Windows 7 PC.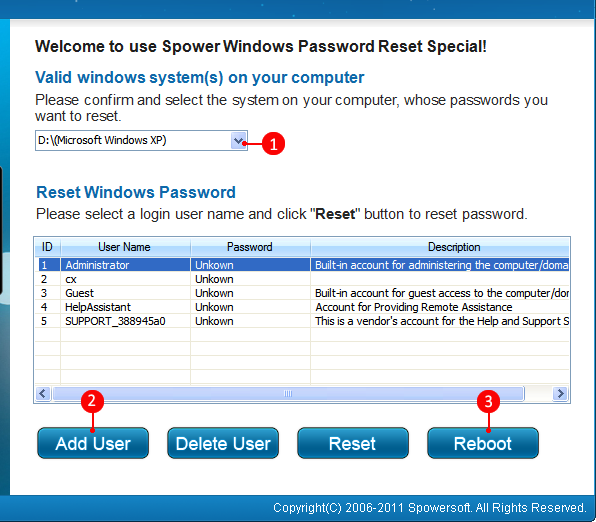 List of Toshiba Laptops & Notebooks & Ultrabooks Supported
Tecra®: C40 (C40-C1430 /14"), C50 (C50-C1500, C50-C1502 /15.6"), A40 (Portégé A40-C1440 /14"), A50 (A50-C1540 /15.6"), Z40 (Z40-C1410, Z40-C1420), Z50 (Z50-C1550), etc.
Portégé®: A30 (A30-C1340, A30t-C1340 /13.3"), WT20 Tablet (12.5"), Z20t Ultrabook® (Z20t-C2110, Z20t-C2112 /12.5"), Z30 (Z30-C1310 /13.3"), etc.
Satellite: C40-C, C50-B, C55-C, C70-C, CL10-B, CL10-C, CLICK 10 LX0W-C, CLICK 10 LX5W-C, CLICK MINI L9W-B, L12-C, L50-C, L70-C, P50-C, P70-B, Radius 11 CL10W-C, 11 L10W-B, 11 L10W-C, 11 L12W-C, 12 P20W-C, 14 L40W-C, 15 P50W-C, Z30-B, Z30-C, Pro A30-C, Pro A40-C, Pro A50-C, Pro R40-C, Pro R50-C, Radius 11 CL10W-C-108, 11 CL10W-C-107, 11 CL10W-C-105, etc.
KIRA®: KIRA-10Z, KIRA-10H, KIRA-10J, etc.
ENCORE: ENCORE 2 WT10-A, WT8-B, etc.
QOSMIO: QOSMIO X70-B-112, X70-B-10T, etc.
Equium (desktop): 8050D, 8050M, 8050S, 8100D, 8100M, 8200D, 8200M, E8050, etc.
List of computer brands Supported