How to Reset Windows 8 Password on Lenovo Laptop & Desktop
It's happened to all of us at some time: you start your Windows 8 Lenovo computer, click the account and type in the password carefully, an error message comes up saying that the entering password is incorrect. You try it again and then again, but it still doesn't work. Yes, you're locked out of the system. When you have forgotten the login password you're in a world of pain. Actually, before you perform a full recovery to factory conditions, there are ways and utilities available to try to get you back.
Microsoft provides users with more ways to sign in to Windows 8 operating system the later versions, so the way to reset the password on Lenovo computer with Windows 8 depends on the type of user accounts you have chosen to create.
Resetting the lost password of a Microsoft account on Lenovo
When you set up a Windows 8/ 8.1 account, Microsoft gives you an option to link that account with your Microsoft account (also known as Windows Live ID). If you use a Microsoft account to log on to your Windows 8 Lenovo computer and forgot the password, you can go to Microsoft official online support https://account.live.com/password/reset and follow its on-screen wizard to reset the password. You can do this from another PC/ phone/ tablet that has Internet connection.
Resetting the forgotten password of a Local account on Lenovo
If you instead use a traditional local account to sign into Windows 8/ 8.1, just like you do that for Windows 7, Vista and XP before, then the issue of forgetting logon password could be completely solved if you always had a password reset disk handy. Simply plug in the disk into your locked Lenovo computer, click the "Password reset..." link when you see a password incorrect error message on the logon screen, then a pop-up wizard will guide you through the Windows 8 password reset process.
You might wonder if you don't have a Windows 8/ 8.1 reset password disk in hand at this time, how can you regain access to computer?
Windows 8 password reset/ recovery Software
Thankfully, even if you don't have such a disk prepared before having forgotten your password, the good news is you can go with 3rd party software to reset the password of a local account in Windows 8/ 8.1 Lenovo laptop & desktop.
One of the most popular breaking tools around is Spowersoft Windows Password Reset (compare its 3 editions here). This great tool not only allows you to reset the local password of Windows 8 on Lenovo in a fast way, but enables you to reset the local password on other Windows versions including XP, Vista, 7, 10, as well as the domain password on Server 2003, 2008 and 2012. Also, it's capable of adding a new account that has administrator privileges to your computer if you like.
The article was written for password resetting on Windows 8 and Windows 8.1 on Lenovo, but still applies to Windows 10 and the earlier versions of Windows.
Step 1: Download the tool to an accessible PC and run it to create a password rest disk
Hit the link above to download the copy of the program onto a second computer that has internet access, follow the on-screen installation wizard to install on desktop.
Launch this Windows 8 password cracker program. Insert a blank USB flash drive or put a writable CD/ DVD disc into the computer.
Press the button "USB device" or "CD/DVD" button at the main interface, and then press "Start burning" button in the next screen. The tool will automatically start creating the Windows 8 reset password disk on USB device or your CD/DVD for you.
The entire creating process will be finished in a few seconds. After that, pull the disk out of your computer, and insert it into your locked Lenovo laptop & desktop that needs to reset the passwords.
Since your problematic Lenovo PC boot from a Windows normally every time you start it, so you will need to change the boot order option in BIOS to make sure that the machine boots up from the password reset disk you just made.
Step 2: Set the Lenovo BIOS to boot your machine from the disk you just made
Take it easy! This step is actually easy to follow.
1) If Windows 8 came preinstalled on your computer, the machine should use UEFI firmware instead of legacy BIOS, you have to enter the UEFI firmware and disable Secure Boot option, then follow the traditional way to set legacy BIOS to boot from CD/ DVD or USB drive.
You can also consult this Lenovo resource: How to enter Setup Utility (F1) or Boot Menu (F12) on a Microsoft Windows 8/ 8.1 preloaded PC. and How to Enter BIOS Setup from Windows 8 System - Idea Notebooks/Desktops, and another How to select boot device in Windows 8/8.1/10.
2) If you've installed Windows 8/ 8.1 on an existing computer (e.g. upgrade from Win 7 to Win 8) that uses the legacy BIOS, you can simply follow the article about how to set legacy BIOS to boot from CD/DVD or USB drive.
Lenovo also has more detailed instructions on How to enter BIOS setup in Windows 7 - Idea Notebooks/Desktops.
Step 3: Begin resetting Windows 8 admin/ user password on Lenovo laptop & desktop
After you saving the changes you made in BIOS, you computer will restart and boot from the Windows 8/ 8.1 password reset disk. When the loading completes you will able to see the program screen open, as shown below.
Now, choose the Windows 8 system you're running (if more than one installed on the machine), choose the user name for which you want to reset the password on Lenovo, and finally click the blue "Reset" button at the bottom of the screen.
Now the tool will locate the user account you select and proceed to reset (crack) the password to blank automatically. At this point the user account should have empty password.
When everything is OK, click the "Reboot" button beneath "Reset" button to let the computer restarts.
IMPORTANT: As soon as the computer restarts, remove the Windows 8 password reset disk immediately, otherwise it will boot from the disk again. This time we need the machine boots from the Windows 8/ 8.1 normally.
Now, you should be able to sign in to Windows 8/ 8.1 on your Lenovo computer as normal. If you're on a multi-user computer, the logon screen will still come up but when you click on the user account that has password reset, you will not be prompted for entering a password but instead getting into desktop automatically.
Note that the Special version of this Windows 8 password breaking tool also gives you ability to add a new account with administrator rights, as screenshot demonstrated below.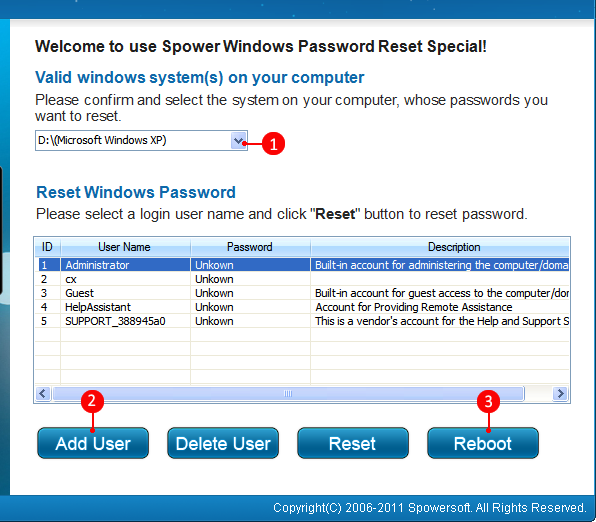 List of Lenovo Laptops & Desktops Supported
Laptops & notebooks & 2-in-1 PCs: ThinkPad X Series (X1 Carbon, X1 Yoga, X260), ThinkPad P Series (P40 Yoga, P50s, P50, P70), ThinkPad Yoga (Yoga 260, Yoga 460), ThinkPad T Series (T460, T460p, T460s, T560), ThinkPad E Series (E460, E465, E560, E565), ThinkPad L Series (L460, L560), ThinkPad 13, ThinkPad 11e Series (11e, Yoga 11e), ThinkPad Helix 2nd Gen, Ideapad Y700 Series (Y700, Y700 Touch), Yoga 900 Series 2-in-1 (Yoga 900, Yoga 900s), Yoga 700 Series 2-in-1, Flex Series (Flex 3), Ideapad 700 Series (700, 710s), Ideapad 500 Series (510S, 500S, 510, 500), Ideapad 300 Series (310, 300, 300S), IdeaPad 100 Series (110, 110S), Ideapad Miix 700, Ideapad Miix 300, ThinkPad 10, etc.
Desktops & All-in-ones: ThinkCentre M Series (M900, M800, M700, M79, M900z, M800z, M700z, M900 Tiny, M700 Tiny, M600 Tiny, Lenovo Yoga Home 900, Ideacentre 700, Ideacentre AIO 700 Series, Lenovo C200 Series, Ideacentre 300 Desktop PCs, Ideacentre AIO 300 Series, Lenovo H Series (H30, H50), Ideacentre 200, Ideacentre Stick 300, Ideacentre Y900, Ideacentre Y700, Erazer X Series Gaming Computers (X315, X510), ThinkStation P Series Workstations (P900, P700, P300, P310), etc.
List of computer brands Supported