How to Convert WMV to AVI (or AVI to WMV) on Mac/ Windows
Both Audio Video Interleave (.AVI) and Windows Media Video (.WMV) are proprietary compression formats originated by Microsoft. Every coin has two sides. WMV file contains compressed contents and takes up far less hard drive space, but it only works with Windows operating system. One of the main advantages of AVI over WMV is the cross-platform compatibility. What's more, AVI usually houses higher quality video content than WMV.
Having some of WMV files on your Mac, but unplayable on your media player which supports AVI format instead of WMV? You then are in need of a WMV to AVI Mac conversion. Or you have some awesome AVI movies and want to share them with friends through uploading the videos to the Internet websites that accept WMV file? In cases like these, it's needed to convert AVI to WMV format.
No matter what the cases are, you do need a video converter program. Here is reliable solution to convert almost every video format - Video Converter for Mac. It supports converting videos to whichever format you want, and includes output profiles for many different devices. It's simple, quick and capable of producing high-quality WMV or AVI files within minutes. We'll be focusing on the Mac version in this article, but the program also runs on a Windows PC. You can get Video Converter for Windows to accomplish the task if you need.
Here's what you will need to do for .WMV to .AVI conversion on Mac OS X, if you rather like to handle the conversion of AVI to WMV file, do steps in the same way.
1) Import WMV files
Simplicity is the program's great strength.
Getting a video into the program can be achieved easily in one of two ways: Drag & drop WMV files to the program window. Or go to the "Add File" menu on the top left side of the converter, browse to the files you want to work with.
If you have several WMV videos and want to combine them to export a large video, just check "Merge" button beneath the project area.
2) Choose .*AVI as the output format
In this step, choose General Video > AVI, or H.264 AVI, or DivX Video(*.avi), or XviD Video(*.avi) as output format from the "Profile" drop-down list.
It's advisable to select HD AVI under HD Video list if you're converting HD WMVs and wish to get final AVI results with original quality.
If you are skilled with quality settings, you could apply a little bit of tweaking for them by clicking the "Settings" option, this will bring a new window where you can change the values of your choice.
For a novice user, you'd best to keep the default settings unless you have a special reason to change it. This option is unnecessary.
Alternatively, to simplify the process of choosing a resulting format and selecting appropriate transcoding settings for your device, click an option in the Preset list on the left side. This WMV converter for Mac has some ready presets for the PS3, Xbox 360 and different types of Android smart phones, tablets, as well as other devices like iPad, iPhone, and Apple TV.
3) Start to encode WMV to AVI file on Mac
Before you do the actual conversion, head to bottom side and check the "Destination" field and then click "Browse", this will pop up a box asking you where in your computer you would like to save the resulting video files. Make your selections and then close the box.
To start converting your video files, simply press the "Convert" button at the bottom and you're off. The time of conversion process will vary depending of course, on the quality of the video result that you choose and the power of computer.
Once the program is done transcoding the WMV video, you'll get an AVI file you can watch on a player and transfer to your mobile phone.
Apart from supporting the conversion from WMV to AVI movie format on Mac flawlessly, the utility also allows you change MP4 to AVI for Mac, AVI to WMV, MPG to AVI on Mac, and can transfer YouTube video, Camcorder footage, QuickTime file etc..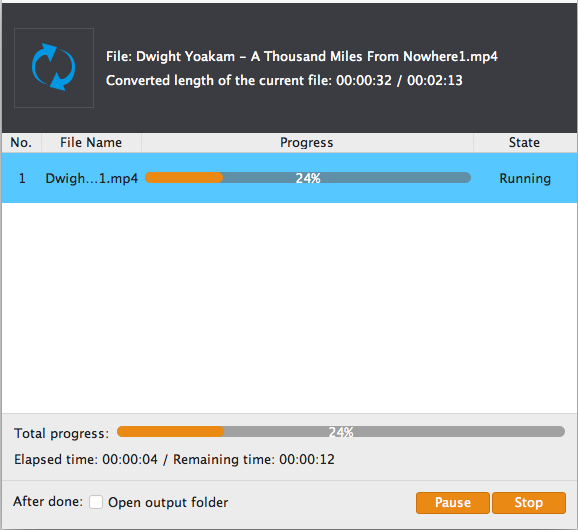 More Related to Conversion