How to Convert AVI to MOV (or MOV to AVI) on Mac/ Windows
I have to make a movie file for school work. I just uploaded the video to the computer and it's in .avi format. The problem is when trying to preview it on Apple QuickTime 10, it failed to play the AVI format. Any help? - Tyler
I just shot some .MOV files with my new camcorder and copy them into Adobe Premiere, but they don't play smoothly. Is there any way to encode these .MOV files into AVIs and matching audio files? - Jessic
You may have a number of AVI movies in your collection that you'd like to playback on your iOS device, which you know that by default it only plays certain video formats, then you can use an AVI converter program to convert AVI to MOV on Mac. On the other hand, Many video files today come to us in Apple's QuickTime MOV file format, and that causes a problem when we want to transfer them to your PSP/PS3 for watch on the go, in this case, you can try to convert MOV files to a more common video format like .avi format (Windows video file).
No matter you need to convert AVI to MOV file for Mac or transfer the QuickTime MOV to AVI format, you need a third-party media conversion tool. Today we'll using Video Converter for Mac - a nice little program that can convert back and forth from most type of video/audio formats with an easy operation and better results, and it allows you to resize the video, split/merge chapters, add subtitles and more. If you are running Windows on your computer, you may refer to Video Converter for Windows.
Here below is the easy steps for the conversion of AVI to MOV extension for Mac OS X. The process of changing videos in MOV format that aren't compatible with your Windows device (i.e. PS3) to AVI media file is essentially the same.
Step 1: Import AVI sources
To add your video files to the queue to be converted, click "Add File" button to open the file browser window and locate AVI files. You can also directly drag-and-drop files to the interface of the software.
This Mac AVI to MOV video converter offers bulk processing, so you can load in a host of AVI video files and convert them at one time. If you want to combine several AVI files and export a continuous QuickTime MOV video, just check "Merge" button.
Step 2: Choose video and audio settings
Next, select the video format you want it to be converted. Head to the bar on the bottom labeled "Profile", and choose MOV under General Video list, (or select HD MOV from HD Video list if your AVI sources are HD).
Please note that for a Mac user, if you want to get a deep editing over the file in a Final Cut Pro after conversion, you can choose converting AVI format to FCP's native ProRes MOV format. there has already been the ProRes MOV options in the Final Cut Pro category you can choose from.
In "Settings" - You are given options to change the encode parameters for output file if necessary. You will be presented with a lot of options. Generally, the default settings does the trick.
Keep in mind here I am converting the file to QuickTime MOV format. If you're converting the AVI file for portable devices, I recommend using one of the preset profiles (see left) for the device of your choice you're going to be playing the video on.
Edit .AVI files (optional)
There are some editing capabilities available in this Mac MOV converter: trimming sections out of your video clips, cropping the size of your frame, splitting your video clips into small clips. You can also adjust video effects as you edit.
Tip: The program can keep/remove subtitles of the video, or you can import external subtitles from your computer.
Step 3: Begin converting AVI to MOV format on Mac OS X
After all the settings, now, just click the "Convert" button at the bottom right corner to begin the encoding process. While it's working, you can track the encoding process that shown in a window along with the percentage of completion.
That's it. After encoding process has finished successfully, go into the destination directory you set up and you'll see the new created MOV movie file. Now you can double-click on it to watch, or transfer it to your media device.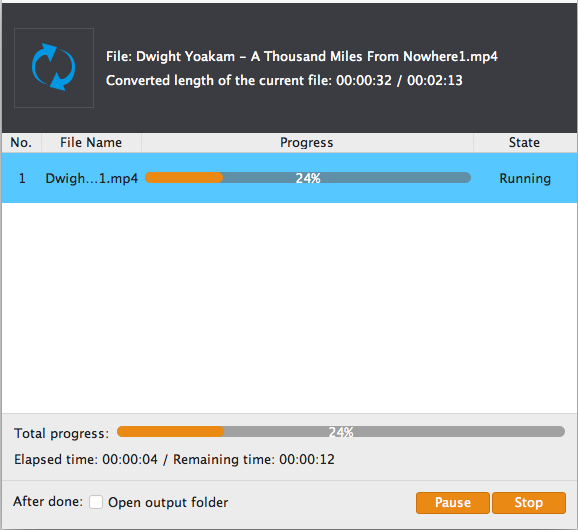 The program can, conversely, convert MOV to AVI on Mac for playback on a certain device (or convert your .mov files to the widely used format - mp4 on the planet). AVI is a multimedia container format and it has not a standardized encoding method. You can manually set the output avi files with video codec like XviD, H.264, MPEG-4, MJPEG if required. There are 4 types of avi files: H.264/MPEG-4AVC video format (*.avi), AVI-Audio-Video lnterleaved (*.avi), lossless uncompressed AVI (*.avi), DV codec (*.avi).
More Related to AVI to MOV Conversion