How to Transfer Text Messages from iPhone to Sony Xperia Phone
The only constant is change itself. This is certainly true for smartphone development which is evolving rapidly. With all of these up-to-date smartphones being launched every year, it is hard to stick with a specific model for a long time. Most users just can't wait for their contracts to expire and shell out to get a new device. If you are one of those users and are planning to switch from iPhone to Sony Xperia Android phone, then this post deserves to be read carefully.
Q: "The other day, I received an Sony from my company as a working device. Currently I am using iPhone and considering getting the same SMS on the new Sony Android phone. Is there any method to transfer all the messages from iPhone to it. The texts are very central for me."
Though they can do the same basic things like running apps, connecting to the internet or texting messages, iPhone and Sony are distinct and are incompatible with each other. Hence, you can't simply sync files from iPhone to your Sony phone or vice versa.
Luckily, the internet is full of all sorts of skills and methods like cloud services or help from carriers, but you can try a simpler and straightforward way to get all the text messages from iPhone transferred over to Sony Xperia handset by using something named Phone Transfer. It is an absolute cinch to use.
Highlights about Phone Transfer
Transfer stuff including sms, contacts, call history, songs, pictures, videos, calendar.
Support data transfer among iOS, Android, and WinPhone
Archive your important phone data to the computer against lost
Restore the backups from the computer or from other sources: iTunes, iCloud, Kies or OneDrive.
Before proceeding to steps, let me first of all give an overview of whole process. Connect both devices to the computer, select what you want to transfer, and then start the transfer process. [Also see: How to retrieve lost call history from Sony Xperia phone]
Step 1: Run the software
Open the software on computer and pick up the green "Phone to Phone Transfer" section from its opening interface.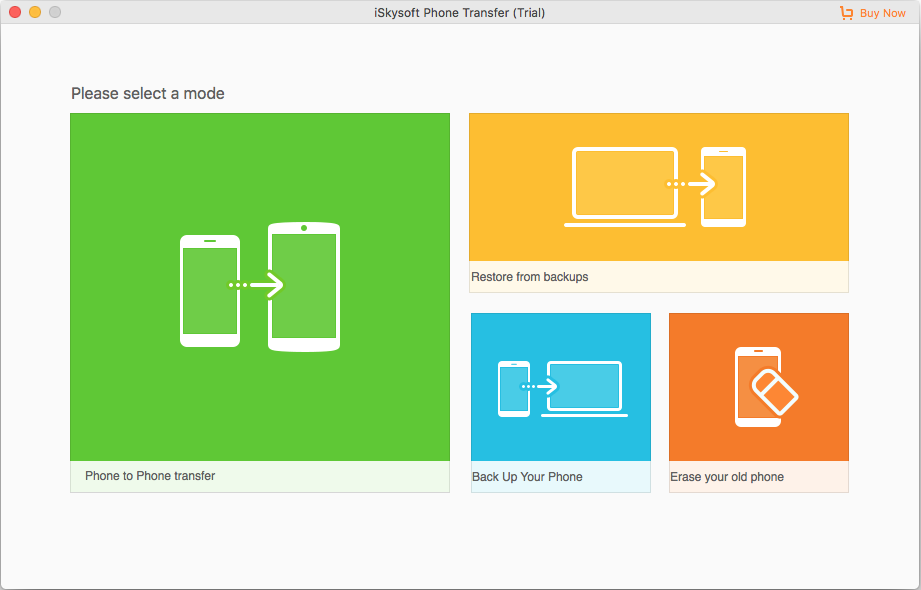 Hook up your iPhone and Sony Xperia phone with the computer using USB cables. You'll have to enable USB Debugging Mode on the Sony Android phone and tap trust on iPhone to grant access.
Step 2: Scan the iPhone and select "Text Messages" option
The application will identify both handsets and present them on the both sides of the interface. Set iPhone as source device and Sony as destination device using Flip tab if needed.
The software will scan the iPhone automatically and display the results on the center pane.
Next, select text messages and any other file you wish to transfer by marking the box near the option.
Step 3: Start the transfer process
Now, click on the Start Copy button at the bottom center to begin the text messages transferring process from iPhone to Sony Xperia smartphone. If you just selected the text messages option from the list above, the process may takes seconds to minutes to complete.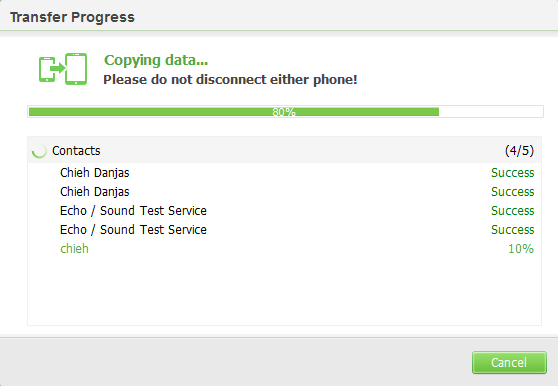 After the process is done, you are able to disconnect both handsets and check the messages in your Sony Android phone.
Other Options to Transfer iPhone Messages Over to Sony Xperia Phone
Method 1: Xperia Transfer Mobile
Sony provides an mobile app called Xperia Transfer that helps you keep your precious messages and other important data when you make a move from iPhone to Sony phone. You can extract the data from two sources: iPhone and iCloud.
Download Xperia Transfer app on both smartphones and launch it immediately after installation.
On Sony Xperia handset, tap Apple iOS button and you will see a panel showing two sources from which to extract the data of iPhone. Since SMS is what you need for your new Sony Xperia phone, tap iOS device.
Attach Sony to iPhone with a USB OTG cable. Please tap Allow or OK to enable connection on both handsets, if prompted.
Once the connection succeeds, Sony Xperia phone will analyze the content on iPhone and show the files on the pane. Select messages and other stuff and tap the Transfer button.
Method 2: Xperia Companion
Sony also offers the data migration tool within its software package: Xperia Companion for PC and Sony Bridge for Mac. The software suite features a combination of tools for your new Sony handset, like software update & repair, backup & restore and data transfer. You can also manage the media files. The Xperia Transfer option from Sony PC Companion allows you to transfer much of your data (contacts, SMS, calendar and media files) from iPhone to the new Sony phone.
First, back up iPhone to the computer with iTunes. Then, run the software on the computer and connect Sony phone to the machine. On the interface, click Xperia Transfer and choose iOS. Note: you need to disable iMessage on iPhone to avoid disruption.
Choose iTunes Backup and click Next button. The program will detect the backup files on the computer. If it fails to do so, you can manually add the iTunes backup to the software.
You can select the messages along with other iPhone content and start the process.