How to Reset password on Samsung Computer with Windows 10
We've all been the victims of faulty memory, left things in front of us getting complicated. If you forgot your Windows 10 password on a Samsung computer, you're locked yourself out of the machine, and the data stored on the hard drive disk cannot be accessed. Depending on the situation, solutions involving resetting passwords in Windows 10 operating system are different.
Microsoft provides you two types of ways to log into Windows 10 and its earlier 8/ 8.1 operating system: Microsoft Account and local account. If you're using a local account in your Windows 10 Samsung computer, aside from trying guessing the password from the password hint, you will have to use a Windows 10 password recovery disk you created previously in Control Panel. As soon as you enter the wrong password when you attempt to log on, a message pops up telling you that the password is incorrect. Click OK to close the message. Hit "Reset password" link, and then insert your reset disk, follow the steps in the wizard to reset and create a new password.
What if you don't have a password reset disk for your Windows 10 Samsung computer? Don't worry, a great selection of software-based utilities on the market can save you from having to go as far as make a clean installation of the operating system.
Spowersoft Windows Password Reset is our favorite. It is fast and easy to use, allowing you to create a password reset disk, and then reset the lost password of local account in Windows 10. Also, the programs enable you to delete an existing account and add a new admin account if required. Learn more about the differences in our comparison of Pro vs. Ultimate vs. Special.
If you've forgotten the password on Windows 10 for your online-enabled Windows account (also known as "Windows Live ID"), things are much easier. All you need to do is head over to this page on another accessible computer, follow the instruction there and supply some security information to verify your account ownership. In this case, you'll regain access to your Samsung computer quickly.
To get started, you should download the program and install on an accessible computer.
Step 1: Launch the program and create a password reset disc for Windows 10
The program sports a clean, easy-to-follow design, making it user-friendly even for novice users. Now insert a blank USB flash drive or CD/DVD into the computer. In this article, we'll take a USB drive for example.
Next, hit the USB device button, then press the Start burning button in the next screen to begin making a password reset disk of Windows 10 for Samsung machine.
Once the Windows 10 password reset USB drive has been created, disconnect it and insert it into your locked Samsung laptop or desktop that you can't access.
Since your locked computer boots from Windows OS by default, you should have to change the boot device sequence in BIOS on your computer BIOS so that it will boot from the Windows 10 reset password USB drive. Take it easy!
Step 2: Configure BIOS boot device order
1) Microsoft uses the UEFI BIOS replacement for the traditional BIOS on new Windows 10 machines. If you're using a machine with Windows 10 preinstalled, you have to access the UEFI BIOS and disable Secure Boot, then follow the traditional way to set legacy BIOS to boot from CD/ DVD or USB drive.
2) If you just upgraded an existing computer to Windows 10 from Windows 7 or earlier version, you can simply follow the article about how to set legacy BIOS to boot from CD/DVD or USB drive.
Step 3: reset password of your local account on windows 10
After the Samsung computer boot from USB drive, then you should now see the program interface, as shown below:
If you have more than one Windows installation on the computer, be sure to choose the Windows 10 you want. Select the admin/ user account that you want to reset the lost password and then click on the blue "Reset" button at the bottom side.
Wait until the program reset the password to blank (no password), which may take a few seconds.
After that, all you have to do is simply click the "Reboot" button, and remove the USB drive from the computer (important!), or your Samsung computer will boot from it again next time.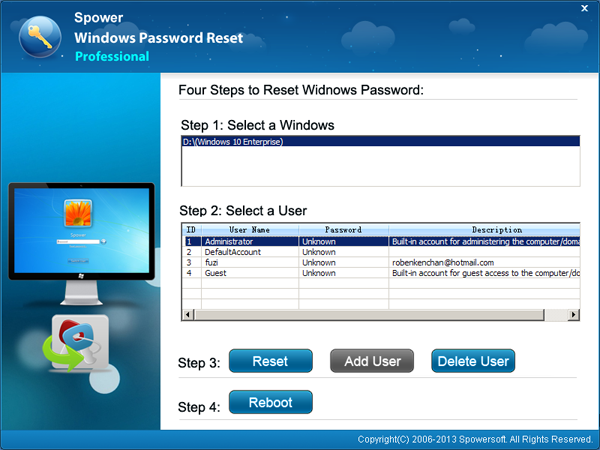 That's it! Now wait for the Samsung computer to restart.
You are able to log onto the Windows 10 login screen without a password.
Steps to delete a password or create a new account (Special version only)
In additional to resetting the password of a user account in Windows 10 on your Samsung PC, the Special version of the program even allows you delete or add a new account with administrator privilege.
1. Select the Windows OS that you want to delete/ add an account
2. Press the blue "Delete User" or "Add User" button, and follow the instructions to do the rest.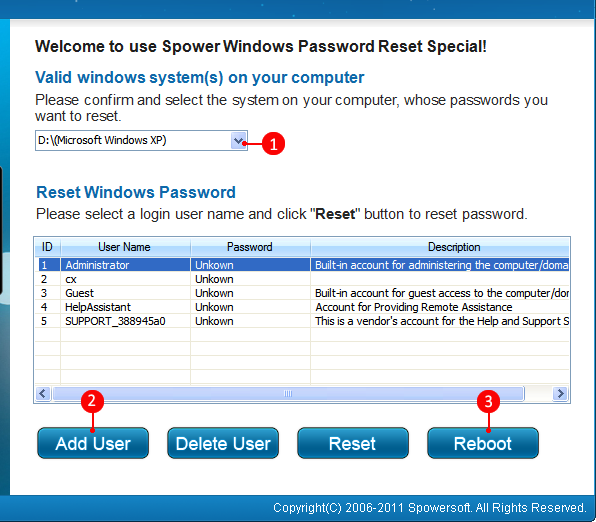 List of Samsung Laptops & Desktops Supported
Laptops & notebooks: Notebook 9 (13.3" LED Full HD / Core™ i5), Notebook 9 (15" LED Full HD / Core™ i7), Notebook 9 pro (15.6" LED UHD / Core™ i7), Notebook 9 spin (13.3" LED QHD+ / Core™ i7), ATIV Book 9 (12.2" LED WQXGA / Core™ M), ATIV Book 9 (12.2" LED WQXGA / Core™ M), ATIV Book 9 Plus (13.3" QHD+ Touch / Core™ i5), ATIV Book 9 Plus (13.3" QHD+ Touch / Core™ i7), ATIV Book 9 (12.2" LED WQXGA / Core™ M), etc.
Desktops & All-in-ones: ATIV One 7 Curved (27.0" LED Full HD / Core™ i5), etc.
List of computer brands Supported