How to Reset Windows 10 Password on Toshiba Computer
If you need to reset the password to Windows 10 on your Toshiba laptop, it's far more likely that you've forgotten it. We have to recognize the fact that it is a common problem, even if you're a savvy computer user. This may happen that you use a strong password with mixture of character case and type (letters, numbers, special characters), or someone change the original password but didn't tell you, or something else.
Whatever the reason, you don't have to worry about it because there are a number of ways available for you to reset or recover your Windows 10 password without installing the operating system a second time.
If you're using Microsoft account (Microsoft Live ID) to sign into the Windows 10 on your Toshiba machine, you can reset the password online through the link https://account.live.com/resetpassword.aspx with any computer that has Internet connection. Follow the on-screen instructions, verify your identity, receive the security code, then Microsoft will send you an email with a password reset link.
If you're using a local account to log onto your computer but lost Admin password, a Windows 10 password recovery disk is the most efficient way to go. It's exactly what it sounds like - a USB flash drive, or CD, or DVD, memory stick that contains password reset information. It can be created in Menu > Control Panel > User Account to help you reset the password of Windows 10 on Toshiba computer if you happen to lost the password. To use the disk, when you enter the wrong password at the login screen, you'll be presented with a link to "Reset password...", then insert the disk into computer, and follow the Password Reset Wizard on screen to reset and enter a new password.
What if you haven't created such a disk prior to forgetting the password on your Toshiba Windows 10 computer? Thankfully, there's another measure you can take which will allows you to make a Windows 10 password reset disk on USB flash drive, CD or DVD.
The tool we're going to use is called Spowersoft Windows Password Reset. It's an easy-to-use yet powerful utility that enables you to reset a forgotten Windows 10 admin & user password on Toshiba easily and quickly. It also works on pretty much all Windows versions such as XP, Vista, 7, 8, Server 2000, 2003, 2008, 2012. In additional to allowing users to reset any users password in window 10 and other systems, the tool also includes features that will help you delete an unwanted account existing, and even add a new account with Administrator privilege. Also see the comparison of three editions of this tool.
Note: the following guide is about how to reset a forgotten admin or users' password in Windows 10 on Toshiba machine, but it also applies to other Windows systems like 7, XP, Vista, 8 and 8.1 with update.
Step 1: Follow the instruction on the program screen to create a password reset disk
Download the program and install on an accessible computer, open up it.
Insert a blank CD, DVD or USB flash drive into the computer, go ahead and hit the "USB device" or "CD/DVD" button to begin creating a Windows 10 password reset disk.
The process will take a few seconds. After that, remove the disk out of the computer, and pop it into your Toshiba computer in question that needs to reset the password.
Now, you'll have to change the boot order in BIOS on your Toshiba computer in order to boot from Windows 10 password reset disk you created on USB drive or CD/DVD.
Step 2: Change the boot order in your Toshiba computer to boot from the disk
1) If your computer came with UEFI BIOS, e.g. on a new laptop with preinstalled Windows 10 system that made in the past 5 years, you have to access the UEFI BIOS and disable Secure Boot, then follow the traditional way to set legacy BIOS to boot from CD/ DVD or USB drive.
2) However, if you've installed Windows 10 on an existing computer that upgrade from a Windows 7 or earlier version, it should use legacy BIOS. In that case you just follow the article about how to set legacy BIOS to boot from CD/DVD or USB drive.
Step 3: Reset Windows 10 User Account Password on your Toshiba
After your Toshiba computer restart, it will boot from the password reset disk you previously set in 1st Boot Device in step 2, and then the program screen will display.
In my screenshot you can see that there has been Windows 10 Enterprise installed on my machine, and 4 user accounts exist in my Windows.
Now, what you need to do is select the user account that needs to set the unavailable password, and then press the blue "Reset" button at the bottom of the screen. The program will start resetting the password on Windows 10 on your Toshiba computer.
Seconds later, the process will finish.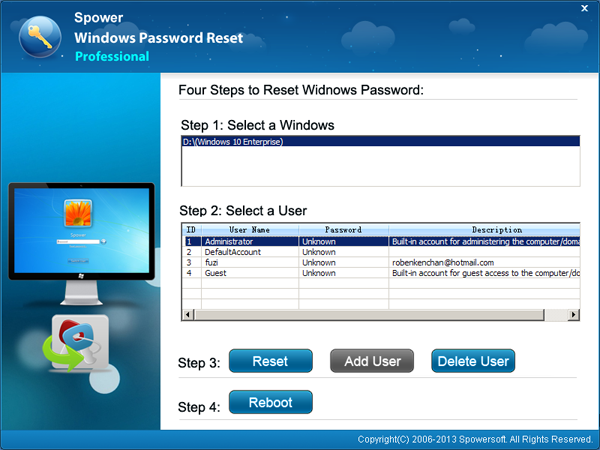 Next, remove the CD/DVD or USB drive from the computer in order to boot from the Windows 10 normally, and restart your computer by pressing the blue "Reboot" button at the bottom of the screen.
Now, you have full access to your Toshiba computer with that account without a password. Please note that if you reset the domain password on Windows server 2012, 2008, 2003 and 2003, the domain password will be reset to Spower@2011.
It's that simple!
Add an Admin level account or delete an existing account (Special version only)
Aside from resetting lost Windows 10 password on your Toshiba laptop, the Special version of this program even allows you to add a new account with administrator privilege, or delete an unwanted account quickly and easily.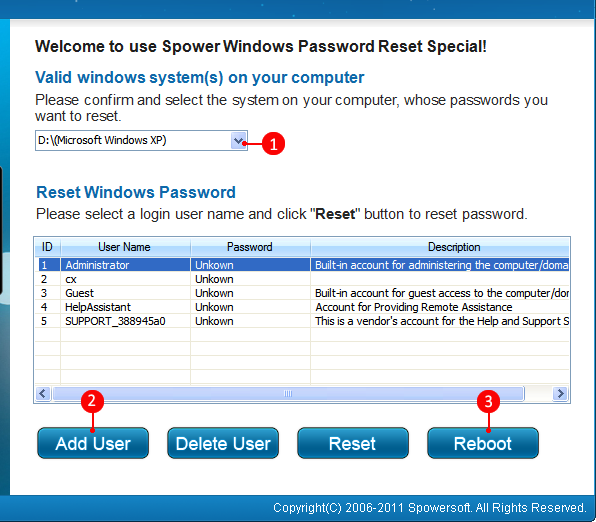 List of Toshiba Laptops & Notebooks & Ultrabooks Supported
Tecra®: C40 (C40-C1430 /14"), C50 (C50-C1500, C50-C1502 /15.6"), A40 (Portégé A40-C1440 /14"), A50 (A50-C1540 /15.6"), Z40 (Z40-C1410, Z40-C1420), Z50 (Z50-C1550), etc.
Portégé®: A30 (A30-C1340, A30t-C1340 /13.3"), WT20 Tablet (12.5"), Z20t Ultrabook® (Z20t-C2110, Z20t-C2112 /12.5"), Z30 (Z30-C1310 /13.3"), etc.
Satellite: C40-C, C50-B, C55-C, C70-C, CL10-B, CL10-C, CLICK 10 LX0W-C, CLICK 10 LX5W-C, CLICK MINI L9W-B, L12-C, L50-C, L70-C, P50-C, P70-B, Radius 11 CL10W-C, 11 L10W-B, 11 L10W-C, 11 L12W-C, 12 P20W-C, 14 L40W-C, 15 P50W-C, Z30-B, Z30-C, Pro A30-C, Pro A40-C, Pro A50-C, Pro R40-C, Pro R50-C, Radius 11 CL10W-C-108, 11 CL10W-C-107, 11 CL10W-C-105, etc.
KIRA®: KIRA-10Z, KIRA-10H, KIRA-10J, etc.
ENCORE: ENCORE 2 WT10-A, WT8-B, etc.
QOSMIO: QOSMIO X70-B-112, X70-B-10T, etc.
Equium (desktop): 8050D, 8050M, 8050S, 8100D, 8100M, 8200D, 8200M, E8050, etc.
List of computer brands Supported