Can QuickTime Convert a MOV to a MP4 on Mac?
Apple QuickTime is currently the most indispensable media player for all Mac users. Designated as the default player for Mac platform, it arrogates all power to determine whether the file is allowed to play.
Considering of such great power, many people may wonder that whether QuickTime can serve as a video converter to convert from MOV into MP4 just as VLC Media Player does. Some amateurs may protest that their "QuickTime" works with the function of converting things. But actually, that's because they have mixed up the concepts between QuickTime and QuickTime Pro.
QuickTime Versus QuickTime Pro
QuickTime, as we all know, is a pretty nice media player which is developed by Apple and works as the default player on Mac operating system.
While, the origin of QuickTime Pro should be dated back to the appearance of QuickTime 3.0. It's the time that Apple added a new scheme for QuickTime distribution. Thus there are two flavors of QuickTime: QuickTime and QuickTime Pro.
QuickTime Pro, viewed as the standard version of QuickTime, holds the ability of basic editing as well as converting and saving files to various kinds of formats.
Therefore, when users say that QuickTime can convert files, they didn't actually mean it. To the contrary, it is QuickTime Pro that has the function of converting videos.
Related Article: How to Play a MKV File with QuickTime Player
How does QuickTime Pro Convert MOV Files
Now that we can know QuickTime Pro can convert media files. Then how does it work? Let's take a look at how to convert MOV video files to MP4 by using QuickTime Pro.
Step 1: Go to find the "File" button in the top corner, then choose your MOV file from the "Open File" drop-down list. Alternatively, you can drag and drop it into QuickTime Player.
Step 2: After you open or import the MOV file, still in the "File" drop-down list to select "Export".
Step 3: In the opening "Export" drop-down menu, choose "Movie to MPEG-4" option from the list.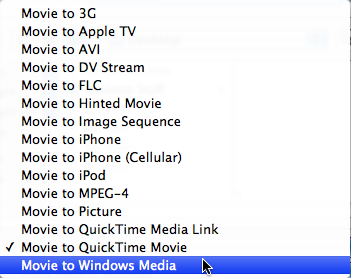 Step 4: Click "Save" button. Then the .mov to .mp4 conversion is finished.

Another Conversion Option
There is no doubt that QuickTime Pro is capable of converting MOV files to MP4 format on your Mac, but there are various terrific alternatives on the market. And Video Converter for Mac is one such program that maintain its superiority over others.
It's a powerful media conversion tool which can batch convert video & audio file format from one to another quickly and easily. It has a set of options for you to edit your videos, such as trimming, cropping, splitting, merging, adding watermark, etc. Apart from these, it makes your work extremely easy via various predefined profiles that have the settings adjusted for specific devices. For experienced users, you can even configure the conversion settings to produce the precise results we need. Its Windows version—Video Converter for Windows even allows you to download videos from 150+ video hosting sites.
Here is the quick guide about how to convert MOV file format to MP4 with it.
Step 1: Import MOV files
Drag and drop MOV files to the project area. Or you can go to the "Add File" menu on the top left side of the converter, and then browse for the files you want to work with.
Click the "Edit" icon on the menu bar to edit your MOV videos freely with the feature of trimming, splitting, adding watermark or subtitle, etc. This is optional.
Step 2: Select output format
Select output format by clicking "Profile" drop-down menu in the bottom place of the interface, then select MP4 from the "General Video" category.
Tip: Anyone looking for detailed advice on converting APE format to ALAC would be well advised to visit this page: How to Convert APE Music File to Apple Lossless File on Mac.
Step 3: Start conversion
Hit the "Convert" button at the bottom of the screen, then the MOV file format to MP4 converting process will begin.
There are many other good MOV converters around, and Video Converter for Mac is definitely a powerful and comprehensive application to convert MOV format to MP4. With it, you can do more things than QuickTime Pro does. Just try it.