How to Extract Audio from Blu-ray to WMA on Mac and Windows
We all know that you usually use audio player to listen to your favorite songs online as most people do nowadays. So you may think the Blu-ray discs which are full of folk music and operas are reaching the end of the line. But don't jump to the conclusion. Although the internet is thriving whereby you can get a volume of music resources, Blu-ray disc can be used to a certain degree. To tell you the good news, a useful program called Blu-ray Ripper is able to rip your music from Blu-ray and save in .wma files that are playable on your device.
You can capitalize on the variety of features and capabilities offered by Blu-ray Ripper. Out of the box, the following is the can-do list of it.
Equipped with copyright decryption tools, capable of stripping protection mechanisms on disc
Cover just about any audio format you may across: Blu-ray to wma, mp3, flac, wav, m4a, etc.
Support converting Blu-ray movie to video formats like mp4, mov, mkv, avi, wmv, etc.
Make full use of the tweaking features to tailor the output parameters to your own needs.
After you get Blu-ray Ripper downloaded and installed, please follow the tutorials as below to accomplish the task of ripping and converting Blu-ray to WMA file in your either Mac or PC machine.
Step 1: Import Blu-ray content
Note: You may need an external drive directly connected to your computer to do anything else.
Launch Blu-ray Ripper and be sure to insert a Blu-ray disk into the BD drive before you try to access it.
Click "Add Blu-ray/DVD" or drag and drop the audio files to import Blu-ray files into the software. All the disc content will be displayed as thumbnail on the main screen.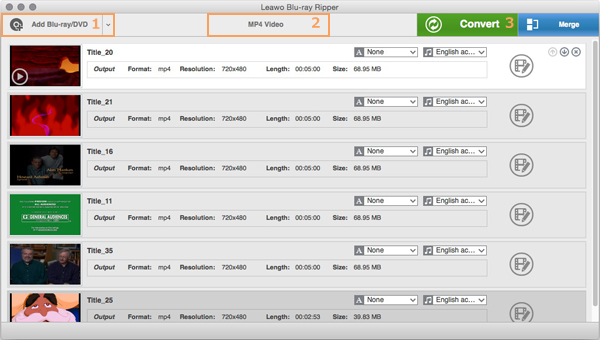 Right beside to the right of each Title, an Edit icon is out there, allowing you to do edits for the imported HD videos, like trim, crop, add watermarks, apply effects, etc. Also, on the right topmost , Merge option here is available to combine multiple titles into one; you can once click it to switch to separate into single file mode.
Step 2: Configure WMA output settings
Click "MP4 video" on the top bar, from the drop-down menu choose "Change".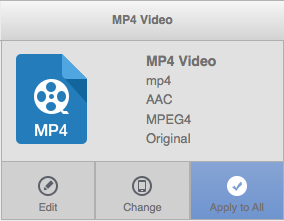 This should open a new window, as image shown below. Since we're going to rip sound from Blu-ray and convert to WMA, then go to "Common Audio" under "Format" tab, and pick "WMA Audio".
If you plan to put your output audio onto portable handheld device, there are presets for nearly anything you could need: Apple TV, different series of Android phones and lots more. You can find under "Device" tab beside "Format".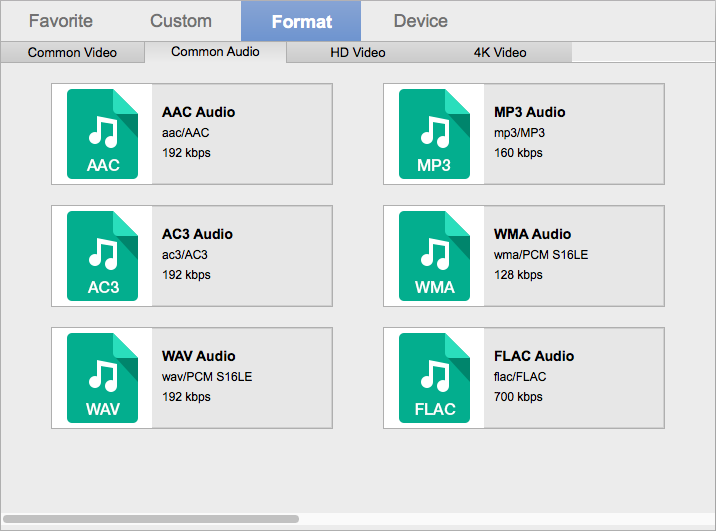 Click the PEN icon on the upper right side of the selected format and a "Profile Settings" window comes into sight, showing the parameters for audios. You can take advantage of the tweaking capabilities to get the best possible result.
If you feel confused about with the given parameters below, you're much better off using the default settings without changing anything.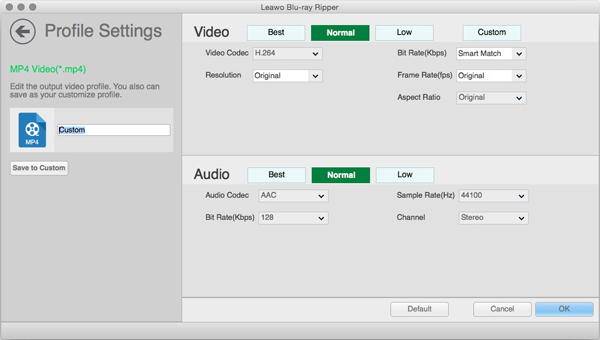 Related Article: How Can You Rip a Blu-ray and Convert to H.264 Video
Step 3: Start Conversion
If you are satisfied with your output settings, click "Convert" button on the right side of top bar. At this point the software will ask you to decide a location where the output files will be saved.
Then, click "Convert" button again to initial the Blu-ray to WMA conversion process. In this way, the software makes a digital copy of audio file from Blu-ray to your hard drive as WMA format and you'd better to leave off all the extras like bonus footage, trailers and other extras to save space.
Once the rip completes, you should be double-click on it to listen to it , or put all of the .wma files on your device for your pleasure.
That's it!

Conclusion
That's pretty much all there is to it. This three steps of how-to is pretty easy if you're willing to invest a little time to dig into. Aside from ripping your Blu-ray to formatted WMA soundtrack, you can also preserve the original video and convert it into MP4 - a more universal video format accepted by a full array of multimedia gadgets.