How to Import Blu-ray into iTunes for Mac & PC's
Apple users normally use iTunes to Manage their media collections. If you have movies or TV episodes on Blu-ray disc which you want to import into iTunes library to sync with your iPhone or iPad later, then it is feasible to rip the Blu-ray to iTunes files.
As far as I am aware, iTunes only supports the following formats: MP4, MOV and M4V for videos; MP3, AAC and AIFF for audio tracks. That is to say, when you rip Blu-ray disc to iTunes on a Mac or PC's, you have to convert the Blu-ray disc to the formats mentioned above so that you can put the movies onto iTunes library without any interruption.
Among the multifarious software, Blu-ray Ripper for Mac (for Windows here) is the principal tool we use to rip a Blu-ray to iTunes video files, which it also applies to DVD. Equipped with the ability to circumvent copyright protection used on both BD and DVD disc, it does a good job in decrypting Blu-ray and converting content to any format you want: MKV, AVI, MP4, MOV, M4V, WMV. By no means does it degrade the quality of the videos in the process of converting Blu-ray to iTunes.
Besides, the software offers an expansive library of presets which take the hard work out of knowing how to configure output settings, including Blu-ray to iPad, iPhone, PS4, Xbox One, Kindle Fire HD, Android smartphones. You can even use its editing function to cut, crop or merge video and add watermark, subtitle or audio tracks as well as modify brightness and contrast ratio.
Instead of talking the talk, let's walk the walk. Please download and install the software on your computer and give it a try. In this follow guide, we'll walk you through the process of converting Blu-ray files to copy onto iTunes on a Mac machine.
Step 1: Import your Blu-ray onto the program window
Once installed open up the software, and you'll get full access to all the options in it.
Meanwhile, put a Blu-ray disk into the optical drive on your computer and the content containing in it will automatically be recognized. Then, click "Add Blu-ray/DVD" on the top left toolbar to load the movie chapters to the software workflow. Drag-n-drop is also the feasible to add files to the program workflow.
All your chosen files should default to a simple interface like the screenshot below.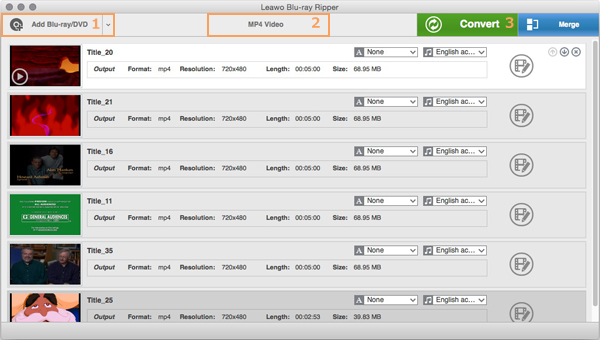 Step 2: Select a iTunes friendly format
In this step, you're asked to select an output format for your Blu-ray converting.
The default setting "MP4 video" on the top bar is already put in place for most devices and handsets as well as iTunes.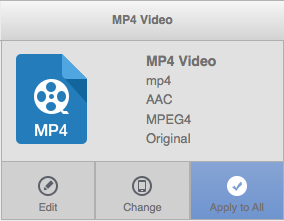 You can also click "MP4 video" and a drop-down menu comes out. Click "Change" and this should introduce a screen as below. You are free to select the format that is suitable for iTunes. We recommend you pick "M4V Video" or "HD MP4 Video (h.264/mpeg-4 avc)" from the list.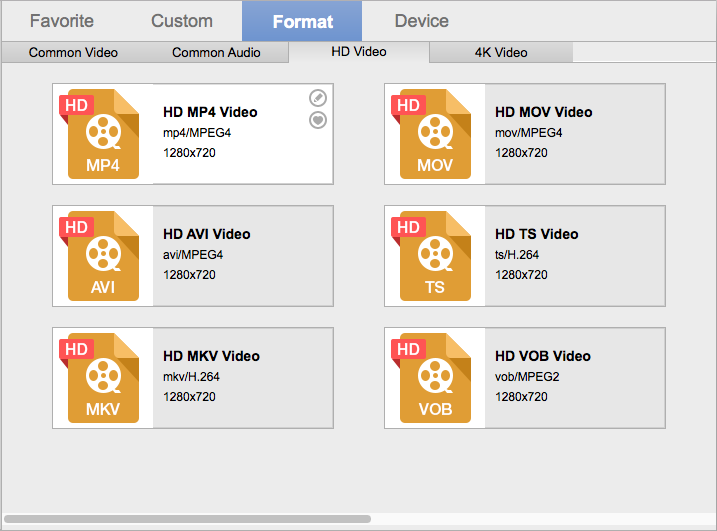 If you use one specific setting quite often, you can label that setting as your favorite and press a "Save a Custom" button on the left pane of the screen. So next time you can go directly to the favorite tap.
Note: Aside from the specific profile you can pick from, there may be some possibilities that you try to put your Blu-ray footage to the handy devices, like play it with your brilliant iPhone, then you can press on the "Device" tab near Format and select "Apple" category from the submenu and pick your iPhone model.
Since iTunes may have strict limitations on MOV, M4V and MP4 format, sometimes you need to click the pen icon of the selected format to modify some output parameters. The pen icon is on the upper right side of the selected format. Depending on your settings, you may get the different level of final video.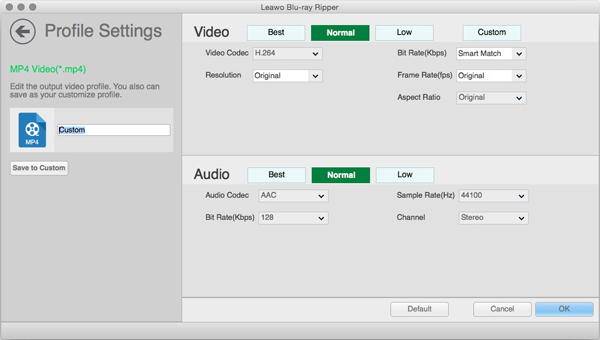 Along the right side of the Title, you'll see a image icon of Edit, allowing you to make some simple edits for your Blu-ray movie if needed. You can trim the video footage to get a certain part of the video, crop to remove black bars, put watermark on the video, take some effects and more.
Step 3: Start converting your Blu-ray in Mac
Once you've selected output iTunes readable format, select a location from Preference for saving your ripped movies and audio tracks. We recommend you to choose any convenient or frequent-used file folder.
Now, simply hit "Convert" button located on the top toolbar and the will sprint into action, ripping the to rip Blu-ray content to iTunes files you can enjoy on Mac computer. All you need to do is wait for minutes until the software get its job done.
After the process is complete, you may move the movie files onto iTunes library and alternatively sync to your iOS device for enjoy anytime anywhere.
Done!

Verdict
This Blu-ray Ripper has made it possible and effective to rip your protected Blu-ray movies for glorious HD footages to iTunes. It's just so easy as well to make backups of your favorite Blu-ray movies and copy to your handheld gadgets or anywhere you want them. For some movie fans, this utility is a wiser choice to stream Blu-ray trailers to smart widescreen Apple TV to enjoy the stunning special effects. Have fun!