How to Convert Blu-ray to Play on Windows Media Player
Blu-ray disc enables you to keep your large array of stunning movies of high definition because of its large storage capacity. But the problem is, Blu-ray disc are subject to easy damage due to scratches, water or heat, which may render the Blu-ray disc useless (see backup Blu-ray to ISO). Still, you can't watch the movies on Blu-ray disc without a standard Blu-ray player attached to a TV set.
Although it's possible to a play a DVD on Windows Media player 10 in Windows 7, Microsoft dropped DVD playback functionality to Windows 8 and the latest Windows 10 operating system. WMP 11/ 12 does not come with the codecs needed to play DVDs, not to mention Blu-ray discs.
To play a Blu-ray disc on computer, instead of using a device capable of reading Blu-ray and a program that supports Blu-ray playback, today we're going to use the Blu-ray Ripper software to make a digital copy of your Blu-ray that you can take on the go or just save on your computer hard drive and play on Windows Media Player anytime you want.
Equipped with numerous features, Blu-ray Ripper is a great tool to rip your movies from Blu-ray to play on Windows Media Player.
Easy-to-Use
In order to bring convenience to most beginners and make the software as considerably simple to use as possible, Blu-ray Ripper is designed to feature a intuitive and user-friendly user interface, not involving any complicated steps when you manipulate the software.
Tailor Your Needs
Blu-ray Ripper, as its name suggests, can rip and convert your favorite movies from Blu-ray to Windows Media Player alongside with editing function to trim, crop and combine your videos. You are in a position to select any possible format (mp4, mkv, avi, mov, m4v, wmv, etc.) as your output format.
Remove the Barrier of Encryption Imposed on Blu-ray
You may scratch your head pondering how to decrypt the Blu-ray and extract the movie content to watch on Windows Media Player without difficulty. Thankfully, Blu-ray Ripper is armed with some built-in decryption algorithms, ensuring a smooth ripping process from Blu-ray for WMP.
Useful Device Presets
The utility comes with a number of pre-defined presets for iPhone, iPad, Android phones, tablets, PS4, Xbox One and other multimedia devices . If you use either one of them, you'll get pretty good results.
Ripping Blu-ray to a format that is compatible with Windows Media Player (WMP) can be easy and quick. Let's get started.
Step 1: Insert a BD into drive and open up Blu-ray Ripper
Insert the BD disc you want to do the rip into the BD drive on computer. Open up the program.
In the top left side of the main screen, you can spot "Add Blu-ray/DVD". Click it to load the Blu-ray disc.
Then, you should see all the movie titles (or chapter) display on the screen, as image shown below. But you can delete the title you don't wanna to rip from the queue.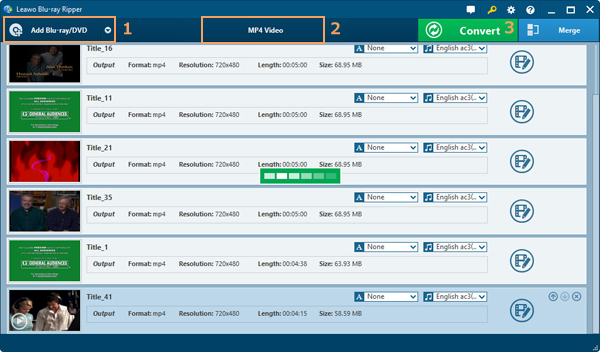 Want to make sure you've chosen the right title before doing the rest? Pick the one you think you want, then click the playback button and a new window opens up for viewing.
Step 2: Choose a WMP readable format
As you can spot on the upper bar, MP4 video is set up as default output format. You can either choose MP4 that Windows Media Player accepts as your output profile or proceed to other options.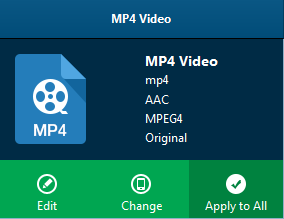 A click of "MP4 video" brings out a drop-down menu. Just hit the "Change" button and you get a screen as below, listing all of the optional format types. Choose one of formats that WMP is natively supported: MP4, WMV, AVI, MPEG-2.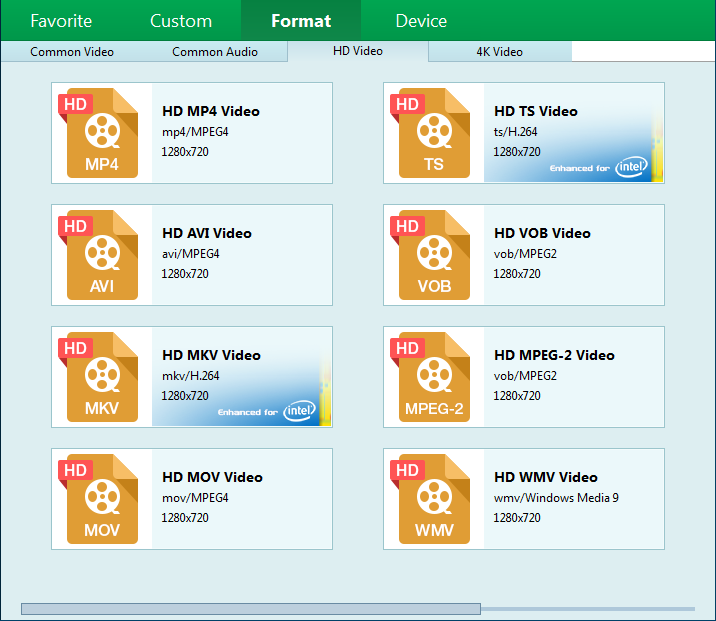 You can spend a little time in figuring out and tweaking the settings in accordance with your needs with a click of the pen icon on the top right corner of the selected format. You can leave the settings as they are if you at a loss how to tweak.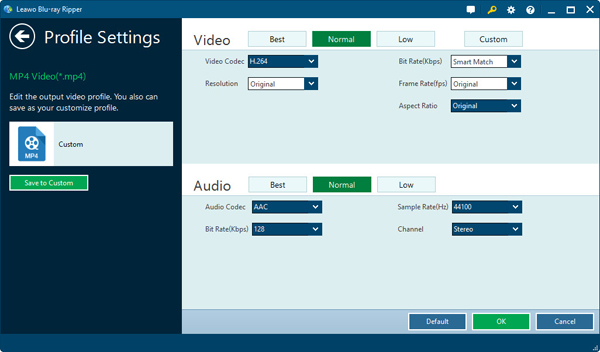 You can then head over to editing window where they host a number of handy editing filters, such as trimming, cropping, adding watermark, adjust effects, merging, splitting, etc. You can do this by clicking the Edit icon on the far right of the titles list of main screen.
Step 3: Convert Blu-ray to Windows Media Player file
Before you get started with the conversion, press green "Convert" located on the top right side and the software will ask you to choose a location where the movies go. Do as required and last hit "Convert" to commence the process of ripping and converting Blu-ray to a Windows Media Player file format.
The entire conversion process might be a little bit longer than you think, especially when you rip several lengthy movies from Blu-ray to Windows Media Player compatible videos. A progress bar for every movie title will tell you how much has been converted.
When the process finishes, now you can load the ripped movies into Windows Media Player for playback. Enjoy!