How to Play Blu-Rays in Quicktime on Mac & PC
QuickTime media player is a free Apple application that's preinstalled on Mac machine when it came out of the box, and it's available to download in Windows platform as well. Although QuickTime supports a host of video and audio formats as input, Blu-ray is not in the list. So if you want to play Blu-ray movies on QuickTime player on a Mac or Windows PC, things can be tricky. Blu-ray has built-in protection schemes to protect its content from being copied. Put simply, Apple QuickTime won't open a Blu-ray directly.
Oh well, it doesn't really matter whether you just want to use QuickTime player to play movies stored on a Blu-ray or extract content from disc and put onto your portable device for playback. The fact is that all you need is get a BD ripping tool to convert your Blu-ray into a format that is fully compatible with QuickTime player or device of your choice. In any case if you would like to rip a Blu-ray, the Blu-ray Ripper for Mac will prove helpful.
Good enough for experienced users and beginners alike, Blu-ray Ripper for Mac is a versatile tool that enables you to decrypt the Blu-ray & DVD and convert content to format which will play just fine on QuickTime Player on Mac. Plus, it can be used to convert your Blu-ray to all kinds of video & audio formats such as MOV, MP4, M4V, MKV, WMV, AVI, MP3, FLAC, WAV, M4A to be compatible with most current multimedia players and devices.
To play Blu-rays using QuickTime Player on a Windows machine, please use the equivalent Blu-ray Ripper for Windows.
Just download and install the copy of the software on your machine. Then follow the tutorial below to see how it works on Mac smoothly, which goes the same way for the Windows users.
Step 1: Load source Blu-ray content
Initiate the software on your Mac and you'll find the interface to be exactly intuitive. Insert and navigate the Blu-ray disc in the (external) BD drive and the program will return you a list of titles and segments that you can rip.
Click Add Blu-ray/DVD (1#) attached on the left side of toolbar, select the source disc and highlight the title(s) you'd like to rip for QT. The program will take a moment to scan and load the titles. Once finished, all the titles will be attached on the main screen shown as follows:
Then, you could select the subtitle tracks and audio stream as you like under Subtitle and Audio boxes right behind each title.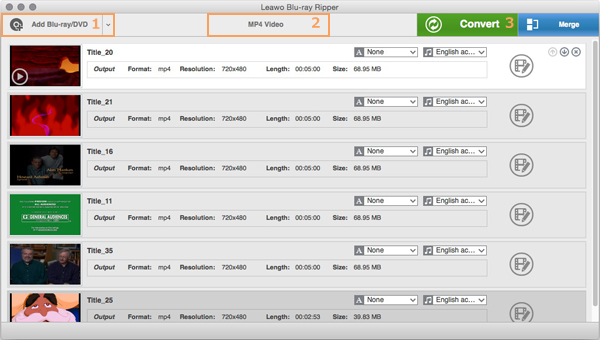 Optional! People have reasons to be in persistent pursuit of a higher level of visual enjoyment, luckily, this utility gives you the out-of-the-box options under Edit image tab (On the far right of the each title). You can then opt to trim away unwanted footage, crop the black frame to fit for the screen display of streaming devices or players or others, apply effects and upgrade to 3D effect.
Step 2: Customize the suitable output format for QuickTime player
Head to the sub-menu, the default MP4 Video (2#) is on the middle position, click it and call up a sub window displayed as below: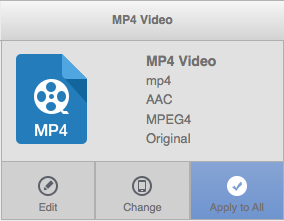 Then, press Change button and you will be led to the Profile panel in which you could choose the required format. Here pick the way: HD Video > HD MOV Video (or HD MP4 Video).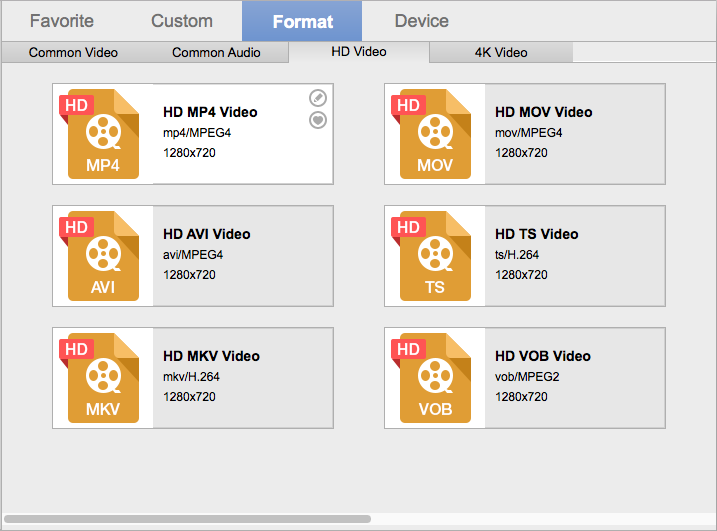 Next, you could press the PEN icon on the right corner of selected MOV to tweak the parameters of video and audio , including Video codec, Bit rate, Resolution, Channel as well as Audio codec, Bit rate, Resolution, Channel. This in-depth ability makes you own way to improve the quality o resulting files. If you're not expert in the codecs, you can utterly skip this part. But if you want to learn something about that, you can then refer to the page of Video and Audio Settings we've summarized.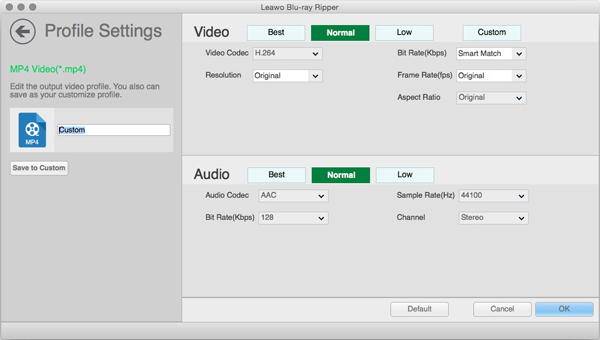 Note: remember that the higher bit rate leads to bigger in file size, and lower visible quality loss. If you want to keep 1080p Full HD resolution, set the video size as 1080*1920.
Step 3: Start commencing Blu-ray to QuickTime conversion
When everything is OK, move mouse to top right side of the main interface and hit the green Convert button (3#) to save and start the conversion from Blu-ray movie to MOV files for QuickTime player on your Mac. It converts the video before your eyes, allowing you to monitor its progress.
Once the conversion is done, open the output directory folder. Now, to play the ripped MOV files from Blu-ray on QT media player, drag the MOV files and drop onto QT and you are all set to play them. Have fun!

As you can see, this how-to guide is not that complex that you can master it quickly and achieve more ripping tasks on your own.