How to Rip Blu-ray to Edit in iMovie on Mac
Launched by Apple, iMovie is a Mac-based multifunctional video-editing tool favored by most technology enthusiasts who want to share videos with their peers or upload to YouTube to gain more attention and followers. If you want to edit some movie clips from a Blu-ray using iMovie software, the prerequisite is that you need to rip the Blu-ray firstly and then put its content onto iMovie. Locating a tool to rip and import your Blu-ray movie for editing iMovie is not that difficult and Blu-ray Ripper for Mac is one of them among the crowds of Blu-ray management tools.
As videos comes in a series of formats, it is crucial to select the formats that are compatible with iMovie. The software understands this and is able to rip Blu-ray & DVD and convert to a iMovie acceptable file without degrading the original quality. It also convert your Blu-ray and DVD disc to virtually any other formats such as MP4, AVI, WMV, MOV, MKV you need. Even better, you can make a number of useful tweaks for output parameters including codec, bitrate, sample rate, resolution.
Much to your surprise, Blu-ray Ripper does more than just converting Blu-ray stuff for Apple iMovie. It shares some of the editing features with iMovie, say, to cut, trim or crop part of a video; adjust the brightness and contrast, etc. If you're on a PC's and want to convert your Blu-ray or DVD, please refer to its PC version - Blu-ray Ripper for Windows.
In the following article, we are going to show you how to rip Blu-ray and copy its content onto iMovie with three steps. First of all, download and install the program on your Mac.
Step 1: Load BD (or DVD)
To start, put your BD disc into computer's drive to access the files you want to rip and convert. Click on "Add Blu-ray/DVD" located on the upper left corner of the software's interface and then, choose the content you're ready to edit in iMovie from its location.
Drag-and-drop from the computer's drive to the software is also viable.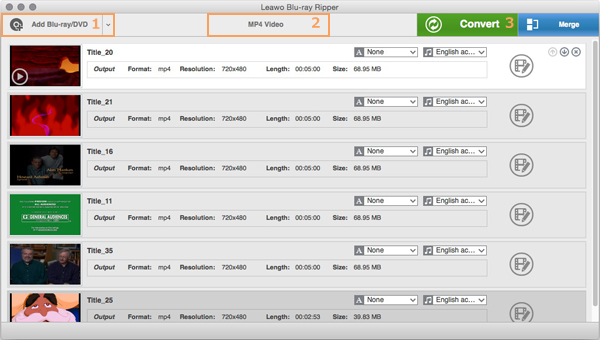 Step 2: Choose a iMovie readable format
Since all the movie titles you want to rip from Blu-ray to iMovie are ready, it's time to select the correct profile for iMovie.
"MP4 video" is the default setting used on many devices as well as on iMovie. If it is not your choice, you can click "MP4 video" and from its drop-down box press "change" button to move on the next step.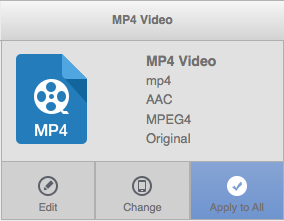 As you can see on the screen as below, there are a full range of formats to choose from. Beforehand, you need to figure out what formats iMovie are supportive of. We have some choices for your reference: H.264, MPEG-4, Motion JPEG/A, HDV, etc.
Select one of them from the list on the screen. For example, go through "Format" > "HD Video" > "HD MP4 Video (H.264/MPEG-4 AVC)".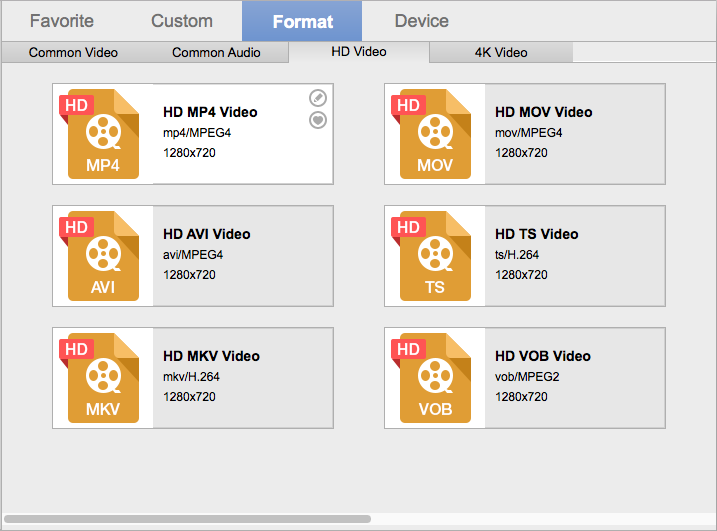 Once you decide on the format, all the codecs for video and audio track should automatically be configured with the default and best possible results, but if you may need to modify them manually, simply a click of the Pen icon on the top right corner of the chosen format.
After you are done with making some tweaks to the preset, you can save as Custom for later use by clicking a "Save a Custom" button on the left pane.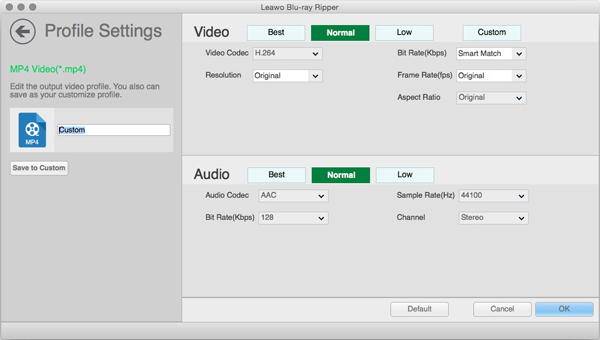 Convenient still, this utility has a sequence of ready presets to offer to enhance compatibility with a wider range of mobile devices. Whether you're carrying a smart iPhone or an Android Samsung, Sony, HTC or other, you'll be able to get your Blu-ray in a format your device can play. The "Device" tab is lying right beside "Format" on the Profile panel.
Related Article: How to Play a Blu-ray Movie on an iPhone
Step 3: Start ripping Blu-ray and convert to a iMovie format on Mac
Before you initiate the rip and conversion, create a new folder and rename it on your computer's hard drive, be sure to include the file extension (in this case, .mp4). When you're done, click Save.
After everything is ready, hit "Convert" button on the top bar and Blu-ray Ripper will begin ripping your Blu-ray videos to the iMovie file format of your choice. How fast it gets its job done depends on the conversion speed and the size of the selected movie(s) contained in Blu-ray.
After that, you can fire up iMovie and import the new created videos ready for doing the editing task.
Happy BD ripping!