How to Get Blu-ray Movie into Final Cut Pro (X) for Editing
Let's say you have a multitude of Blu-ray discs lay around in the corners of your room, but you can't remember when last view them on any DVD player, then you just want to move to your Mac and do edits in Final Cut Pro X software. But when you tried to import those movies from Blu-ray directly to Final Cut Pro (X) window, nothing happened. Everyone knows FCPX doesn't support either DRM-protected Blu-ray or commercial DVD discs.
Thankfully there's a simple, streamlined solution. In order to fulfill the task of editing Blu-ray movies in Final Cut Pro (X) on your Mac machine, all you need is to rip the disc and convert movies into Final Cut Pro (X) acceptable files. To do this, you're going to need a few things.
First and foremost is you'll have to prepare a Blu-ray drive. Apple Macs themselves don't come with a optical drive when it comes out of box. You'll need to buy one external USB BD drive from online or local retailer.
You have enough free hard drive space on your computer. A Blu-ray disc can hold huge amounts of data. During the Blu-ray to Final Cut Pro X files ripping process all of the files will be dumped on your hard drive. 60GB or above of room is recommended.
A Blu-ray ripping tool and a video converting tool. To make things easier, Blu-ray Ripper for Mac is our favorite in this article to get the job done. It can remove the copy protection to rip the movie off the Blu-ray disc and then convert it to a format that's suitable for editing with Final Cut Pro X. If you're running a PC machine and want to rip and convert your Blu-ray and DVD disc, go with its Windows equivalent—Blu-ray Ripper for Windows.
Download link below.
Related Topic: How to copy a Blu-ray onto a new Blu-ray disc
Let's take a look at how it works in Blu-ray ripping.
Step 1: Insert Blu-ray into the drive and open up the software
Open the program on your machine and once you've inserted the Blu-ray disc into the drive, the software should be able to read all of your BD content.
Click the Add Blu-ray/ DVD at the top left corner to load the Blu-ray movie mounted on your Mac to the program window. Or simply use the program's drag-n-drop feature to import files into the window.
Once the disk loaded, the titles along with subtitles and audio tracks are listed on the window, like the screenshot shown below: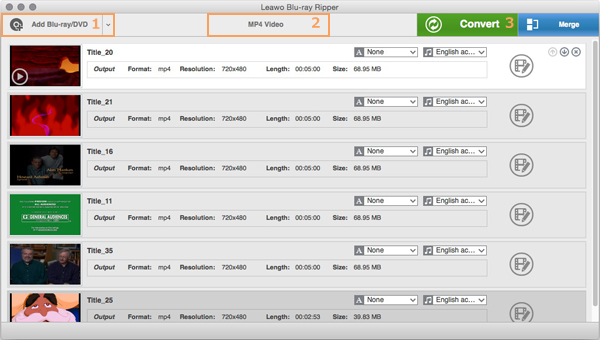 Step 2: Select an output format that's FCPX can read
Next, you need to decide the format for the output footage. To do so, click on the MP4 Video (The default format) on the middle of top bar and a drop-down box appears with three options.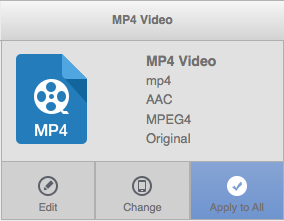 You press the Change option and this will open the Profile panel where there're plenty of different file types you can choose from. But for FCPX, it seems to favor MOV or MP4.
So in this example, we go to Format > HD Video and select HD MOV Video or HD MP4 Video option.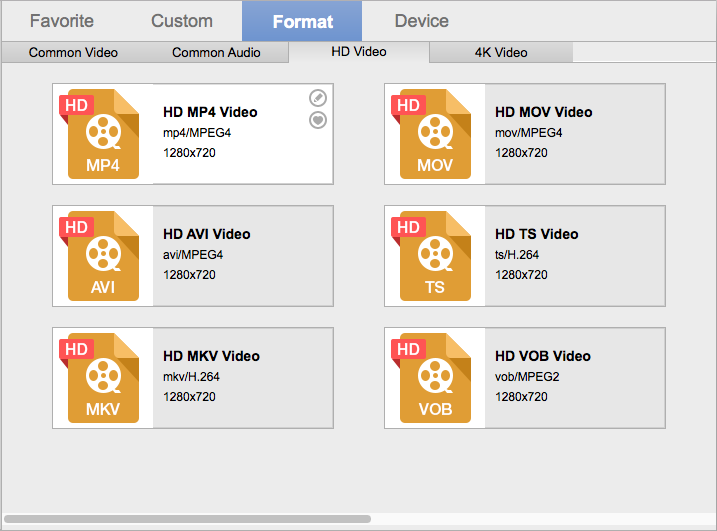 If you are an experienced user, you may have some idea for the video quality and be ready to control over it. Accordingly, this utility gives you the chance to get it out.
Press the PEN icon located in the upper right corner of the selected format and this will bring up a Profile Settings window. From there you're able to adjust the audio and video parameters for the resulting video. Bit rate, aspect ratio, frame rate, sample rate, and channels are all changeable separately.
Tip: You could keep original quality "1920*1080" in the Resolution box.
If you aren't sure whether the tweaks you made is suitable, we recommend you leave the original settings alone and click OK to save the settings and back to main interface.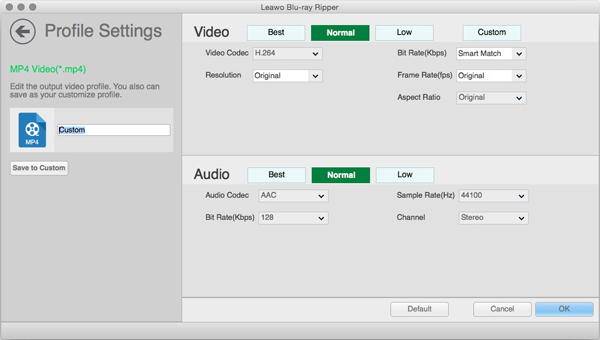 Step 3: Start Converting Blu-ray into selected format for Final Cut Pro X
Just click on green Convert button located on the upper right of the main interface, this will pop up a dialog in which you can choose a local directory to save the output video onto your Mac machine.
Next, hit the Convert again and the software will go about its magic. Every movie title in the queue will be converted to format you selected in Step 2.
The whole process of ripping Blu-ray to Final Cut Pro (X) editable file will take you everything from minutes to hours. All that's left for you to do is wait for the conversion to finish.

Step 4: Make import of the ripped Blu-ray files to Final Cut Pro X
Once the process is done, you can get your full quality (MOV) videos and put into Final Cut Pro (X) to make your own further edits.
Happy editing!