How to Play Blu-ray Movie on iPad (iPad Air, Mini, Pro)
Blu-ray is superior to DVD with extremely HD video effect, in that it is capable of storing high-definition (720p and 1080p) and ultra-definition (2160p) video resolution. With the advent of portable tablet computers, like iPad (Pro, Air, Mini), many movies enthusiasts may tend to make digital version of their Blu-ray discs and enjoy the full quality movies on iPad anywhere you go. Watching the Blu-ray movies straight on iPad can be a hassle, but it is not impossible.
Thankfully, Blu-ray Ripper for Mac can be able to help you a lot. It can not only bypass the protection system of Blu-ray, but also specialize in converting the movie on Blu-ray into various streamline formats, including iPad readable file formats. Moreover, with an in-built editor, it gives you the powers to make the content your way.
The following tutorial will show you how to rip full high-definition 1080p Blu-ray movie for iPad (Pro, Air, Mini) on Mac. If you're on a PC machine, please use its Blu-ray for Windows version to convert your Blu-ray into iPad video files for playback.
Noteworthy is that you may prepare a external USB Blu-ray drive to connect your Mac machine and ensure that enough free storage (60GB+ is recommended) on hard drive. Besides, another highlight is that the utility has already preset for you to convert Blu-ray to be suitable for Apple iPad (and other prevailed mobile devices) that you don't need to worry about what the parameters iPad needs.
Step 1: Load Source Blu-ray Disc
Navigate the Blu-ray Ripper and it's absolutely as easy as inserting your BD disc into the drive and clicking Add Blu-ray/DVD (on top left corner) to open the file browsers. Select the Blu-ray you are going to rip from optical drive and click it to open. Then the program scan and read the disc content and load the titles automatically with relevant information on the following main interface, including format type, video length, audio track, subtitle and video size.
Or, you can directly drag and drop your BD movies to the middle box of the screen to save your time.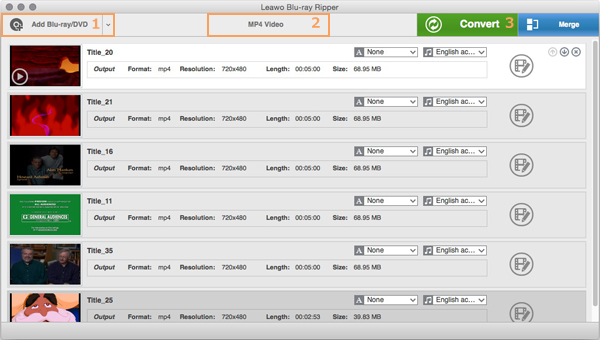 Step 2: Select a iPad friendly format
The utility gives you the presets to rip 1920x1080 Blu-ray movie to fit screen of your specific devices like iPad Mini, iPad Pro, iPad Air, iPhone, Apple TV and any other device such as HTC, LG, Motorola, Samsung, Sony, etc.
Move your mouse to center of top bar and press on the MP4 Video, which will present a drop-down box and it should look like this: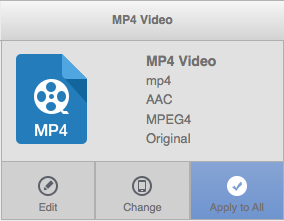 Then, click Change option to enter the Profile panel.
Now, select the presets via Device > Apple > iPad model (according to your iPad).
Or choose a format that can be played on iPad through Format > HD Video > HD MP4 Video/ HD MOV Video.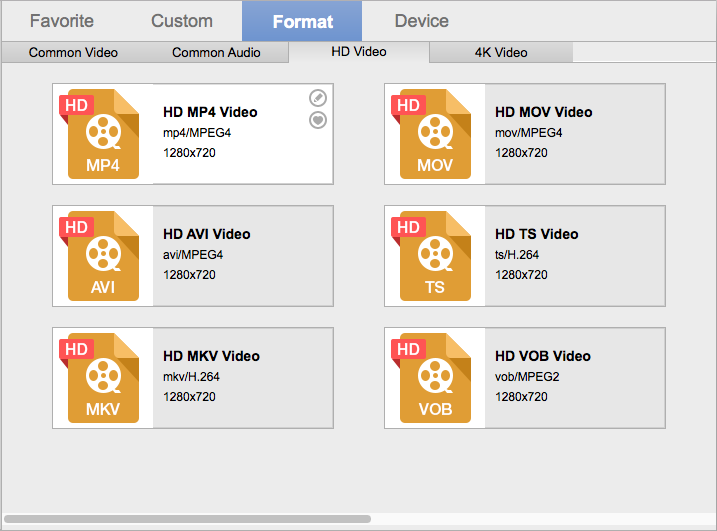 See Also: How to Rip a Blu-ray and Convert to AAC Audio File for Mac
At the top right corner of the chosen profile at Step 2, press Pen image icon. This should bring up Profile Settings dialog for configuring the contained audio and video codecs, which is the compression method that the final footage will use. After setting up, press OK to save and back to the main interface. You could also save as your customize file for further use.
Generally speaking, this part is mostly personal preference, so you could experiment to find out what works best with your iPad. But for the beginner, it is advisable to leave all the tweaks on the default.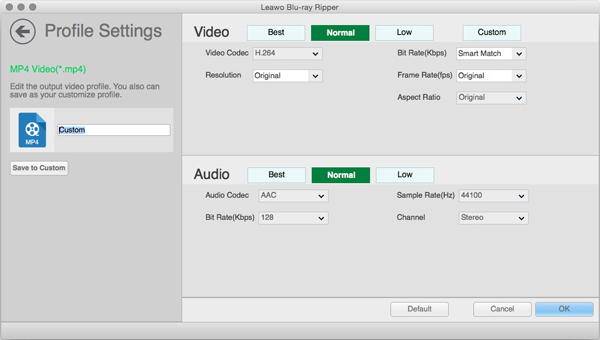 Extras: to the far right side of the Title on the main workflow, a Edit image icon is available here. This might not seem like a must-have feature, but it is, especially for those who want to make edits for their videos. You can produce the customized possible video results with tools to trim, crop, add several different effects, etc for mastering it to get it exactly the way you want it.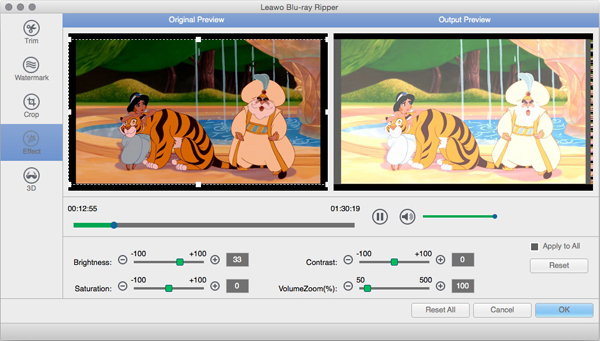 Step 3: Press the "Convert" button to start the rip and conversion
After all the things have performed the way you expect, just hit the green Convert button to specify a directory to save the ripped files to. We recommend using an directory with plenty of space, since it may be a pretty big file.
Press Convert button again and let it commence the converting process from a Blu-ray movie to iPad native-support file on Mac. Depending on the specific Blu-ray and the speed of your computer, it should probably take a few minutes to rip, and the output file should appear in the specified directory.

Step 4: Transfer the new created Video to iPad using iTunes
Now that you've ripped and converted your Blu-ray movie to a single iPad accepted file, connect your iPad with your computer, launch iTunes software and add the newly ripped video into the Movie library, then sync with your iPad.
Enjoy!