How to Rip a Blu-ray to AAC Audio File on Mac & PC
Wanna to listen to the music or audio from the Blu-ray movies on your portable players? Probably you may seek a 3rd party software to help you rip your Blu-ray and convert the audio file into AAC so that you can easily transfer the soundtrack to your audio player and enjoy the songs without limitations. Don't worry - there's probably a simple solution.
Before we get into the solution, we'll start by reminding you that AAC is a audio codec which was designed to replace the current popular MP3 format. It stands Advanced Audio Coding, and generally achieves better sound quality than MP3 at similar bit rates. Despite AAC has a better performance than MP3 in most cases, it still lost some data to reduce file size for storage, handling, and transmitting content. If you intend to extract audio files from Blu-ray to save in lossless audio file, then getting Blu-ray into FLAC format is one way you go.
When it comes to Blu-ray ripping utilities, there are tons to choose from. If you need to rip and convert a Blu-ray all in one place and want something easy to use, then Blu-ray Ripper for Mac is a good example. The software is known for its stability, simplicity and friendly. Aside from ripping and converting your Blu-ray movie to tons of different formats, it also acts as a audio extractor for ripping audio out of a Blu-ray and get into AAC or other popular sound files like MP3, AC3, FLAC, M4A. Even better, it provides the basic editing capabilities to enhance your file such as cutting, watermark, trimming, merging several audio segments into one file, and more.
If you want to rip Blu-ray soundtrack to AAC on a Windows machine, then you could use the equivalent version—Blu-ray Ripper for Windows to get the job done.
Blu-ray to AAC Conversion User Guide
Step 1: Load Blu-ray videos
Insert the Blu-ray in the drive and fire up Blu-ray Ripper on either Mac or Windows computer. Click Add Blu-ray/DVD and you'll be asked to locate a source. Once you have your source Blu-ray movies selected, open it up. Or simply drag and drop the BD files to navigate the Blu-ray movies to the program.
A few seconds later, all the BD titles with details appear in a queue waiting for ripping on the workflow of the main screen.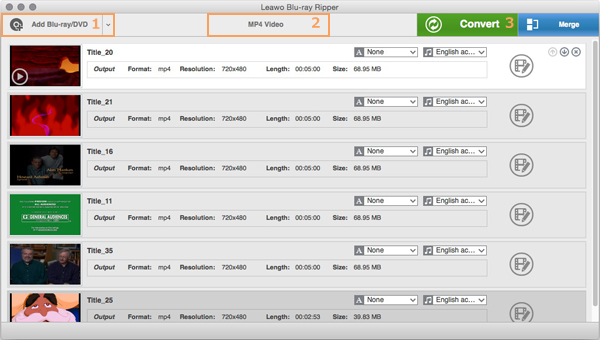 Step 2: Select AAC from format panel
Click the default MP4 Video button on the top bar, which will lead you to a drop-down menu, press Change option and proceed.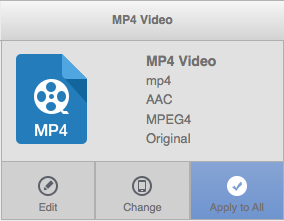 Next you should see a format-selecting window, containing a library of ready-to-use profiles for common output or for almost any kind of device, including game consoles and a lot of specific models of phones and media players. Here from "Common Audio" category under Format tab, pick "AAC Audio" as the output audio format.
For more purpose, if you plan to export your converted AAC audio to your iOS device (iPhone, iPod, iPad), then straight to select the formatting option that best matches what you have under Device tab.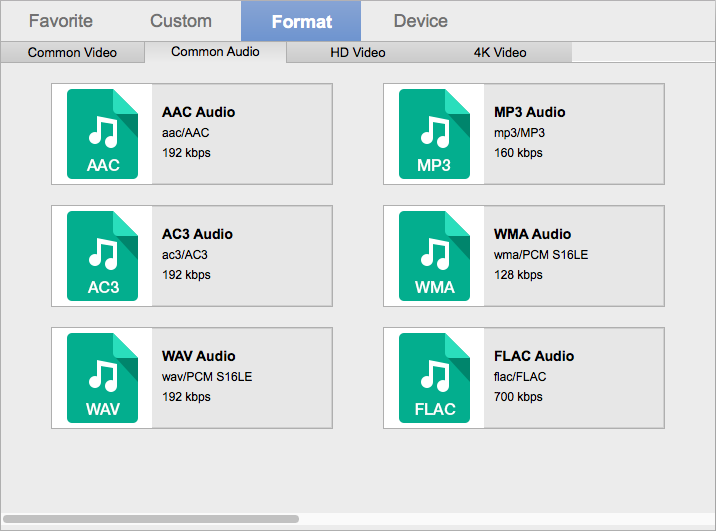 Once you've chosen your profile preference, click pen icon at the upper right corner of the AAC audio profile and make your audio quality choices. For the most part you can leave this alone, but this section is where you'll set things of for the output audio parameters, such as codec, kbps, sample rate and channel.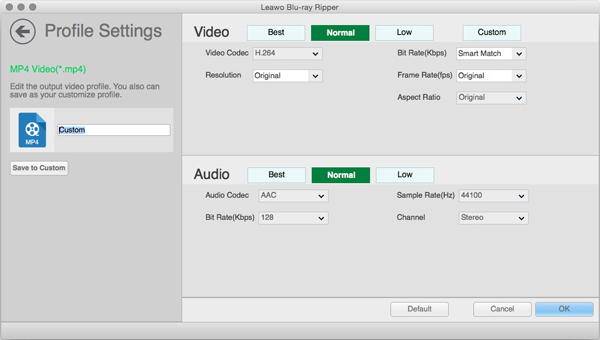 Step 3: Start converting Blu-ray to AAC Audio Conversion
In the last step, click Convert button located on the upper right corner of the main window, this will open a small dialog asking you to select the output directory folder for the ripped audio tracks.
Then hit Convert button at the bottom and then be prepared to wait: The ripping and conversion process can take some time. Relax and take a cup of coffee.

Congrats! You're ready to play the .aac file on your Mac & PC media player or your portable device.