How to Play Blu-ray Movies on Apple TV (1st, 2nd, 3rd, 4th)
With the development of film industry these years, the expectations for the movie definition of people has been becoming increasingly high. BD technology, providing an image much closer to the source, has yet to be fully accepted by consumers with pleasure, which was designed to supersede the physical DVD format.
However, the traditional ways of home entertainment is changing because of the Internet. Millions of people now prefer to listen to music, watch video or movies online or purchase a digital copy version of their favorite films to play on iPhone, iPad, or Apple TV. If you have large collection of movies archived on Blu-ray, it would be a good option for you to stream Blu-ray movies to Apple TV 4 for watching on your large screen TV. But it is well known that Apple TV supports very few file formats, which include MOV, MP4 and M4V videos, meaning Blu-ray cannot be playback on your Apple TV natively.
Thanks to Blu-ray Ripper (for Mac, for Windows), you could finish the task flawlessly. It enables users to convert a Blu-ray to something that Apple TV accepts well with outstanding video quality and fast conversion speed. It can also effortlessly remove the protection of Blu-ray or DVD and convert movies to save in various formats for any device you view video on, such as computers, smartphones, tablets and media players. Moreover, you can choose your desired subtitle and audio tracks for output through its in-built editor.
This article will walk you through a guide to get Blu-ray played on an Apple TV, and the process is identical for both PC and Mac users. Before the actual process, please download the tool and install on your computer via the links below.
Step 1: Import the Source Blu-ray Movies
Once you've selected Blu-ray disc you want to rip and convert, insert it into your computer's optical drive. Then move your mouse cursor to the top right of the primary interface, click on Add Blu-ray/ DVD (1#), and a group of titles or chapters stored in this source disk will come into your sight, among them you can choose your favorite ones.
The application will take a few seconds to load your chosen videos with details on the main workflow, the like screenshot as below. And you could choose your prefered subtitle and audio track for each title.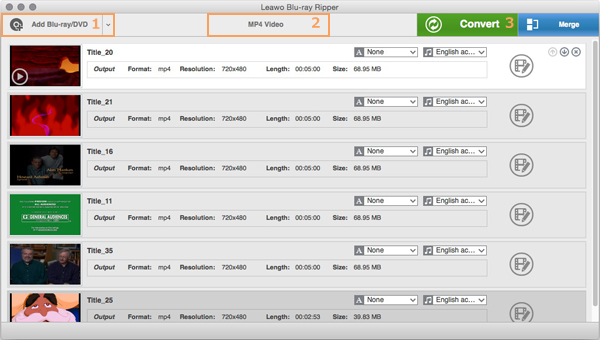 Step 2: Select an appropriate format for Apple TV
Click MP4 Video (the default format) drop-down box on the middle of top toolbar (2#).
Note: as MP4 is a universal video container format used to store video, audio, subtitles and images, it allows streaming over the Internet and playing on most media players and devices. You can leave this no change and move to the next step.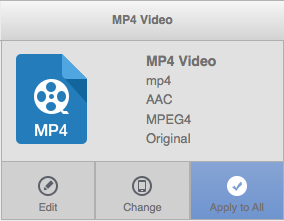 To convert Blu-ray to an Apple TV friendly format, you could go through the following two ways as you like:
(1) MP4 Video > Change > Format > HD Video > HD MP4 Video (or HD MOV Video)
(2) MP4 Video > Change > Device > Apple > Apple TV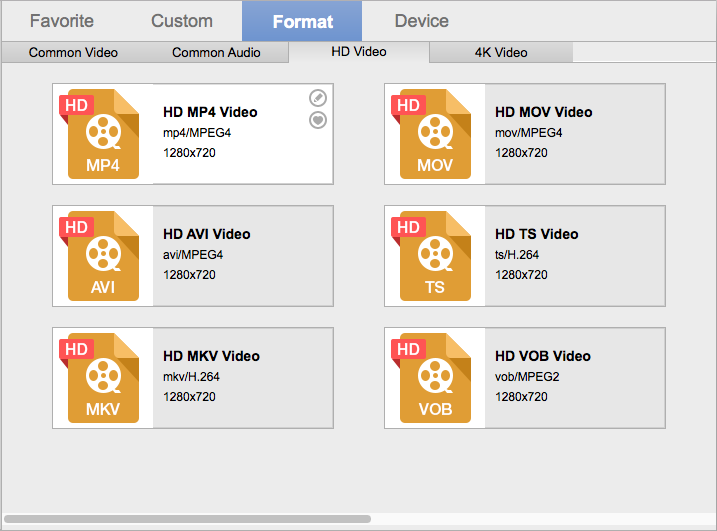 Next, you could press the pen icon on the upper right corner of the selected format to configure the codec packs of video and audio to meet your need such as video codec, resolution (1080p is recommended), audio track, sample rate, bitrate, etc. in the Profile Settings panel. Generally, the default settings should work just as well.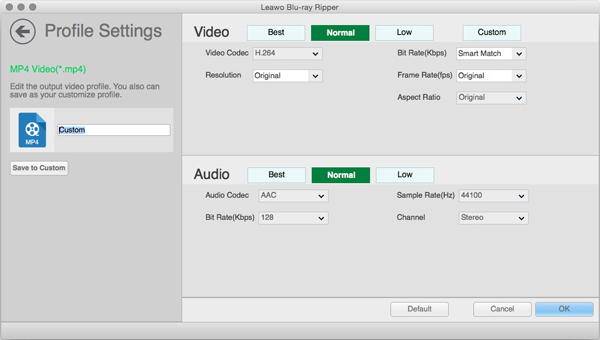 Besides, another feature this utility offers is the Edit option on the far right of each title. With it, you can improve the resultant footage manually. Brightness, Contrast, Saturation, Trim, Image & Text Watermark – everything to help the beginner create a professional-looking result.
Step 3: Rip and convert the Blu-ray to target video for playback on Apple TV
Now, all you need to do is make sure Blu-ray Ripper is going to save your ripped movie as a ATV file and decide what to call your ripped video and where to save it via Convert button (3#) on the toolbar. Once you've done that, you can press the Convert button once again to get the rip started.This should take some time and we recommend you to shut down the software running in the background.

Once the conversion complete, simply drag your new created HD MOV/MP4 video files from its storage location and drop onto iTunes Library and then stream to Apple TV.
Enjoy!
Conclusion
It's literally as simple as ripping and converting your Blu-ray movies to Apple TV readable format with a few clicks of your mouse. Beside, this comprehensive guide can be applied to ripping and conveting Blu-ray footages to iPad as well and the process is basically the same. Just give it a shot.