How to Convert a Blu-ray to WMV Video File for Mac and Windows
Watching movies online has become a prevalent phenomenon these days, but you can also rip and convert the newly-bought Blu-ray movies to .wmv Windows Media Video file that can be played on your computer or WMV players like Surface tablet. As a general rule, you try to pull off the trick by copy-and-paste. Guess what, you fail to do that because most of the Blu-ray disc/DVDs are under some sorts of strict copyright protection like AACS and BD+.
If you are eager to liberate your movies or TV episodes from a Blu-ray and convert to a WMV format, then you'll be hard-pressed to find a better way than Blu-ray Ripper. With it, it is quite a doddle to build your digital copy of your Blu-ray collections.
Blu-ray Ripper works both Windows and Mac platform. It is an versatile software designed to rip the video episodes from Blu-ray & DVD based on your own needs. It has what it takes to get rid of BD+ or AACS encryption contained on a disc, in a attempt to make the ripping process less of a wrench, and then convert the Blu-ray files into WMV format (other formats are also possible) on your Mac or PC's. The program also provides a set of preset profiles for you to select from. This is a great feature if you want to rip a Blu-ray for playback on a portable device like iPad tablet.
See Also: How to Rip a Blu-ray to Play on an iPad
Please walk through the following steps to get the videos off Blu-ray disc and into your computer with WMV format on a Mac (we use an iMac to handle this in this tutorial).
Step 1: Open up Blu-ray Ripper for Mac and load BD disc you want to rip
First of all, insert your Blu-ray disc into your computer's drive.
While you're in Blu-ray Ripper, press "Add Blu-ray/DVD" button at the upper left corner and add all the titles contained in BD disc to the queue for conversion.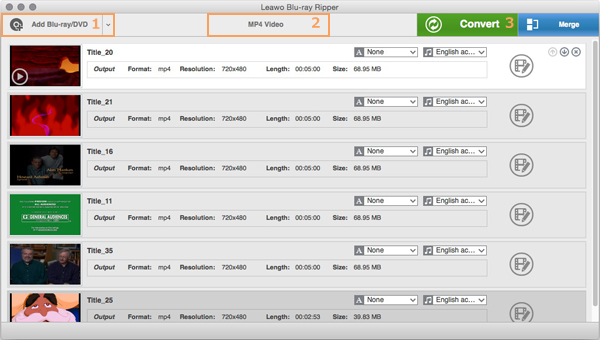 Step 2: Select WMV format for output
For the purpose of this article, we're going to rip Blu-ray and convert into WMV file on Mac (or Windows).
To do the trick, click "MP4 video" in upper central position of the software interface and then, a drop-down menu comes up showing details as below.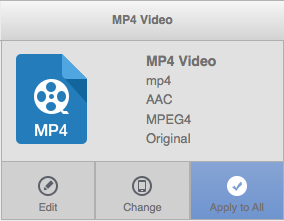 Click "Change " to come to the following interface which lists a bunch of formats for you to choose from. To convert Blu-ray into formatted WMV, simply choose "Format" > "Common video" > "WMV Video", or "Format" > "HD Video" > "HD WMV Video".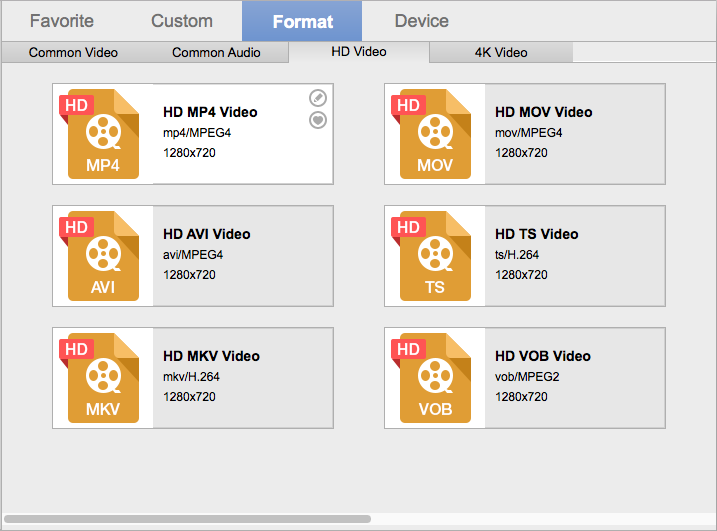 You then click the pen icon on the upper right corner of the defined (HD) WMV Video and a few advanced profile techniques that you may find support for in the opening panel, including video resolution, bitrate, sample rate, audio channel, sample rate, etc. If you are not acquainted enough with those settings, it is advisable that you leave them alone.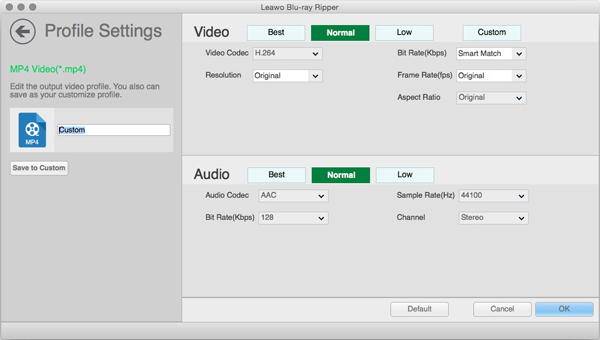 By the way, if you dig a little deeper under the surface, you'll see that Edit image icon (on the far right of the title) is a great way to save you a huge step when perfecting your footage, as the feature is included in your export settings. You can switch functions like trimming, cropping, adding watermark and taking 3D effects.
Step 3: converting Blu-ray to a WMV format on Mac
Now, you can click the green "convert" button on the top bar, and first, the utility will ask you to select a location on Mac drive to save your ripped WMV video files.
Lastly, hit "Convert" at the bottom and the program will automatically initiate the conversion to rip the Blu-ray files to WMV on your Mac. A progress bar will tell you how much of the process has been reached.

That's it! Right now, the WMV video is ready for playback on Windows Media Player, VLC media player or something else. It's worth mentioning that you may encounter some limitations when play WMV files on Mac OS X or any Apple products, if it's the case, the page of How to Play WMV on a Mac will work best for you.