How to Reset Windows 10 Password on HP and Other Computers
We live in a password-driven world, where it's never been easier to remember all of the passwords you put on everywhere range from a computer, IM chat tool, smartphone, to debit card, Amazon account, etc. If you forgot the password, things get tricky. In today's discussion, we'll talk about the password lost issue happened on your HP computer with Windows 10 operating system.
If you forgot Windows 10 login password on HP machine, you're prevented from access to the Windows. Before you panic, there are several things you can try prior to clean reinstalling Windows 10 system, which will destroy any data you have on the computer hard drive.
Use Microsoft Account to login onto Windows 10
Start from Windows 8, Microsoft offers an all-in-one way - Microsoft Account - to visit all of Microsoft services such as Windows, Skype, Outlook, Xbox, OneDrive, Surface, MSN. If you happen to use Microsoft account to log onto Windows 10 on HP laptop & desktop, things are easy. To reset a lost Microsoft account password for Windows 10, navigate to the Microsoft online Reset Password site with any device connected to the Internet, from where you supply some security information to verify identity your identity that you're the owner of the account, and then follow the on-screen instructions to create a new password. Please note that your new password information will be instantly sync to the Cloud, every service associated with this account will come along to your new password.
Use local account to login onto Windows 10 in HP
A local account is the traditional style of Windows user account that refers to a account tied to an specific computer, the user name and password information only stored on the PC itself. Typically, the type of account you sign into earlier Windows 7 system is a local account.
When you're using a local account to log onto Windows 10 on HP but lost password, the first thing you may try it remember the password hint. This may be helpful but can be quite time consuming.
If the hint doesn't work for you, you then can use a Windows 10 password reset disk you created in Control Panel. It should be noted that this method only applies to situation that you made the disc before you losing the password of Windows 10 on your HP PC.
Also, check if there is another account on the PC has Administrator privilege to enter the computer.
Use a third-party tool to crack password in Windows 10
If the above mentioned tricks don't work, then you may go after the third-party programs to help you reset Windows 10 local admin/ user account Password on HP computer. While there are a number of such tools out there claim to bypass/ crack the password of Windows 10, Spowersoft Windows Password Reset is our favorite. It is the reliable password reset software that's capable of resetting local and domain account password on all of Windows versions like XP, Vista, 7, 8, 8.1, 10, Server 2012, 2008, 2003, 2000. In addition, it even gives you ability to delete the existing account on the computer and create a new account with admin privilege level if required.
Click the "Download Now" link below to install the copy of Professional version of program on an accessible computer, or head to Comparison of three Versions to select an appropriate version.
The step-by-step guide below will walk you through about how to reset password on HP computer with windows 10. It also applies for Windows XP, Windows Vista, Windows 7, Windows 8, and Windows 8.1 with Update.
Step 1: Create a bootable (USB) password reset disc for Windows 10
Launch the program you will be presented with a main interface like something below:
To get started, insert a blank USB flash drive or CD/DVD disc into the computer. In this article, we will take a USB drive to demonstrate the entire process. A USB drive is cheap these days that often costs no more than a few dollars from online retailer like Amazon.
Next, click the "USB device" button on the main screen, and then hit "Start burning" to begin the process. This will help you create a Windows 10 password reset disc.
After the burning completes, remove the USB password reset drive from the computer.
Step 2: Insert the USB drive into your locked HP and make the BIOS booted from it
Since the problematic computer boots from the Windows normally every time you power on it, you will have to change the boot order option on BIOS Setup to boot from the Windows 10 password reset disk.
Depending on the situation, the way to set BIOS boot order varies.
1) If you're on a new Windows 10 PC – that is, a Windows 10 system is preinstalled on the PC when you purchased it, it don't include the traditional BIOS, it uses UEFI firmware instead. In that case, you'll have to access the UEFI BIOS and disable Secure Boot, then follow the traditional way to set legacy BIOS to boot from CD/ DVD or USB drive.
2) Instead, If you're using a computer with Windows 10 operating system that was upgraded from Windows 7 or earlier – it uses legacy BIOS, you can simply follow the article about how to set legacy BIOS to boot from CD/DVD or USB drive.
Step 3: Reset the password in Windows 10 system
Wait until the HP computer boot from the USB drive, a few seconds later you will see the program' screen eventually. From the screen you will it lists all the user accounts it has found on your HP computer under the second pane.
Then you will need to select the Windows 10 system and username that you want to reset the password for, and press blue "Reset" button.
It's simple as that! Now click the blue "Reboot" button to restart your HP machine, and remove the USB drive from the computer (important!).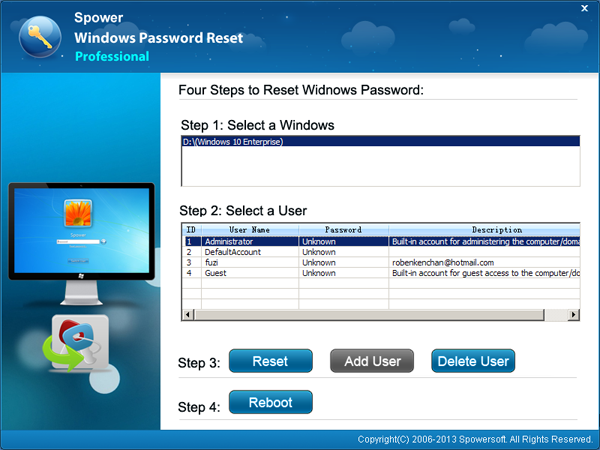 That's about it. Now you're ready to login into Windows 10 without a password on your HP PC!
Please keep in mind, for those who using the program to reset the lost domain password on Windows server 2012, 2008, 2003 and 2000, it will reset the password to Spower@2011.
How to Delete a password or create a new account (Special version only)
The way of deleting a Windows 10 account or adding a new admin account with password on Windows 10 on HP computer is relatively easy. What you need is press "Delete User" or "Add User" button at the bottom of the screen and follow the prompt.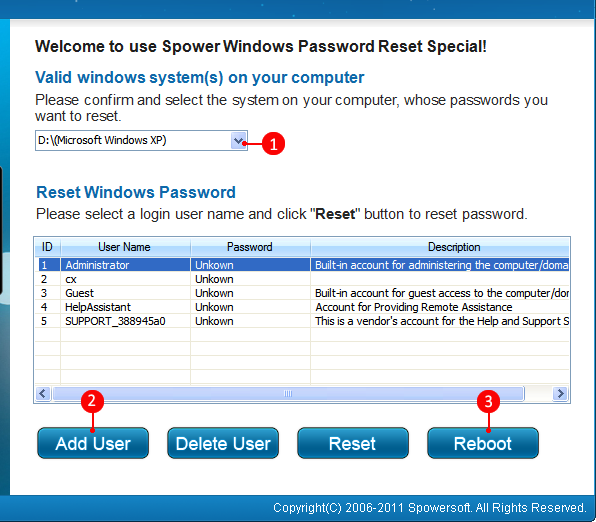 List of HP Laptops & Desktops Supported
Laptops & notebooks & Ultrabooks & 2-in-1 PCs: EliteBook Folio 1040 (G2, G3), Elite X2 1012, EliteBook 850 (G2, G3), EliteBook Folio 1020, EliteBook Folio 9480m, x360 310, EliteBook 820, EliteBook Folio, EliteBook 840, EliteBook 725, EliteBook 745, EliteBook 755, EliteBook Revolve 810, ProBook 640, ProBook 645, ProBook 650, ProBook 655, ProBook 470, ProBook 430, ProBook 440, ProBook 450, ProBook 455, ProBook 11, ZBook 14 Mobile Workstation, ZBook 15 Mobile, Zbook Studio Mobile, ZBook 15u Mobile, OMEN Pro Mobile, ZBook 17 Mobile, Elite X2 1011, Spectre Pro x360, Pro x2 612 12, x2 210, mt42 Mobile Thin Client, ENVY notebook, Spectre x2, Spectre x360, Elite x3, HP OMEN, Pavilion Gaming Notebook, ElitePad 1000, Pro Slate 12, Pro Tablet 10, Pro Tablet 408, Pro Tablet 608, ENVY 8 Note, etc.
Desktops & All-in-ones: EliteDesk 800 Mini, ProOne 600, Z240 Workstation, EliteDesk 800 Small Form Factor, EliteDesk 800 Tower, EliteOne 800, EliteDesk 705 Mini, EliteDesk 705 Small Form Factor, EliteDesk 705 Microtower, EliteOne 700, ProDesk 600 Mini, ProDesk 600 Small Form Factor, ProDesk 400 Mini, EliteDesk 800 Ultra-slim, ProDesk 400 Small Form Factor, ProDesk 400 Microtower, ProOne 400, 260 Mini, 280 Microtower, Z240 Small Form Factor Workstation, ProDesk 600 Microtower, Z1 All-in-One, Z440 Workstation, Z640, Z840, t310 All-in-one Zero Client, t520 Flexible Thin Client, t620 Flexible Thin Client, ENVY 750xt, ENVY Phoenix 850se, ENVY Phoenix 860se, ENVY 750qe, ENVY Phoenix 850qe, ENVY 750se, ENVY 750se, ENVY Phoenix 860st, Pavilion 550z, Pavilion 550t, 251xt, ENVY 750z, Slimline, ENVY Curved All-in-One, Pavilion - 27qe, 23tw, 23se, 20tw, 22z, 22tw, Pavilion 22m, EliteOne 800 G1, Pavilion 27st, EliteOne 705 G2, ProOne 600, ENVY 27xt, 20xtb, ENVY 24qe, etc.
List of computer brands Supported