How to Reset Windows 8 Password on Acer Computer
It can be rather frustrating that you're locked from your Acer computer with Windows 8/ 8.1 after several of password attempts in log-on screen. Fortunately, now you don't have worry about it because there are a few methods, without reinstalling the operating system that will lose you data saved at hard drive, can be used to reset or recover forgotten Windows 8 password on Acer laptop & desktop.
Solutions vary depending on the situation. If you're using a Microsoft account, also known as Windows Live ID, you only need to go to Microsoft online page here, follow the on-screen wizard, and Microsoft will send you a password reset link to your alternate email address.
If you're using a local account to log on to system, resetting a lost password of Windows 8/ 8.1 on Acer is super easy when you have a password reset disk in hand, even if you have changed the password times, the disk will help you reset the password in minutes. Also, a regular user account with administrator privileges on your Acer PC allows you to log onto the Windows and go to Control panel the change the lost password. But I don't think both of solutions work for you, otherwise you wouldn't be sitting here reading this article.
Windows 8 Password Cracker Software for Acer Computer
Luckily, you can select from a lot of 3rd party apps to bypass the unavailable account on Windows 8 Acer computer when you lost the login password without losing the data in hard drive. The application we will use today is Spowersoft Windows Password Reset.
It is a lightweight and simple tool with user-friendly interface, allowing you to reset any local account password on Windows XP, Vista, 7, 8, 8.1, 10, as well as domain password on Windows Server 2012, 2008, in a fast way. One of the highlights for this tool is the ability to add a new account with admin rights, and delete an existing user account from the machine. Compare three editions of the program to select a right one to reset the password.
Just one note that it doesn't matter at all if your PC is running a Windows 7, Windows Vista, Windows 8, Windows 8.1, Windows 10, or on a Windows Server 2012, Server 2008, Server 2003 - any instructions for resetting the forgotten password will be the same.
Step 1: Use the program on a second computer and create a password reset disk
As your problematic Acer machine is locked, please download the program and install on a second computer, run it.
Insert a CD & DVD, or USB flash drive in your computer, click the CD/DVD or USB device at the main interface of the program, and then click the Start burning in the next screen to begin creating a Windows 8 password reset disk for Acer laptop & desktop.
After your password reset disk is created, remove the disk out of the machine and insert into your locked Acer machine.
Now we should ensure that the problematic Acer computer will boot from the password reset disk instead of the Windows installation. If not, you'll have to change the boot order in the BIOS on the motherboard.
Step 2: Set Boot order in BIOS to make the password reset disk as 1st boot device
1) If you're on a PC with preinstalled Windows 8/ 8.1 operating system – it should use UEFI system, which designed to replace legacy BIOS. In that case, you'll need to enter the UEFI firmware and disable Secure Boot option, then follow the traditional way to set legacy BIOS to boot from CD/ DVD or USB drive.
Acer also has more detailed instructions on Acer: Accessing the UEFI (BIOS) setup on a Windows 8 / 8.1 system.
2) if you've installed Windows 8/ 8.1 on an existing computer (e.g. upgrade from Win 7 to Win 8) that uses the legacy BIOS, you can follow the article on how to set legacy BIOS to boot from CD/DVD or USB drive.
This way, your Acer computer will boot from the password reset disk automatically. Restart it.
Step 3: Reset admin & user password on Windows 8 on Acer
After booting the computer from the disk you just made, the program's resetting screen will come up.
In this example screen, you can see that it has found one installation of Windows - Windows 8 Pro. If your Acer machine has more than one Windows installations, you'll need to select the proper one.
Now, select the administrator or user account that you want to reset the password to, press Reset button and you're off.
The tool will reset the account you select to empty password, meaning that you can log onto the Windows 8 without a password after the computer restarts.
That's it! You've just completed the entire Windows 8 password reset process on an Acer computer.
When everything is OK, head over to the bottom of the screen and hit Reboot to let your computer restarts. Remember to pull the disk out of the computer (important!).
Welcome back to your Acer computer!
Additional tips
Aside from bypassing the password on Acer computer with Windows 8/ 8.1, the tool's Special edition also enables you to delete an account by press the "Delete User" button, or create a new user account with admin-level rights via "Add User" button.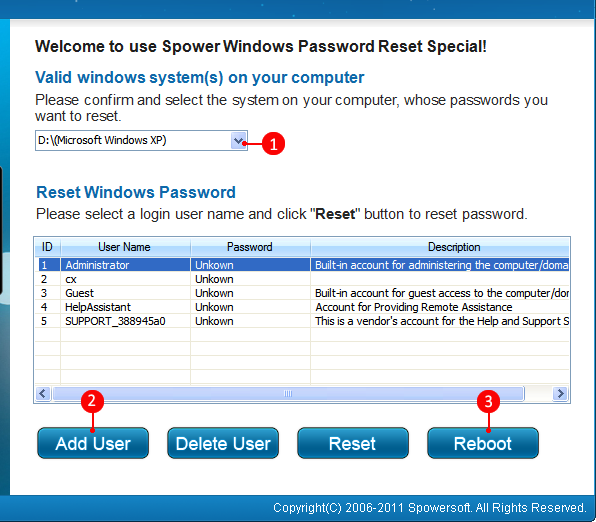 List of Acer Laptops & Desktops Supported
Laptops & notebooks & Ultrabooks & 2-in-1 PCs: Aspire R7-572-5893, Aspire R 11 (R3-131T-C1UF, R3-131T-C3GG, R3-131T-C0B1, R3-131T-P3BM), Aspire R 13 (R7-371T-50ZE, R7-371T-5009, R7-371T-78XG, R7-372T-50PJ), Aspire R 14 (R5-471T-52EE, R3-471T-35F3, R3-471T-7755, R3-471T-5039), Aspire R 15, Aspire V Nitro (VN7-792G-78V1, VN7-572G-53E7, VN7-572G-7178 , VN7-592G-71ZL), Aspire S3, Aspire S7 (S7-391-9427, S7-393-7451, S7-393-7616), Aspire S 13 (S5-371-52JR, S5-371T-58CC, S5-371T-537V, S5-371T-76UX), Aspire Switch 10 (SW5-012-192E, SW5-012-14HK, SW5-012P-11L5, SW5-012P-19KD), Switch Alpha 12 (SA5-271-594J, SA5-271-71NX, SA5-271-3475, SA5-271-55Q6), Aspire Switch 10 E (SW3-013-1566, SW3-013-10P7, SW3-013-127H, SW3-013-19AZ), Aspire Switch 11 (SW5-171-88JV, SW5-171P-82B3, SW5-111-18DY, SW5-171-33QB), Aspire Switch 11 V (SW5-173-632W, SW5-173P-61RD, SW5-173-63DW), Aspire Switch 12 (SW5-271-64V2), Aspire V5, Aspire V (V3-572PG-546C, 3-572PG-7915, V3-572-75D2), Aspire V 13 (V3-372T-75VV, V3-372T-77US, V3-372T-5051), Aspire V 15 (V3-575-50TD, V3-575G-57CN, V3-575T-71U5, V5-591G-50MJ), Aspire F (F5-571T-783Z, F5-573-505W, F5-571T-58AL, F5-571-50PF), Aspire E (E5-772-59WG, E5-573-52US, E5-573-395Q, E5-575G-53VG), Aspire E1 (E1-532-2635, E1-731-4699, E1-532-4629, E1-572-6484), Aspire E 11 (E3-111-C0QT), Aspire ES (ES1-521-266Z, ES1-571-P1MG, ES1-571-C4E2, ES1-571-C7N9), TravelMate P2 (TMP256-M-51Q1, TMP246-M-52X2, TMP245-MP-3446, TMP255-MP-6686), TravelMate P4 (TMP455-M-7462, TMP455-M-5406, TMP446-M-72N5, TMP446-M-77QP), TravelMate P6 (TMP645-SG-79QV, TMP645-MG-5409, TMP645-S-753L, TMP645-M-3862), TravelMate B (TMB115-M-C99B, TMB117-M-C37N, TMB115-MP-C6HB, TMB117-M-C578), etc.
Desktops & All-in-ones & Tablets: Aspire TC (ATC-705-UR53, ATC-105-UR22, ATC-605-UR18, ATC-710-UR57), Aspire XC (AXC-603-UR2A, AXC-704-UR51, AX3-710-UR54, AX3-710-UR52​), Aspire T3 (AT3-710-UR61, AT3-710-UR56), Aspire U5 (AU5-620-UR51, AU5-620-UR53), Aspire ZC (AZC-700G-UW61), Aspire Z3 (AZ3-710-UR55, AZ3-710-UR54, AZ3-710-UR52, AZ3-715-UR61), Aspire Z1 (AZ1-622-UR53, AZ1-622-UR54, AZ1-623-UR53, AZ1-611-UR51), Aspire Z3 Portable (AZ3-700-UR52), Revo One (RL85-UR51, RL85-UR44, RL85-UR42, RL85-UR52), Revo Build (M2-601-UR61, M1-601-UR52, M1-601-UR51), Veriton 2 (VM2632G-G3250X, VM2632G-i34160X, VM2630G-G3240X, VM2631-i54440X), Veriton 4 (VL4630G-i34150X, VM4630G-i54570X, VL4630G-i54590X, VN4620G-i5333X), Veriton Z (VZ4810G-i3435TX, VZ4820G-I5650Z, VZ4820G-I5650Z), Conia Tab 8 W (W1-810-14ZE), etc.
List of computer brands Supported