How to Reset Windows 2012 Server Administrator Password
How do I reset administrator password on Windows Server 2012 R2 that's running on VMware Workstation without deleting any files, like documents and photos? A long time away from using the machine, now I can't access it since I forgot the password.
It comes the time that for some reason you may forget Windows Server 2012 administrator password and locked yourself out of your computer. Before going further, if your Windows Server 2012 (R2) machine is a DC in the domain, the first thing you should do is check if there is any other user that has admin privileges. If so, you can use that user to reset the lost Windows 2012 Server password.
If there have no other administrator account, the official recommended way from Microsoft is you have to rebuild the server. This can be a nightmare, as all of your important documents and files on the computer will be erased and gone forever. Any other alternative?
Fortunately, no matter which type of account you're using, domain administrator account or a local account, a lot of Windows Server 2012 password recovery or reset tools out there have made it easy for you to recover or reset the lost password and get you back in to system again.
Spowersoft Windows Password Reset is, as the name implies, a great tool when it comes to resetting the password on your Windows 2012 Server. It as well works for other Windows operating systems like Windows XP, Vista, 7, 8, 8.1, 10, Server 2000, 2003, 2008. What's more, it allows you to add a new account that has Administrative rights on your computer.
In this article I will talk about how to reset administrator password on a Windows Server 2012 (R2) Essentials, but it also applies to a server running Windows Server 2012 R2 Standard or R2 Datacenter with the Essentials Experience role installed. The whole process is remarkably easy and quite quick.
Step 1: Create a Windows Server 2012 password reset DVD/ CD or USB device
Click the link above to download the copy of the application on any accessible computer, install it following the on-screen instructions.
Launch the application, plug in a blank USB flash drive or DVD/CD media to computer.
On the main interface, click on the USB device or CD/DVD button, in the next screen click the Start burning button. The tool begins creating a password reset disk for Windows Server 2012 (R2). You can track the process from the progress bar located at the bottom. Generally, the creating process will be finished in a minute.
Once done, pull the disk out of the machine, and insert it into your locked PC that you need to reset the administrator password in Windows Server 2012 (R2).
Step 2: Change the BIOS on your locked PC to boot from the disk you just created
Be sure that you have set Windows Server 2012 password rest disk as first boot device in motherboard's BIOS on your locked computer.
To do this, power on your locked computer, when a "Press [key] to enter BIOS Setup" comes up on the screen, as shown below, keep pressing the key required until you get into BIOS settings.
Tip: F2, DEL or F10 are usually the 3 most used keys to enter BIOS. Please check the message that indicates which key you need to press carefully or check our detailed instructions on the list of keys to enter BIOS on different of computers.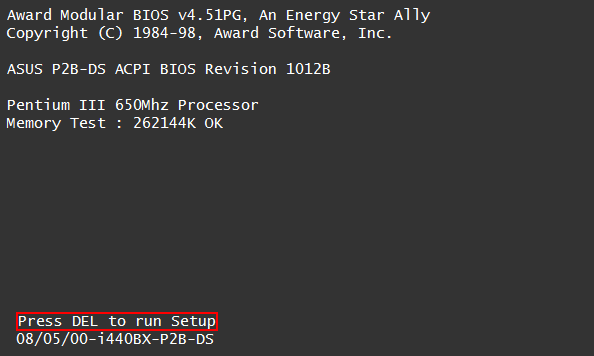 Once you get yourself in BIOS SETUP UTILITY screen, you're required to change the boot order option.
In this example BIOS, go to Boot menu, expand Boot Device Priority, you will see 1st Boot Device option under it. Some PCs may list this boot order option as Boot Sequence/ First Boot Device.
1) Assuming you created the Windows Server 2012 password reset disk on USB device, here you set 1st Boot Device to Hard Drive, and under it select your USB device. Note that most computers list the USB boot option as USB/ Removable Devices but some confusingly list it as a Hard Drive option (like this example), so be sure to dig around to find the right one.
2) Instead, if you just created a Windows Server 2012 password reset disk on DVD/DVD media, here you set 1st Boot Device to CDROM.
You can also follow our detailed article about how to change BIOS boot order on different of computers.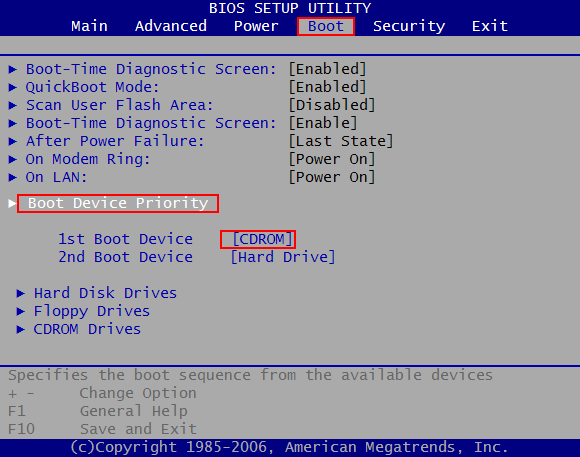 Once done, press F10 to save changes you made and exit the BIOS.
Step 3: Reset password on your computer with Windows Server 2012 (R2)
After you exit the BIOS, the computer will restart and boot from the password reset disk first, before trying to boot from the hard drive where has Windows Server 2012 installation. You have to wait here (a minute or so) until it presents the tool's screen, as shown below.
On the screen you'll see a list of user accounts found on the Windows Server 2012 with relevant details.
Now select your Windows Server 2012 system, and select the require user that you need to reset the forgotten password from the list, and click Reset. The tool begins resetting the password for you. A few seconds later, the password will be reset to be Spower@2011 by default.
Tip: In additional to resetting the password of Windows Server 2012, this program also comes with an Add User feature that allows user to create a new administrator account on the computer.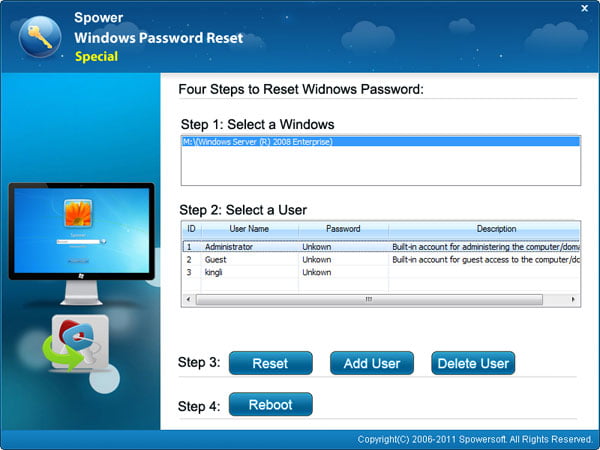 Related Article: How to Reset Windows 7 Password on a HP Laptop or PC
As the password is reset you can restart your computer by pressing Reboot button at the bottom of the screen, and remove the disk from the machine (!).
Now you can log on to your computer with new password. Make sure to configure a new password to replace the default password that the tool made for you.
That's it!